Campus Notes
Explore fun facts about Pepperdine University
Rick Aglietti
Rick Aglietti, scenic design, and technical direction expert, takes the stage to reflect on his 40-year career in theatre production
PEPPERDINE PEOPLE
Originally from Pennsylvania, Aglietti discovered his passion for scenic design in 1977 as an undergraduate student at the University of Pittsburgh during the development of the musical Celebration.
"Every chosen element placed into a design must speak to the world of the play at hand. Theatre is a collaborative process, and scenery has to be designed to allow the actors to move easily and safely in their newly created environment."
Often designing several productions simultaneously, Aglietti's creative process begins with research, which involves surrounding himself with printed images of period interiors, architecture, landscapes, furniture, props, color palettes, and textures to contemplate, incorporate, alter, or disregard.
"I am never nervous or intimidated to unveil my vision. My creative style is inspired by asking, 'What new designs can I make that satisfy my creative needs and excite the director, the production team, our students, and our audiences?'"
Aglietti's second dream job would have been wildlife research and management. His deep love for nature and storylines set outdoors inspired him to design two different productions ofInto the Woods at Pepperdine—one in 1997 that featured graphic, three-dimensional motifs on flat planes and one in 2014 that used colorful lighting to illuminate a stark, mostly white stage offering a projection surface for bright colors.
"No two days are the same, and no two production teams are composed of the exact group of directors and designers. Students are constantly arriving and graduating, and their energy is the force that feeds my inspiration. They are on that stage not only as actors and crew members, but within every choice of line, texture, and color."
Aglietti's Pepperdine journey began in 1989 with a job listing he came across in ARTSEARCH, a national resource for careers in the arts. He began his service at the University in March 1990 and has been making artistic history in Malibu ever since.
"The best advice I've ever gotten is, 'Don't settle for that first look. Keep that design evolving. Alter it. Tweak it. Let the excitement wash over you until you're gasping for yet another opening night!'"
---
First String
Get to know the 15 talented young musicians who competed in the fifth Parkening International Guitar Competition from May 28 to June 1, 2019.

---
Find Pepperdine Alumni on Instagram!
Follow @pepperdinealumni for stories, events, and photos of the Waves community!
Join the conversation and tag us to stay connected through the newest alumni social platform.
#PEPPALUM
#PEPPERDINEPROUD
---
Sound Bites
"Resilient people rise above what happened yesterday and they live life focused on today. You cannot be powerful and pitiful at the same time."
Stasia Washington (MBA '13), Senior Vice President and Managing Director, First Foundation
EVENT: "Graziadio Business School Spring 2019 Commencement"
"Where does the love

nature

come from? People with faith in the Abrahamic tradition—Jewish, Christian, or Muslim know about the Genesis account of creation . . . and it was created out of love."
Stephen Davis, Distinguished Professor of Biology, Seaver College
EVENT: "Climate Calling"
"We live in a world that is complex, and many times, we are missing the history, culture, and identity of the community we are working with."
Ashley Labosier (MPP '09), Executive Director, Davenport Institute for Public Engagement and Civic Leadership, Pepperdine School of Public Policy
EVENT: "Gov 2.0: Technology and Public Engagement"
"Preservation cannot exist in isolation. While change can result in losses, preservation must embrace the future boldly."
Michèle Cloonan, Professor and Dean Emerita, School of Library and Information Science, Simmons University
EVENT: "Balancing Preservation and Access in the 21st Century: A Pepperdine Symposium"
---
From the Archives
Pepperdine University student float representatives Alyssa Allen ('88) and Hung Le ('87, MA '03) ride "The Quest for Atlantis" during the 98th annual Rose Parade in Pasadena, California, on January 1, 1987.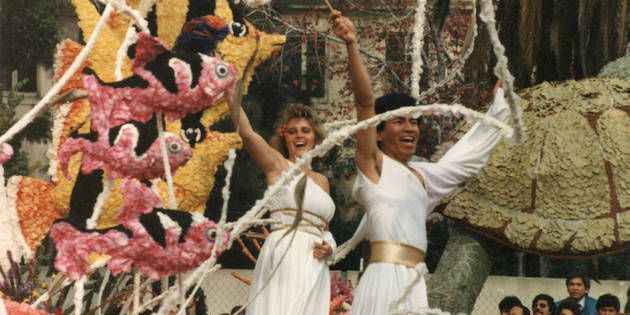 Source: University Archives Photograph Collection
Did You Know
Every March and October, the Glazer Institute for Jewish Studies hosts L'Dough V'Dough, a noontime gathering to bake challah bread with Holocaust survivors and hear their stories.
---