Write of Asylum
After single-handedly changing the law of asylum in a landmark case, an alumna's impact on international human rights laws becomes the subject of a feature film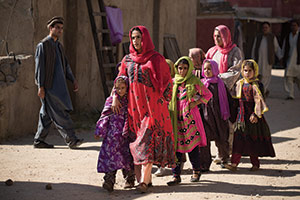 In Afghanistan in the late 1970s, Asefa Ashwari, a young mother, was jailed and tortured by the Taliban for committing what was determined to be an act of defiance by the patriarchy of her home country. Her actions—opening a school for girls and leading them in the public square without a male escort—were grounds for an honor killing.
With the help of a friend, Ashwari managed to escape to bordering Pakistan in search of eventual sanctuary in the United States. But when Ashwari landed in California without a visa, desperately seeking treatment for her physical and emotional wounds, she was held at a detention center in Los Angeles where she spent a year praying for a judge to grant her petition for asylum.
The law of asylum is an internationally recognized humanitarian law that allows applicants to qualify for refugee status if they fear persecution in their home country. Applicants must prove that their oppression is a direct result of their race, religion, nationality, political opinion, or membership in a particular social group. The law grants refugees the right to travel to the United States to escape persecution, and to some extent, how they enter the country is irrelevant to their asylum case as long as they declare their presence.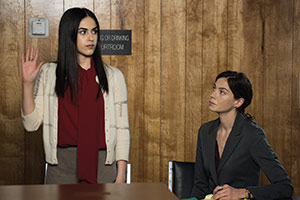 Judith L. Wood (JD '81), a Los Angeles-based immigration attorney who has helped thousands of refugees escape persecution through asylum law, represented Ashwari in a landmark case that argued that, should she return to Afghanistan, she would surely be murdered solely because she was a woman. The case, which went through several appeals before being presented before a judge in the US Court of Appeals for the Ninth Circuit, resulted in the recognition of persecuted women as a protected class and social group.
"With Asefa, I made a tremendous effort to incorporate international human rights law into asylum law, which was an influential move because no one had ever done that before," reveals Wood, adding that in one of her first cases, she called an international human rights expert to testify before a chief judge in a Los Angeles court, who was so impressed with Wood's integration of this legal angle that he ultimately ruled in her client's favor.
"You have to fight for everything in immigration," says Wood. "When I go to immigration court, I must know every letter of the law and enunciate the particular social group to which the respondent belongs, which may be difficult because the phrase 'particular social group' has two distinct and separate definitions: particularity and social visibility."
---
Intern of Events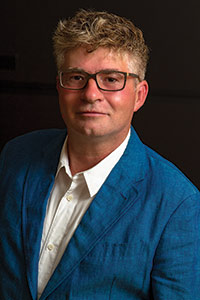 Dmitry Portnoy (JD '13), a School of Law alumnus who started interning at Wood's Downtown Los Angeles office in 2011, was struck by her unconventional approach to building clients' cases and establishing their credibility. He relates Wood's strategy of encouraging clients to recall their most harrowing memories of being persecuted and demonstrate the raw emotions that most attorneys advise against when presenting facts before a judge.
According to Portnoy, most people are uncomfortable divulging their innermost fears, but in immigration court, clients must prove their own cases in a way that reveals their pain and desperation. "The laws see immigration clients as guilty until proven innocent," explains Portnoy, whose own family was granted asylum in the United States in 1979 in order to be spared from the religious persecution endured by Jews in the Soviet Union. "In these circumstances, 'guilty' equates to 'banishment.'"
In fall 2015 Portnoy, who had studied film at the University of Southern California School of Cinematic Arts, presented Saint Judy, a script based on Wood's most revolutionary career achievements—namely her involvement in Ashwari's trial—to fellow USC alumnus Sean Hanish. Hanish is an award- winning commercial director and the president of Cannonball Productions who assisted in developing the script into a motion picture the following year.
Prior to this collaboration, Hanish had directed the films Return to Zero and Sister Cities, both of which depict leading female characters immersed in significant social and psychological issues. The films also feature celebrated actor Alfred Molina who agreed to join Michelle Monaghan and the rest of the Saint Judycast upon reading Portnoy's script.
"When I watch the movie, I don't listen to the dialogue because I already know all the words," says Portnoy about the project that took only 23 days to shoot. "Instead, I pay close attention to the actors' interactions and facial expressions to experience the emotional story created by the cast and the director."
On the portrayal of Ashwari's character, Portnoy explains that, "The real Asefa is an extremely private person, and understandably so. She experienced turmoil that I could never bring myself to interview her about because I don't want to trigger her emotional distress and make her relive those traumatic memories. That's why, in the movie, we intentionally never show scenes of her persecution."
---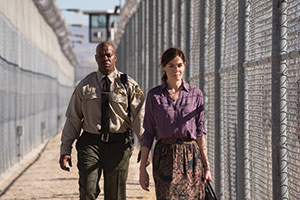 Called to Court
A devout Christian, Wood is continually inspired by the deep spirituality of the clients she interacts with. "I met these women from Central America who worked their fingers to the bone to support their children back home, and they didn't have one ounce of self-pity," she says, recalling the early years of her career. "Even while working hard under the most extreme conditions, they demonstrated faith greater than my own."
In fact, it was the notion of a Christian education that encouraged Wood to attend Pepperdine. A single mother on the brink of divorce, she was especially moved by the way her professors cared for her well-being, offering her guidance and words of wisdom.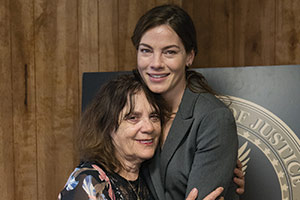 "I loved how faculty treated the students," she shares. "It wasn't so much that they incorporated Christianity into understanding law, but that they were exceptionally compassionate in their nature when teaching law."
Throughout the decades, Wood's spiritual fervor has inspired in her the conviction to pursue paths that seem almost impossible to cross and doors that appear to be closed forever.
"When I first started in this business, I decided to never work on a case haphazardly, but to do so only with the intention to provide my clients with the best results possible," she says. "It amazes me to see how these results have transformed their lives, and I am grateful to have played a role in that transformation."
---
Film stills and set photos: Blue Fox
Photo of Dmitry Portnoy: James Huang