Campus Notes
Explore fun facts from Pepperdine University
Pepperdine People
Rebecca Roldan ('17, MS '20)
The director of Pepperdine's Student Health Center is the unsung hero of the school's pandemic planning and operations—until now
Roldan started her Pepperdine career in 2008 as the office manager of the Student Health Center. A friend suggested she apply when she expressed a desire to work at a place "where being a Christian would be embraced. I was really grateful when the office manager position opened up."
"The healthcare field has always interested me. I have a lot of respect for medical teams, doctors, nurses, and EMTs. I love my work because I have the opportunity to learn. It's a fascinating world, and I love to be a part of it."
When the students returned from Christmas break in January, Roldan and her team started reviewing their contagious illness protocols and meeting with the University's Infectious Disease Task Force and the Emergency Operations Committee. "We were tracking any community cases and outlining the steps to provide safety and health to our students. We put ourselves into that role pretty quickly."
The most challenging aspects of the pandemic have been largely those that all providers have faced—ensuring that she has enough personal protective equipment and testing kits. As the University prepares to welcome students back to campus in the fall, Roldan has been working on identifying testing options, hiring additional staff, implementing telehealth and mobile check-in procedures, and transitioning to electronic forms.
"As far as staying healthy, my best advice is just good hygiene. Wash your hands, don't touch your face, pay attention to your environment, and keep some distance in general. I think it would be okay if we became accustomed to standing farther apart and providing some personal space when speaking with one another."
"My friends used to tease me that I was always taking care of everybody, but I feel like it's just who I am. Whether it's collaborating with my team to succeed on a goal, working with one of the student groups, or mentoring a student employee, having the opportunity to look after them is important to me."
In addition to her work for the Student Health Center, Roldan's achievements during the COVID-19 crisis have included watching the entirety of the Marvel Cinematic Universe oeuvre. Her aspirational superhero? Captain Marvel, of course. "Because she's always looking out for others and trying to pull things together. That's what I like about her."
---
Numbers Game
Prior to the cancellation of athletic events due to national social distancing protocols, Waves student-athletes competed with distinction and earned national recognition for their exemplary contributions to their respective teams.

---
Chatter
The University community shared its support following the announcement of the Pepperdine Restoration Plan for the Fall 2020 semester.
Facebook
CHERYL MUSSER HALL
I have so much faith in Pepperdine to make the right decision. Remaining hopeful for my daughter's senior year. Pepperdine is where she thrives.
Facebook
SYLVIA KIM
We know that the decisions are being made prayerfully and trust that God is guiding you in these challenging times to make the best decisions for the Pepperdine community.
Twiter
@CURTSTRATTON
Thank you for using logic and reason as your guide. We trust God in all things, and know that things might change, but we're encouraged by this bold yet logical plan. Praying for the administration and students, and that the plan comes to fruition.
---
Did You Know
Following campus closures, the Counseling Center was granted emergency permissions to provide teletherapy to students outside of California.
---
Sound Bites
Explore a collection of some of the most notable moments from recent events held across the University.
"People are suffering because they don't have the agency to overcome the authority working against them. But wherever you are—whether on the left or the right or in the middle—a society that provides opportunities for people to realize their own happiness should be the goal of all public policy."
Pete Peterson (MPP '07), Dean, Braun Family Dean's Chair, Pepperdine School of Public Policy
EVENT: COVID-19 and the Calling to Public Service
"Every encounter with someone on a report or story I have put together has certainly changed me as a person. It's impacted my abilities as a storyteller, and it's impacted my creative efforts, but it's also impacted my empathy toward other people."
Stefan Holt ('09), WNBC-TV New York News Anchor and Reporter
EVENT: The Seaver Speaker Series
"Sports thrived during the Great Depression. People didn't have much money and a lot of people were out of work, but the way that you retained your sanity and balance was by going
to one of our shows or sports events. Laughter is the best therapy for what we are going through."
Leigh Steinberg, Sports Agent, Philanthropist, Author, and Entrepreneur
EVENT: Navigating an Uncertain Future in Live Events
"The best time to change is when stress is high. It's not the best time to move back to your anxiety or power or control and say you'll do better when this time is over. This is the exact time that you want to practice the good habits of getting out of your overindulgence or underindulgence."
Terry Hargrave, Evelyn and Frank Freed Professor of Marriage and Family Therapy, Fuller Theological Seminary
EVENT: When Finances Feel Out of Control During COVID-19
---
From the Archives
In this 1944 photo, the Pepperdine community gathers at the George Pepperdine College campus charter of the American Red Cross to donate blood to treat soldiers wounded during World War II. Dried plasma became a vital element in the treatment of those wounded in active duty during World War II and, by 1945, the Red Cross had collected more than 13 million pints during its blood program for the military. Helen Pepperdine, wife of George Pepperdine, is fifth in line (right to left), and former Pepperdine professor and dean of faculty Earl V. Pullias stands at the back of the line with University president Hugh M. Tiner.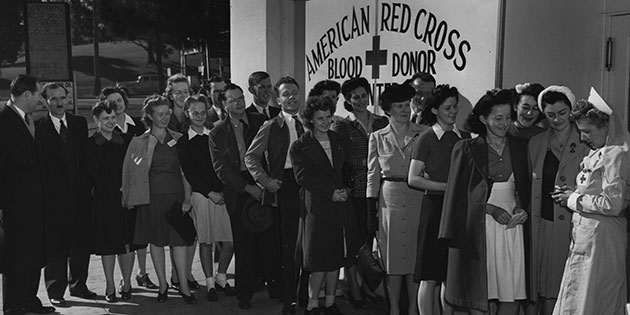 Courtesy of Pepperdine Libraries Special Collections and Archives