Inspiration in Isolation
Away from their Malibu art studio and their supplies, fine arts students create while coping with the coronavirus pandemic
Lasagna noodles, vacuum cleaners, and rolls of bathroom tissue are just some of the household items people used to recreate popular works of art as part of a recent Getty Museum challenge that encouraged individuals sheltering at home during the coronavirus pandemic to use their time in isolation to create. The notion of producing art in solitude, however, is not new. In fact, Frida Kahlo, William Shakespeare, Charlotte Brontë, and Francisco Goya created many of their masterpieces during periods of self-isolation.
"When isolation extends for a longer period of time, moving toward something that is slower paced, like a creative endeavor, is common," says Gretchen Batcheller, Seaver College associate professor of studio art. "Art serves as a vehicle that actively interprets and translates what it is you're thinking," she shares.
Although staying motivated during times of uncertainty may be difficult for some, channeling emotions into artistic enterprises can improve mental health. Engaging in creative activities, from crafting to painting, can produce results similar to meditation and can have calming effects on the brain and body.
"Having control over a medium can be a way of working through a situation where you feel out of control," says Ty Pownall, Seaver College associate professor of art.
"It can be useful in helping you find your voice and processing a situation you've never been in before."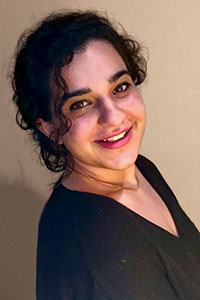 Using her art as a way to cope with a much different semester than she had imagined, Manya Seth, a Seaver College junior pursuing a double major in psychology and art, viewed the pandemic as her muse. On her Pepperdine Studio Art profile, Seth shares that her quarantine creations are "representations of desires, feelings, and memories I have chased out of my mind. I rounded up each one of these uncomfortable thoughts and forced them to the forefront."
Unable to immediately return home to India with the onset of the pandemic, Seth set up a makeshift studio while staying with family in Connecticut. Despite not having access to large wood boards or charcoal pens—her preferred tools—she held herself accountable and created a little each day to express herself when words were not enough.
"I decided to use whatever I had around me because not having professional materials should not stop you from creating," shares Seth, who burned bits of wooden logs to make charcoal and mixed the ash with Vaseline to create a thick paint.
Seth's classmates also had to find new spaces in which to create and to be resourceful with the materials they had on hand. In April, students had the chance to showcase their art and share their work with their peers in an online exhibition. "Art is important regardless of the circumstances," says Aliya Edwards ('20), who graduated with a degree in art and a minor in multimedia. "It serves many purposes for many people."
Faculty were also intentional about connecting and communicating with students, often outside designated class times, using Zoom as well as email and text messaging. Pownall offered consistent but gentle reminders to students to use art to enhance their circumstances and the circumstances of those around them, and Batcheller and other faculty members regularly checked in with students to ensure the students knew they had not been forgotten.
"All the professors were so motivating, caring, and accommodating," says Seth. "They encouraged us to keep creating, but more than that, they cared that we were all safe and happy.