Playing the Long Game
As both the collegiate and professional sports worlds consider how they might resume regular programming post-pandemic, Pepperdine Athletics examines the current reality of live events
In a typical year, the month of May signals the end of the spring athletic season for many student-athletes around the country. In June Pepperdine student-athletes return to Malibu for voluntary training, and in July nearly all Pepperdine student-athletes return to campus for formal practices. As the COVID-19 pandemic changed the rhythm of the world, student-athletes watched as it rewrote their spring, summer, and fall seasons in tentative chalk.
In collegiate sports, beyond providing resources for physical conditioning, athletic leadership is also faced with the critical task of supporting the academic and professional development of student-athletes. At Pepperdine a summer that would have been full of academic courses and voluntary training in Malibu was replaced with twice-weekly Zoom team check-ins, optional body-weight training programs, and a significant focus on mental well-being.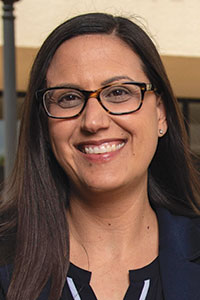 "We are taking a pause on the physical and elevating the professional, mental, and spiritual growth of our student-athletes," shares Karina Herold, deputy director of athletics. Amid NCAA eligibility changes allowing seniors whose final seasons were cut short due to COVID-19 to return, the Pepperdine Athletics staff is working closely to help student-athletes determine whether they will come back to Pepperdine to compete for one more season or begin their post-undergrad career.
University leadership and Los Angeles County Public Health officials have yet to announce when athletes may begin their journey back to Malibu for the fall seasons, but Director of Athletics Steve Potts (JD '82) says, "We are planning for every possible outcome, and I am so thankful for our coaches, staff, and athletes who make this whole process so positive and rewarding."
When student-athletes return to campus, Pepperdine Athletics has created a four-week training plan to safely reorient athletes after having spent months without access to weights and equipment. Individuals will be provided their own workout zone to minimize the potential risk of spreading COVID-19 between training athletes. After this first phase, athletes will continue to train with coaches on specific skills before beginning formal team training and workouts. Every day in each of these phases and continuing through their competing season, athletes will complete both a digital health survey and an in- person symptom check to ensure their safety and the safety of their teammates.
Like many universities across the nation, Pepperdine will not be opening its fall sporting events to spectators unless guidance from county health officials changes. With October's much-anticipated Blue and Orange Madness to celebrate the kick-off of men's and women's basketball seasons, the absence of spectators is one that will be felt deeply by students, alumni, and athletes alike. Although many sporting events will be equipped with streaming abilities, the camaraderie and excitement shared by experiencing it in the stands will be missed but not forgotten.
In times of great uncertainty, live sporting events, as well as other forms of in-person entertainment, provide a valuable escape from day-to-day anxieties and important benefits to mental health. In a conversation about navigating the future of live events with Pepperdine's Institute for Entertainment, Media, and Sports, held virtually in May, producer Valarie Benning Thompson, who has managed stadium, arena, and theatrical tours nationally and internationally for three decades, shared why these events are so exhilarating.
"There's nothing like being in the arena when everybody is laughing and enjoying it or watching a concert and feeling the vibrations the music beneath their feet," she says. "The audience wants to come back and be a part of it. need to be able to feel the energy from the audience, so it'll be difficult for them to have the audience so far back that they can't see or feel them."
With widespread cancelations and season suspensions, industry leaders and spectators have longed for the return of live sporting events. To fill the gap left by the hours previously dedicated to a commute or social activities like dining out at restaurants, watching movies in theatres, and attending live entertainment venues, consumers flocked to streaming and television. Sports attorney and founder of California Sports Lawyer Jeremy Evans (LLM '18, MBA '20) evaluated the health of streaming services before the emergence of COVID-19. With a growing hunger for sports content in this space, Evans says, "There's an opportunity here for the industry to meet fans where they are, which is in streaming."
Whether regulations call for empty stadiums and live game streams, fewer spectators with masks and at-the-door screenings, or altered seasons, the return of live events will certainly come with a combination of safety regulations and viewing options for fans. The ripple effects of COVID-19 will remain evident in the economy and collective culture for years to come. However, Evans says he is "encouraged by the innovation and creativity of everyone in the industry adapting to make sports happen."
While plans continue to be etched in chalk for both collegiate and professional athletes—plans that are easily editable and malleable with little notice of changing conditions—Herold explains the work ethic and resilience of athletes is critical. "Especially at Pepperdine," she says, "the strength of our student-athletes is incredibly encouraging and admirable in this uncertain future."