Strength of a City
The coronavirus pandemic has hit Los Angeles County—the largest in the nation—with extraordinary force. HSAC@SPP provides the cross-sector resources to manage the economic impact of the crisis
At the time of print, Los Angeles County has crossed a devastating threshold in daily rates of newly reported COVID-19 cases and deaths—2,903 and 45, respectively. To put it in stark terms, officials are now warning that one in every 140 people in Los Angeles County has or has had COVID-19.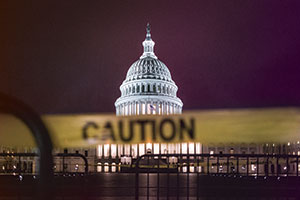 While the global COVID-19 pandemic has been reasonably positioned as a healthcare crisis, widespread efforts to slow the spread of the coronavirus have disrupted economic drivers such as trade and transportation and have significantly slowed domestic activity. Pete Peterson (MPP '07), dean and Braun Family Dean's Chair at the School of Public Policy, shares that, without a clear end in sight, the pandemic has had and will continue to generate considerable consequences on local and international economies. He explains that, as a nation, we are in what he describes as a "post- 9/11 moment."
"Think about the radical changes that we have had in our lives since that day," Peterson says, pointing to the new ways of considering domestic policy and how we engage with the world in the aftermath of the terror attack on the United States 19 years ago.
"Much has changed from a public policy perspective; it even led to the creation of an entirely new federal department, the Department of Homeland Security. It all came out of one day. Here we are in a global crisis of a scale and scope that's, frankly, much larger than 9/11. It's easy to forecast that in the months and years to come, our policy and political world will look even more different than it did after 9/11."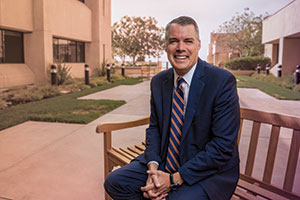 The public policy crisis that Peterson predicts involves governments at all levels, from local to worldwide institutions. At the global level, Peterson explains that governments will have to seriously evaluate international relations and US partnerships with other countries. At the local level, Peterson points to an economic crisis that will have resounding effects on tax revenues coming into cities and the potential need to declare bankruptcy that many cities will face in the months ahead.
Peterson explains that the difference between the increase in demand for services and the decrease in resources and the revenues to support them is going to be of a scale that's too much for cities to continue to operate. As governments look beyond the next nine months, a cross-sector approach to public policy is the key, Peterson says, to providing important services in different, more manageable ways, that will become crucial in the days to come.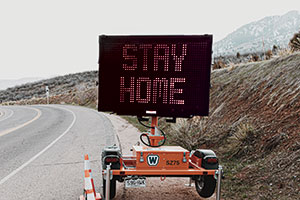 "If we agree that homelessness, education, and public safety are issues and services that we think are important, but we're trying to meet them with dramatically decreased revenues, how do we find a way to work collaboratively across sectors to address those needs?" he asks. "This cross-sector type of leadership—which I think is going to be crucial in the medium-to-long term, not only in local government, but also in both the state and federal government—is where we're going to see the most change."
In a stable economy, local and state governments are not typically faced with the need to significantly limit a community's requests for services. Those days, Peterson says, may be over for the foreseeable future.
"What we're facing is going to demand state and local leadership that thinks seriously about what kinds of services they can offer under very strapped fiscal and financial situations," he says. "These leaders are also going to have to think differently about how those services are provided and to consider new relationships across sectors with the business and nonprofit communities to continue to deliver important services in new and creative ways."
---
In the tenuous period following the 9/11 terror attacks, a highly specialized group of business leaders and city and county officials in Los Angeles came together to evaluate the capability of the second-largest city in the United States to experience and bounce back from a 9/11-type crisis. Their goal was to develop better relationships between the private and public sectors. The partnership, the Homeland Security Advisory Council (HSAC), initially designed to serve as a networking organization, was soon recast as a nonprofit organization that catalyzes and coordinates a multi-jurisdictional effort with a shared mission of preparedness and resiliency in the greater Los Angeles County area, home to more than 10 million people.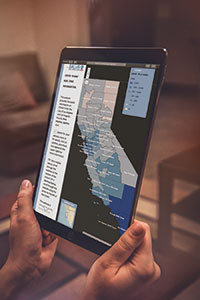 Today, HSAC is part of an innovative academic enterprise with the School of Public Policy. HSAC@SPP, established in 2019, focuses on disaster preparedness, crisis management, and resiliency through engagement with the public, private, and civic sectors. The endeavor is positioned to prepare the current and next generation of public leaders for significant public policy challenges by harnessing the school's unique curriculum dedicated to exploring a full range of cross-sector and information technology solutions. In addition to teaching students pursuing master's and doctoral degrees,HSAC@SPP currently offers a variety of programs focused on technology, engagement, capability building, and partnerships for crisis managers, policymakers, and public safety professionals. Through the partnership with the School of Public Policy, HSAC will expand its current offerings, create new educational and training programs, and reach a broader participant group that includes graduate students and audiences throughout California and the nation.
Beyond the classroom, HSAC@SPP works with policy makers and crisis managers both through educational seminars in crisis management and its technology platform.HSAC@SPP is the home of SALUS - The Crisis Hub®, which uses geographic information systems (GIS) to give big data geospatial context and support for all phases of emergency management, including planning, preparedness, response, recovery, and mitigation.
Prior to the development of the SALUS platform, this type of data saw very limited use by municipal crisis managers. According to James Featherstone, executive director of HSAC@SPP, this particular technology has been key in closing that gap and increasing information sharing in L.A. County. As coronavirus cases and hospitalizations continue to surge in the county, it has proven to be essential.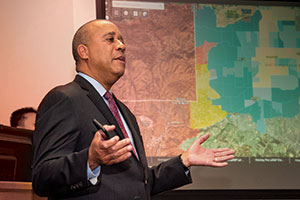 "By democratizing the power of GIS, the SALUS platform has been a game changer in sharing situational awareness and enhancing data-informed decision-making in our region," says Featherstone.
With the emergence of the coronavirus pandemic, HSAC@SPP has expanded the user capabilities of SALUS technology to provide maps and dashboards in real time, not only to city and county officials and emergency operations officials, but also to the public. Public dashboards include different data layers that provide important information for community use, including area public coronavirus testing sites, grab-and-go food locations, and, in partnership with the Los Angeles Unified School District, maps for area mental health resources for local schoolchildren and their families. These dashboards have been customized for 17 different cities and agencies throughout the Los Angeles area, including LAX and LA Metro and the Cities of Long Beach and West Hollywood.
Throughout the coronavirus pandemic, the SALUS platform has also provided customized information for different municipalities. At the City of Torrance, the fire department has tracked the volume of calls made to emergency management services (EMS) and compared those rates with all EMS calls. Together with the Los Angeles Police Department, the Los Angeles Homeless Services Authority, the Unified Homelessness Response Center, and many others, the Department of Transportation has helped move nearly 4,000 people experiencing homelessness into 13 city recreation centers for temporary shelter during the crisis. SALUS helps the appropriate departments track the number of open beds, shelter capacity, and FEMA-provided isolation trailers to house residents who have tested positive for COVID-19.
Alyssa Barnes (MPP '18), HSAC@SPP marketing and communications manager, says these maps, which included a variety of emergency resources in the early days of the pandemic—most notably highly localized data related to positive cases by neighborhood—were available on the City of Los Angeles website and were viewed by millions of Angelenos.
Barnes explains that with SALUS, "City departments can now see all the information they need in real time, whereas in the past they would either have to request it from the individual departments or wait for planned in-person briefings. That's significant."
---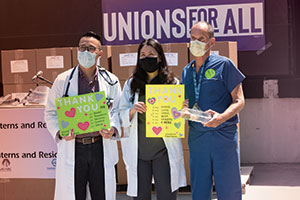 While municipal partnerships and data sharing are critical to building a more resilient Los Angeles, HSAC@SPP is also involved in the philanthropic efforts that seek to ensure the health, safety, and security of every Angeleno. Following an onsite press conference on April 14, 2020,HSAC@SPP, led by board chair Peter Lowy, donated 3,000 reusable face shields to LAC+USC Medical Center in order to protect medical staff involved in procedures that may expose them to infectious fluids while treating patients diagnosed with COVID-19.
Developed by Northridge, California-based movie prop producer Arête, the donation was made in partnership with the Emergency Supply Donor Group, a nonprofit organization that raises funds to provide personal protective equipment to Los Angeles hospitals encountering extreme shortages.
"The philanthropic arm of HSAC@SPP is an amazing Los Angeles story," says Peterson. "Providing those face shields in collaboration with other philanthropists was an important part of the networking that will continue beyond this gift. The creative relationships between L.A. philanthropists and government leaders to provide essential services is the crux of theHSAC@SPP endeavor."