Ahead of the Game
The man behind America's favorite game shows got his start in the Pepperdine broadcast studio
January 8, 2021, marked the final episode of Jeopardy! hosted by Alex Trebek, who had commanded the iconic quiz show lectern since 1984. Regular viewers of the primetime program that has been on the air since the 1960s were not ready to say goodbye to its quippy and quick-witted host and dreaded the day when a new face would take the podium.
When Trebek had announced his illness to millions of his longtime fans just one year prior, he was confident that, regardless of his condition, he would return to the famed set and resume his role with his singular sophisticated style. And he did, many nights articulating perfectly while struggling through his speech due to mouth sores caused by his aggressive medical treatments. When Trebek passed away, just 10 days after filming his final episode, the Sony Pictures Television production team, led by its new executive producer, Mike Richards ('97), immediately deployed a succession plan—one that entailed many possible outcomes.
"Choosing someone new to step in right away would have been unfair to that person, because the consensus would be, 'You're not him and you're never going to be him.' And that's true," says Richards, who took on the executive role at Jeopardy! and Wheel of Fortune in 2020 after Trebek's cancer announcement. " hosted his final show on Friday, and it would have become someone else's show on Monday. That's setting the new person up to fail. We decided the best way to go was to have a number of people take the lectern."
Among the many celebrity and industry guest hosts that stood in for Trebek, Richards, whose career began and rose in front of the camera, shined as the fan favorite. It wasn't the first time the natural entertainer had commanded the stage and impressed an audience with his wit, wisdom, and charm. As a Pepperdine student, Richards got his first taste of television in his Broadcast 101 class taught by Susan Salas, where he anchored a news show at the University's TV station.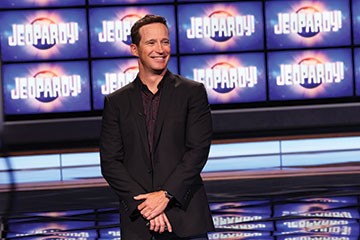 "I fell in love with it right away," he says. "I couldn't believe that you could do this and get graded for it. It was the most fun I had ever had, and I still get that same feeling walking into every TV studio now that I did in those first days at Pepperdine."
The live news broadcast aired four days a week and was produced in a professional news studio complete with a news trailer, news feeds, and a teleprompter. But Richards had a knack for comedy and couldn't help injecting his signature humor into his news delivery.
"It was hard for me to stay serious for a whole half hour on camera," he admits. "That's just not in my wheelhouse."
Recognizing his comedic instincts and innate talent for entertainment, Salas suggested that Richards develop his own show where his sense of humor could take center stage. After returning from a year abroad in London, Richards created, wrote, produced, and hosted the Randumb Show, a weekly late-night sketch comedy talk show, which won multiple college broadcasting awards.
"My dream was to interview interesting people, either on campus or in the community, and make it funny," Richards recalls. "I wanted to gather a group of people that enjoyed the idea like I did to write, direct, and be a part of it."

Richards and the Randumb Show team developed, filmed, and edited—before sophisticated computer editing technology—44 episodes of the show in two years, every week, "like a real show." The network executive remembers spending many nights in one of the editing bays and sleeping on a cot in the studio to edit each episode the night after it was filmed. "I was able to edit a resume reel using the episodes, which I sent to a mid- to high-level agency, who signed me as a client after watching the tape. TheRandumb Show started my career."
Shortly after graduating from Pepperdine in 1997, Richards scored an internship at the Tonight Show with Jay Leno, which eventually turned into a production assistant job on the program. After leaving the Tonight Show, he served as a production assistant on Later, a late-night talk show that followed Late Night with Conan O'Brien. The show had only one writer at the time, so when Richards signed on with the writing, production, lighting, and editing experience he had acquired at Pepperdine, he worked his way in to help write jokes and sketches for the show.
"I was 21 years old," Richards recalls. "This was shortly after my internship, but the show was desperate for help at the time, so when I found out Cindy Crawford was guest hosting the next week, I wrote 10 bits for her segment. They just kept letting me do it. And because I had editing experience, I started helping with that too. I had so much experience coming out of college. It would have taken me decades to be that confident and to have that ability. I am able to draw a direct line between walking out of the Pepperdine campus and winning my first Emmy. The fact that I can do that is pretty incredible."
Throughout his career, Richards has helmed several television shows, such as Beauty and the Geek and the Game Show Network's 2012 revival of The Pyramid as well as Divided. Richards left The Price Is Right and Let's Make a Deal in 2019 and joined Sony Pictures Television, where he was assigned toWho Wants to Be a Millionaire? as an executive producer with Jimmy Kimmel, also the host of the show, and Michael Davies for the eight-episode run in the program's 2019–20 season. He has been nominated for 19 Daytime Emmy Awards and won three for Outstanding Game Show forThe Price is Right, where he spent more than 10 years as its executive producer, at the 2013, 2016, and 2018 ceremonies.
While many network television professionals dream of a career either in front of or behind the camera, Richards has had diverse experiences in both spaces, inspired by a love for audience shows that was influenced by his exposure to classic late-night shows like the Tonight Show Starring Johnny Carson. His earliest memories included sneaking into his parents' room at the age of 8 and experiencing the fascinatingly fickle nature of the show.
"I was reading the Wall Street Journal, even at that age, so I understood and laughed at some of the monologue jokes," Richards says. "What really caught my attention was when Johnny would bomb a joke in front of a live audience. There was no fixing it. The fact that it was live was exciting."
The unpredictability of live television was just one of the details Richards grasped and gravitated toward on his own path to producing. Beyond his insatiable work ethic, Richards' desire to analyze every aspect of a TV show has been one of the driving forces of his success. To him, a good producer doesn't just make a show run smoothly. A good producer examines every last element of a show, asks the hard questions, determines what makes it successful—and then dismantles it.
"Why is it working? Where is it not working? Why do people love it so much—and not just accept it for what it is, but looking deeper into the why. What can I do to make them love it more or, more importantly, what can I do to make them love it less? And, so, it's really about taking all of the pieces apart and then putting them back together."
Richards' opportunity to do just that came when another larger-than-life TV icon, Bob Barker, was retiring from The Price Is Right in 2007 at the age of 78. Richards, who was 30 at the time, was one of five host hopefuls who auditioned for the role. After camera testing and being presented to focus groups, Richards wasn't quite what theThe Price Is Right demographic was looking for, and the role ultimately went to Drew Carey. But, during his preparations for his camera test, Richards had once again asked himself the simple question: "Why do people want to watch this show?"
By the time the audition process was complete, he had written 60 pages of notes dissecting the show, evaluating the factors contributing to its success and determining opportunities for improvement. A year after Carey was hired, Richards was contacted by the show's production team to discuss signing on as producer, and those 60 pages of notes became the blueprint for the next decade of the classic show.
Richards continues to lead with that same inquisitive spirit in his latest role at Wheel of Fortune and Jeopardy! His personal directive is to expand the universes of both shows. He recently pitched and sold Celebrity Wheel of Fortune to ABC, which enjoyed an eight-episode run this spring and will air 13 more episodes this fall, and he has several other projects in the pipeline, which are sure to bear the distinct passion and style that has characterized network television's most successful and beloved programs throughout decades.
"I'm driven by being a little uncomfortable, by having things up in the air," Richards says. "That's a crazy thing that I remind myself every day when making these shows. It's a business and it's hard and there are extremely challenging days. But, ultimately, my mandate in life and in my work is to make people's lives happier. And that's what I hope to do for a really long time."