Gold Standard
As athletes, coaches, commentators, and statisticians, 15 members of the Pepperdine community made waves in the 2020 Summer Olympic Games in Tokyo, Japan
Following the expected yet disappointing postponement of the Tokyo 2020 Olympic Games last year due to the COVID-19 pandemic, athletes, coaches, and spectators around the world awaited the day the games would officially commence. While COVID-19 considerations kept crowds away from the stadiums, this year's event, which maintained its original name, hosted more than 200 countries and their most elite athletes from the opening ceremony on July 23, 2021, through the closing ceremony on August 8, 2021.
Since middle-distance runner Jerome Walters made history in 1956 as the first Pepperdine athlete to compete in the Olympics, Waves have had a powerful presence at the games. Among the thousands of participants that traveled to Tokyo this year, 15 of Pepperdine's own, six of whom made their Olympics debut, joined the ranks, bringing Pepperdine's total number of Olympians who have made their mark in the legendary competitions throughout the years to 59.
Meet this year's Pepperdine Olympians: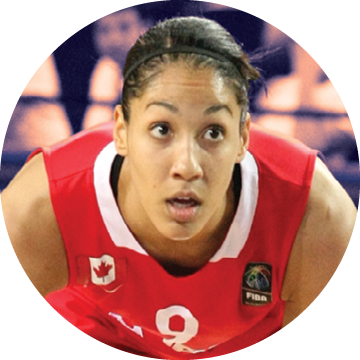 Miranda Ayim ('10), CANADA BASKETBALL
Miranda Ayim made her third appearance at the Olympics with Canada's women's basketball national team and announced her retirement following her performance. During her time at Pepperdine she was the nation's top scholar-athlete in Division I-AAA women's basketball, was a three-time All-West Coast Conference (WCC) first teamer, and set the University's record for career blocked shots. She first competed in the Olympics with Canada's women's national team in 2012 and returned in 2016. Ayim has played professionally overseas for more than a decade, and her latest title includes the Basket Landes score of the French women's basketball championship in May 2021.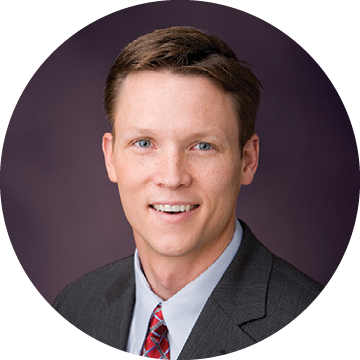 Kevin Barnett, USA INDOOR VOLLEYBALL COMMENTATOR
As a student-athlete, Kevin Barnett led the Waves men's indoor volleyball team with 575 kills, racked up a .367 hitting percentage, and added 154 digs, 95 blocks, and 48 aces to his record. In his first season in 1996, Barnett posted double-figure kills in all 26 matches and 20 or more kills on 17 occasions. His performance on the court qualified him for the Olympics twice as a player and, after competing with the USA men's volleyball national team in the 2000 and 2004 Summer Olympics, Barnett joined the world of sports broadcasting with Pac-12 Networks and FOX Sports West. Tokyo 2020 was his fourth Olympics appearance and second as a commentator for indoor volleyball alongside sportscaster Paul Sunderland.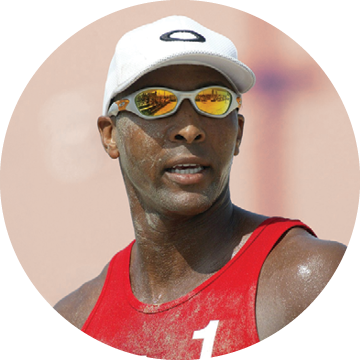 Dain Blanton ('94), USA BEACH VOLLEYBALL COMMENTATOR
Following his remarkable career as a student-athlete on the Waves men's beach volleyball team, Dain Blanton join ed the Association of Volleyball Professionals Tour in 1994 and earned 11 first-place tournament wins. In his Olympics debut at the Sydney 2000 Summer Olympics, Blanton won the gold medal in beach volleyball alongside partner Eric Fonoimoana. As a sports analyst and reporter, Blanton has covered volleyball tournaments for ABC, NBC, ESPN, and other networks. In 2019 he became the head coach of women's beach volleyball at the University of Southern California. His coverage of Tokyo 2020 beach volleyball was his second Olympics appearance.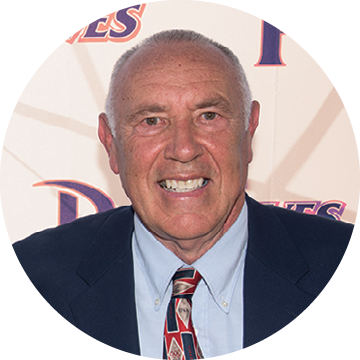 Marv Dunphy ('74), USA VOLLEYBALL COACH
Marv Dunphy, Head Coach Emeritus of Pepperdine men's volleyball, returned to the Olympics for the eighth time with his signature energetic spirit, serving as a consultant coach for the USA women's volleyball team. No stranger to the team, Tokyo 2020 was his third consecutive time working with USA women's volleyball. As head coach at Pepperdine, Dunphy, who was inducted in the International Volleyball Hall of Fame in 1994 and the American Volleyball Coaches Association Hall of Fame in 2009, led men's volleyball to four NCAA championships and was known to be many of his players' biggest inspiration until his retirement in 2017. Dunphy's Olympics career began in 1988 when he led the USA men's indoor volleyball national team to gold.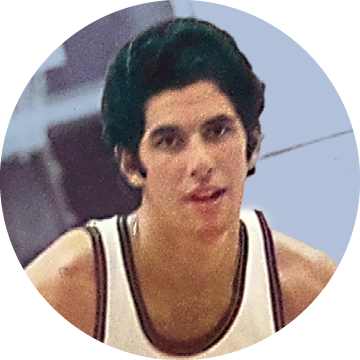 Brian Goorjian ('76), AUSTRALIA BASKETBALL COACH
During his three-season basketball career at Pepperdine, Brian Goorjian tallied more than
70 baskets, more than 200 attempts, and more than 150 assists. After nearly a decade playing professionally, he began coaching the Eastside Spectres in Melbourne, Australia. His coaching career, spanning more than 20 years, is considered one of the most successful in the National Basketball League of Australia. Goorjian made his Olympics debut with the Australian national team at the Athens 2004 Summer Olympics and returned four years later to the games in Beijing. Tokyo 2020 will be Goorjian's third stint at the Olympics with the Australia national team.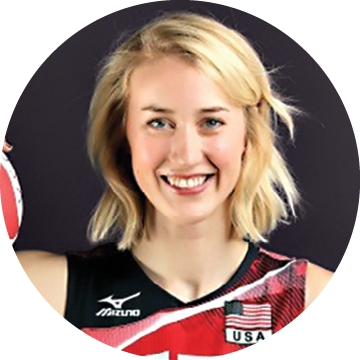 Kim Hill ('12), USA VOLLEYBALL
to the Olympics this year with the USA women's national volleyball team. She is one of four athletes returning with the team from the 2016 Olympics, where they brought home the bronze medal. Hill's career at Pepperdine and beyond has been marked with an abundance of accolades and honors. She was a three-time All-American with Pepperdine's indoor team, and, in the 2011–2012 season, became the first-ever student-athlete to earn American Volleyball Coaches Association All-American honors for both indoor and beach volleyball. She also earned MVP honors at the 2014 International Volleyball Federation World Championships.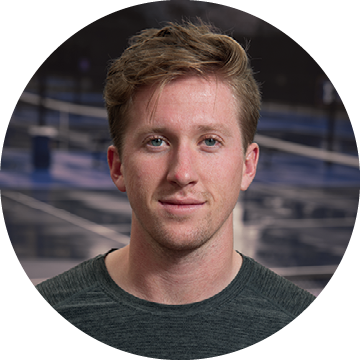 Tom Hill ('17), GREECE TENNIS COACH
During Tom Hill's career with Pepperdine men's tennis, he racked up three honors as a Pepperdine Scholar-Athlete and three accolades as a member of the WCC Commissioner's Honor Roll for his dedication to academics and his sport. As a player he held 16-35 in singles and 40-57 in doubles. In 2017 Danielle Collins, USA women's tennis player, asked for Hill's support on the court, thus setting his professional coaching career in motion. Hill made his way to Tokyo 2020 alongside Maria Sakkari, Greece women's tennis player, who he has coached since 2018.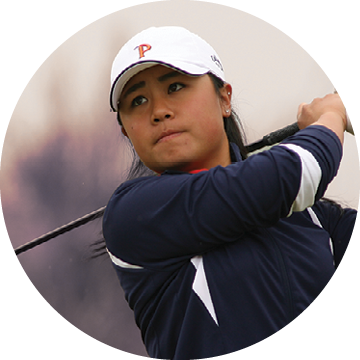 Danielle Kang, USA GOLF
A first-time competitor in the Olympics this year, Danielle Kang qualified to participate
in the US Women's Open as a teenager in 2007. Prior to playing professionally, Kang attended Pepperdine and played two seasons, earning All-American honors in both 2010 and 2011. After winning the US Women's Amateur in 2010 and 2011, the San Francisco native was declared victorious five times on the LPGA Tour, including the first major ever won by a Wave at the 2017 KPMG Women's PGA Championship. As of July 2021, she was the sixth-ranked female golfer in the world.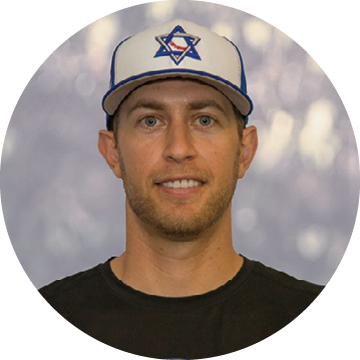 Jon Moscot ('14), ISRAEL BASEBALL
Major League Baseball (MLB) pitcher Jon Moscot represented Israel in his Olympics debut this summer. After transferring to Pepperdine from Cuesta College, Moscot pitched two seasons for the Waves and earned All-WCC first team honors in 2012 as a junior. Following that season, he entered the professional world of sports when he was selected in the fourth round of the 2012 MLB draft by the Cincinnati Reds. He pitched a total of eight games in the major league during the 2015 and 2016 seasons but underwent Tommy John surgery in 2016, which sidelined him for two years. Moscot retired following his injury, but he returned to the sport to help Israel qualify for the Olympics.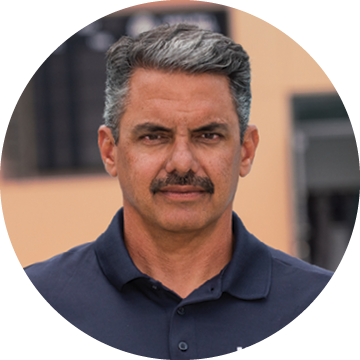 Alex Rodriguez ('98), USA WATER POLO COACH
Alex Rodriguez is an assistant coach with the USA men's water polo team for his second consecutive Olympics. During his time with Team USA, he has been part of two Pan American Gold Team teams (2015, 2019) and has won two World League Super Final silver medals (2016, 2018) and two Intercontinental Cup gold medals (2016, 2018). Rodriguez also served as the USA youth head coach from 2013 to 2016 and has trained four current Olympians. He is currently the head coach of the Pomona-Pitzer men's and women's water polo programs and has led the teams in winning 16 conference titles. The Pomona-Pitzer women's water polo program has made seven NCAA Championship appearances under Rodriguez's leadership and earned an automatic bid to the Southern California Intercollegiate Athletic Conference with his first five league titles. Between 2016 and 2018, the men's program reached the NCAA Tournament three consecutive seasons.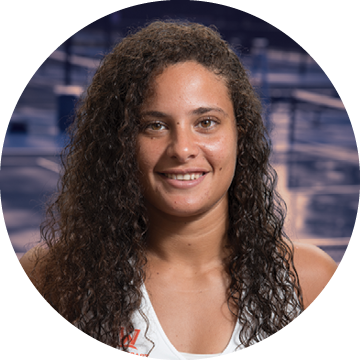 Mayar Sherif ('18), EGYPT TENNIS
During her inaugural stint as an Olympian this summer, Mayar Sherif became the first Egyptian to participate in women's tennis at the Olympics. She played two seasons for the Waves after transferring from California State University, Fresno, and received All-American honors in both singles and doubles in 2017 and in singles in 2018. As a professional tennis player, Sherif became the first Egyptian to make it into a Grand Slam main draw at the 2020 French Open and the first to win a match at a Grand Slam at the 2021 Australian Open. As of early July 2021, Sherif was ranked 119th in the world in singles.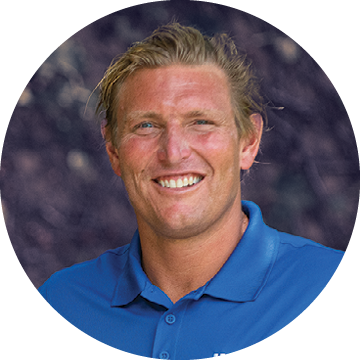 Jesse Smith ('05), USA WATER POLO
Following his fifth appearance at the Olympics in Tokyo, Jesse Smith became Pepperdine's most frequent Olympics competitor and tied for most ever Olympics participation by a USA men's water polo player. He competed on the United States national team in the 2004 Summer Olympics while he was a Pepperdine student-athlete, won a silver medal at the 2008 Summer Olympics, and returned to play in the 2012 Summer Olympics. At Pepperdine, Smith was a four-time All-American athlete, including three times on the first team. He was inducted into the Pepperdine Athletics Hall of Fame in 2011. Smith currently plays for the Panathinaikos Water Polo Club in Athens, Greece.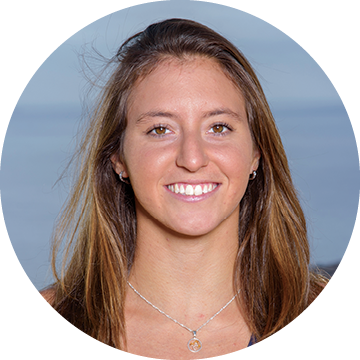 Luisa Stefani, BRAZIL TENNIS
Ranked first in the Pepperdine women's tennis record books with a .847 career-winning percentage after a masterful three-season run, Luisa Stefani made her Olympics debut at the Tokyo 2020 games playing for Brazil women's tennis doubles. As a student-athlete, she placed number two in the Intercollegiate Tennis Association (ITA) singles rankings and number eight in the ITA doubles rankings alongside fellow Pepperdine tennis player Mayar Sherif. Since 2019 she has played tennis internationally at the professional level and competed in several high-profile competitions including the Australian Open and the US Open.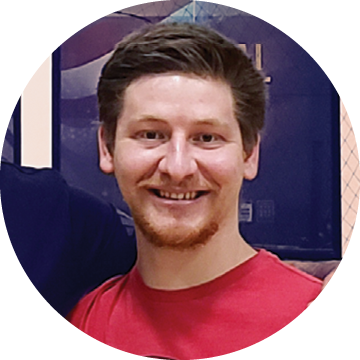 Andrew Strick ('19), USA VOLLEYBALL STATISTICIAN
As a student, Andrew Strick could be found courtside at men's volleyball games assisting the coach with gathering statistical information to track patterns and identify weaknesses in the opposing teams. A sports medicine major, Strick developed a particular interest in motor behavior and, as the student manager of the Pepperdine's men's volleyball team, brought his understanding of the science behind motor learning to the team's practices to improve player performance. Strick made his first journey to the Olympics alongside the USA volleyball team this year as a statistician to support performance data analysis and more.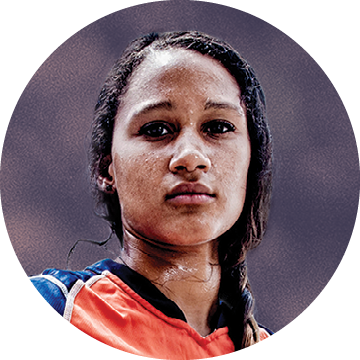 Lynn Williams ('15), USA SOCCER
Selected as an alternate for the USA women's soccer team, Lynn Williams is a member of the USA Women's National Team and the North Carolina Courage. The forward previously played for the Western New York Flash and Western Sydney Wanderers in Australia. During her first year at Pepperdine, Williams started in 20 games, scoring six goals and leading the Waves with eight assists. Based on her performance, she was named WCC Freshman of the Year, earning Soccer America Freshman All-American first team, All-WCC second team, and WCC All-Freshman team honors. Williams made Pepperdine history by scoring a point during five consecutive games and is tied for second place with two multi-assist games.