Locally Made, Globally Inspired
A Seaver College alumnus and his wife are dedicated to sharing Ecuadorian cuisine with the world.
"A celebration of flavors on the palate" and "a beautiful experience on the eyes" might seem like rave reviews for a trendy eatery in New York or Paris. But they actually belong to a five-star restaurant in Ecuador. Located in the capital city of Quito, SOMOS is owned and operated by Seaver College alumnus Signo Uddenberg ('08) and his wife, Alejandra Espinoza. Translating to "we are" in Spanish, SOMOS opened in May 2019 and offers locals and travelers alike contemporary Ecuadorian cuisine.
Within the past five years, an increased collaboration between highly trained chefs and local culinary artists have generated a rise in Ecuador's dining scene. Mixing tradition and artistry, the unified efforts have transformed the country into a worthy rival against well-known culinary capitals in South America. In April 2021, SOMOS was featured in National Geographic Traveler's "A Culinary Guide to Quito, Ecuador," for its contributions to the regional dining movement. Inspired by a simple goal to help share Ecuador with the world, Uddenberg and Espinoza are committed to delivering high-quality food, ambiance, and service to each customer.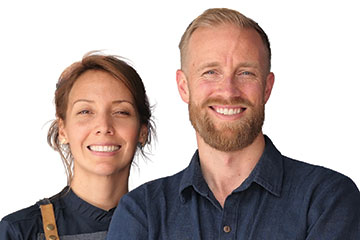 "SOMOS caters to those who are craving something with creativity in the food and the space," says Uddenberg. "We use fusion flavors that pull from Ecuadorian ingredients and culture and use new techniques to create delicious food that is healthy and not as heavy as conventional Ecuadorian fare."
Leading the strategy behind the customer experience at SOMOS, Uddenberg understands the importance of both the physical and digital location of the restaurant. Located in a central and up-and-coming neighborhood, SOMOS has become a local favorite among those who live and work near it. SOMOS also has gained an online fan base with more than 14,000 Instagram followers who engage with the restaurant via social media.
While the SOMOS ambiance is hard to beat, Uddenberg and Espinoza know that what ultimately draws repeat customers and encourages word-of-mouth marketing is their specialized menu. Fulfilling a lifelong goal of opening a restaurant in her native country, Espinoza's international culinary training mixed with endemic ingredients helps SOMOS stand out among the competition.
SOMOS' diverse menu features local ingredients and flavors and ranges from goat stew empanadas (empanada chivo loco) to mushroom oysters smoked on hearts of palm (guaguasa palmito). Partnering with Canopy Bridge, a nonprofit network that connects buyers with Indigenous Ecuadorian farmers, Espinoza uses Amazonian ingredients such as macambo and garato yuto to share traditional Ecuadorian meals with the masses.
"We have a lot to offer that has been hidden; other countries have done a better job exporting their gastronomy," Espinoza says. "We're here to change that by creating great experiences for people that visit as well as by taking experiences abroad."
While each option on the menu is met with rave reviews, the best seller is an Ecuadorian version of pizza called guaguasa. Developed by Espinoza and the first of its kind in Ecuador, it is made from yucca dough and is cooked in a unique oven designed by the owners and imported from Salerno, Italy.
Using their best-selling dish as inspiration during the temporary shutdown of their restaurant in 2020 due to the COVID-19 pandemic, Espinoza shifted to fast-casual dishes that could be offered to go. La Guaguasería, the name of their new delivery platform, will also have a physical space that opens this summer.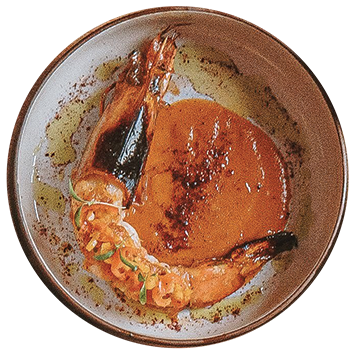 In an effort to share Ecuador with those unable to travel to Quito and experience firsthand the culinary masterpieces Espinoza and her team create, Uddenberg has compiled a cookbook, Ecuadorian Born.: SOMOS Restaurant: YEAR ONE. Recipes for local favorites in both English and Spanish fill the colorful pages from cover to cover.
Looking forward to a post-pandemic world, Uddenberg and Espinoza are hopeful to bring together chefs in Quito to collaborate with and help compete against culinary destinations like Brazil and Peru.
"Quito needs more restaurants and SOMOS needs healthy competition," Uddenberg shares. "We need collaboration to get all of our stories out of Ecuador and to the world."