Production Values
Inspired by his lifelong love of music and entertainment, a Christian creative executive tells a classic story in a groundbreaking way
"We wanted to plant seeds of inspiration and hope and to tell people they are special, God loves them, and they are not alone," says Gabriel Vasquez ('96), a Christian music artist manager and film producer who recently made history by creating and coproducing A Week Away, the first-ever faith-based live action musical to debut on Netflix. The wholesome, family-friendly movie portrays the story of a troubled teenage orphan who, when given the choice between being sentenced to a juvenile detention center or attending a Christian camp, reluctantly chooses the camp option.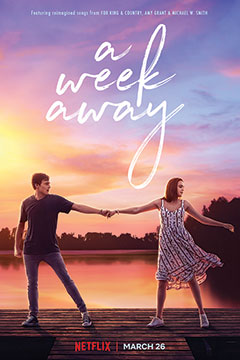 Released on March 26, 2021, the cinematic Christian camp adventure quickly climbed the charts. The film earned a top five spot among international and US-based Netflix users, and the movie soundtrack reached the number one spot on iTunes Christian songs and top 15 albums among all genres. Three weeks before the movie's release, Vasquez and A Week Away director Roman White announced a partnership with United Talent Agency and the launch of Rove Productions, a Nashville-based production company devoted to creating family-friendly films, television shows, and books that capture the magic behind music, romance, fantasy, and animation.
Pepperdine Magazine sat down with Vasquez to catch a glimpse behind the making of A Week Away, from a single idea discussed over a cup of coffee seven years ago into an eight-week production that wrapped in October 2019 at YMCA Camp Widjiwagan, just 30 minutes from Vasquez's Tennessee home.
Where did the idea for a Christian musical come from?
It was a merging of worlds, combining my years in Christian music, a love for storytelling, and creating something message-driven for my kids. I have always been a fan of Christian music and used to read CCM Magazine from cover to cover as a kid. Music from artists like Steven Curtis Chapman, Amy Grant, and Michael W. Smith was the soundtrack to so much of my life. Knowing personally the impact that this music had on my life, I hoped that it could also have the same impact now on my kids' lives. It also came from realizing how hard it is to find a movie to watch on a Friday night that the entire family can agree on and enjoy without worrying about content that's inappropriate for the kids.
You have worked in the music industry managing artists for the last 20 years. What inspires your work in the creative space?
I am deeply inspired by movies and music and am drawn especially to films that have messages of hope, life change, and inspiration. I am also inspired by the life lessons I have learned over the years and hope to create stories out of these experiences that will resonate with others. A huge inspiration for A Week Away was seeing what moves and inspires my own kids, who attend Christian summer camp every year. Their real-life passions and experiences are what I intentionally poured into the film.
How do you hope audiences feel after watching this film?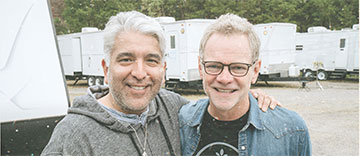 Our goal was to tell a story that demonstrated that everyone is loved and accepted just the way they are, and where being a Christian didn't mean you had to be perfect. Our hope was that everyone could see themselves in one of our characters. It was critical for us to touch the audience without seeming preachy. We were also intentional about showing that sometimes people who are hurting become angry at God, but even in those moments they are loved and not alone.
What was the most eye-opening part of this journey for you?
This all started with one little idea over a bad cup of coffee one day, and from there grew to something bigger than I could have ever imagined. God started opening doors and bringing creative people into our lives until that idea grew exponentially. Netflix believed in our message of faith and hope, and now the film has been translated into 32 languages and released around the world. It's incredible to see the power of a good partnership and the results of being intentional about nurturing just one good idea.
Over the last seven years, as your idea developed from concept to the film's final cut, did you ever feel discouraged about the progress?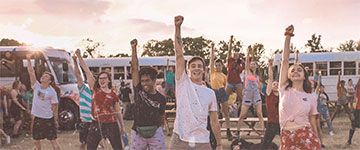 Absolutely. In 2018, a few years into the process, I was diagnosed with kidney cancer, had two major surgeries, and was bedridden for 17 weeks. At that point I was pretty convinced the journey on the film had come to an end, and I 100 percent felt like giving up. I remember praying in bed, asking God what to do, and to clearly show me what I needed to do after recovery. Eight weeks after that prayer, a financier showed up and said she wanted to make this movie.
How did Pepperdine influence your career?
Pepperdine created a foundation for me that I am forever grateful for because that's where I learned the power to dream. Seeing how big this world is while studying in Heidelberg during my junior year opened my eyes to the possibilities that are available to us. After hosting Songfest and handing the winning trophy to my fraternity brothers during my senior year, I told some professors and administrators that I was moving to Nashville to work in Christian music. They immediately became my champions and advocates, encouraging me to do what seemed impossible. Without that foundation, I wouldn't have had the confidence to drive across the country and chase these big dreams.
What can fans expect from Rove Productions in the future?
Right now we are working on a Christmas musical entitled Wonderland and another original young adult musical entitled Stranded. Our long-term goal is to weave fantastic, unforgettable stories. Whether it's fantasy, musicals, or coming-of-age adventures, we hope to create every project with heart and hopefully a little bit of magic.