Shooting for the Stars
Alumnus Colbey Ross ('21) takes his shot at the NBA
Colbey Ross might just be the perfect symbol of the oxymoron that is 2021. As COVID-19 case rates decline in the US and we feel the possibility of brighter days ahead, the uncertainties of the past 18 months are still very much with us. Now the basketball superstar and newly minted Seaver College graduate faces the same daunting mix of hope and uncertainty as he prepares to enter the NBA draft on July 29—an exceptional college player projected as a possible second-round draft pick. There is no third round.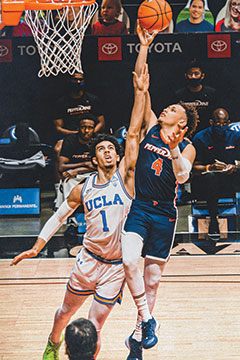 Entering the draft with such a narrow window of success might dishearten a less determined person, but Ross is accustomed to beating the odds.
His performance as a Wave has been nothing short of remarkable. Ross became the West Coast Conference tournament's all-time leading scorer with a total of 212 points over his four years. He earned a bachelor's degree in sport administration while racking up more points, passes, and assists than anyone who's ever played at Pepperdine. He is the only player in Division I college basketball history with career totals of at least 2,200 points, 800 assists, and 400 rebounds. As Lorenzo Romar, Pepperdine's head coach of men's basketball puts it, "He is literally the only player in the history of college basketball to do that; we are talking about history here."
Reaching such heights as a player is all the more impressive when one considers Ross' journey as an athlete. Arriving in Malibu in 2017, Ross was neither the tallest, at 6'1", nor the most skillful first-year player to grace the basketball court at Pepperdine. "Nobody was really interested in Ross coming out of high school," says Romar. "He wasn't heavily recruited." Since then, Ross has shown what discipline and perseverance can accomplish.
Driven to be the best athlete he could be, Ross emulated Kobe Bryant, who, he says, "used to go to the gym really early and would be the last one to leave." While Bryant was his inspiration, his role model was closer to home: his mother, whose diligence spurred him and his siblings to devote themselves single-mindedly to their objectives.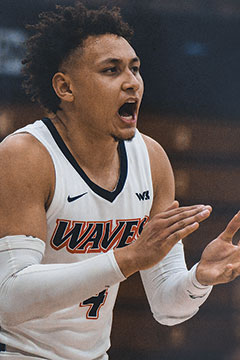 "It's all about hard work," says Ross. "That's what she instilled in us when we were young. My approach in life is to work as hard as I have to to accomplish my goals."
Romar agrees wholeheartedly. While other players could have been as good as Ross, Romar praises the guard's work ethic for his extraordinary success.
"Ross is self-made. You're talking about a guy who would get up at 5:30 every morning without anyone knowing about it. I would love to say 'this is the kind of coach I am; this is what we do,' but no, I can't do that. He worked his tail off."
Ross' determination to play at the highest level possible was a blessing to the Waves—and not just because he was good at putting the ball in the basket. Ross was always on time, attended his classes regularly, and even tucked his shirt in during practice. And while few students could match his dedication, his focus and success orientation did not go unnoticed. Teammates were inspired by Ross; they knew how hard he worked and what he put into his development.
And as a point guard, Ross' role on the court is to lead the action, to "be the extension of the coach." In this position, and as the captain or co-captain of the team during all but his first year, Ross' teammates looked to him for leadership. "They loved him," says Romar. "He was constantly following them and guiding them. They listened to him."
Ross shares that he tried to be a thoughtful captain, bringing his classroom experience onto the court with him. "In a lot of classes we had to work in small groups. That helped me learn to be a part of the team and how to facilitate working together to achieve something. On the court, you have to communicate with each teammate differently, and my classes gave me insights into doing that well."
Now that he's no longer a student, Ross has an agent and is preparing for the draft with Impact, a basketball training organization in Las Vegas. For a few months, his workouts, his diet, and his personal presentation are being fine-tuned for the NBA. Playing for the NBA's G League or even playing abroad are options for those who don't get drafted, but Ross has his eye on the prize: playing in the NBA. Ross says he would be happy being selected by any team.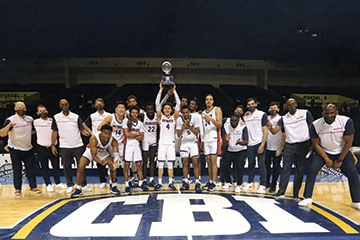 As he focuses on the future, Ross is still very much a Wave. He stays in touch with Coach Romar, who he says is a sort of father figure to him. Looking back, Ross shares that his Pepperdine experience, his connections with his teammates, and his broadened perspectives on religion and the world will always be a big part of his life no matter what the outcome is on July 29.
There are only 450 spots on the NBA roster and only 60 picks in the draft. Some draft picks will never play a minute in basketball's preeminent league. In spite of the competition, odds, and uncertainty, Ross has faith. When he gets picked, Ross says, "It will be a huge blessing. I'll be one of just 450 people; I'll be the one from Pepperdine."