A Ministry of Song
A hymn tour of Britain unlike any other has advanced Pepperdine's Church of Christ heritage for 38 years
Many of America's best-loved hymns originated in Great Britain. And for Jerry Rushford, an Anglophile and a lover of Christian hymns, discovering the homes and churches of hymn writers throughout Great Britain was both exhilarating and gratifying. But that wasn't enough. It was an experience that he needed to share. And since 1985, he's escorted 20 different groups across the Atlantic, where he's entertained and educated them with his exceptional knowledge about hymns and their history. This year, the tour's 20th, will be Jerry's last, as he passes the baton to D. J. Bulls, the worship minister at the Glenwood Church of Christ in Tyler, Texas.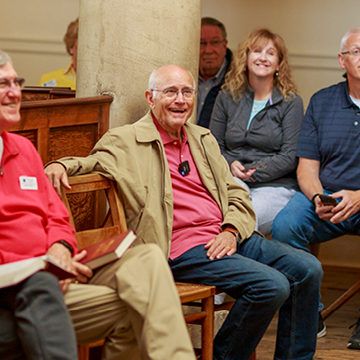 Travelers on Jerry's "Literary and Hymn Pilgrimages" enjoy a guided tour of Britain that is literally like no other. In keeping with the Church of Christ tradition, they engage in a good amount of a cappella singing. And not just on the motor coach on which they travel.
Singing hymns was not limited to church services when Jerry was growing up in Detroit as a member of the local Church of Christ—it was part of socializing. "On a Sunday afternoon, my friends and I might have gone to a lake to swim and play, and then we would have gone to one of our houses and passed around hymnals and sang hymns," he says. "It was so natural."
But his inquiry into all things hymnal came during his college years. Between semesters of Jerry's senior year at Oklahoma Christian University, he stumbled upon a copy of 20th Century Christian. The issue of the magazine, edited by former Pepperdine president and first lady Norvel and Helen Young, was devoted to hymn stories. Jerry was hooked, and he began to research hymns and their history—developing into a true hymn scholar.
By 1982 Jerry was serving as a faculty member of Pepperdine's Heidelberg program and was living there with his wife, Lori. When spring break arrived, he proposed that they take a trip to London, and from there they drove west to Bristol, the residence of Charles Wesley, England's most prolific hymn writer. Learning that the church where Wesley had written some of his 6,000 hymns in the mid-1700s was still standing—that one could walk through it, feel Wesley's presence, and even sing his hymns there—set Jerry on a mission. Before they returned to Heidelberg, Lori and he had visited the cleft in the rock that had sheltered Augustus Toplady—an experience that inspired the hymn writer to pen "Rock of Ages"—and the coastal town of Brixham, where Henry Francis Lyte, author of the hymn "Abide With Me," had lived. They returned to Britain that summer and spent the month of August exploring hymn sites, and they discovered that they were everywhere.
In 1985, then the director of the annual Pepperdine Bible Lectures, Jerry led his first hymns tour. Among the participants were Pepperdine president Howard A. White and Distinguished Professor of Religion Frank Pack. Although Jerry was prepared from a scholarly perspective, his group-trip planning skills had not yet blossomed.
"I made some terrible mistakes," he says, "I didn't know the difference between a one-star hotel and a five-star hotel."
As a tour guide, Jerry developed a few tactics to ensure his guests' comfort. One was to hire a travel agent to reserve high-quality accommodations, including overnights in centuries-old manor houses to provide a more immersive experience in British history. A second was to offer a "free day" in both London and Edinburgh. The remaining 10 days of each trip were meticulously planned by Jerry, and his aptly named Literary and Hymn Pilgrimages have been a manifestation of his passions for British literature and Christian hymns. Guests on Jerry's tours didn't just visit Stratford-upon-Avon and Westminster Abbey. They immersed themselves in Britain's culture, traditions, and worship style.
"I've always desired to pay homage to George Pepperdine's vision, and I think that our hymn tours have done that."

— Jerry Rushford
For example, on day one, the group journeys through the English countryside to Jane Austen's home in Chawton. They tour the house where she wrote three novels and gather together around her desk. "I pick out a hymn that she would have known quite well—'Lord, We Come Before Thee Now,'" says Jerry. "You get 40 people from Churches of Christ singing, and we just lifted the roof off that little room."
Jerry's attention to details like this—countless, judging by his itinerary—are one component of what made his tours so exceptional. Because he has traveled to the tour's sites on so many occasions, he has befriended innkeepers, church elders, and the faithful all over Britain. While visiting Hursley Church this past May, the bell ringer himself gave the group a private tour of the bell tower, which is old enough to contain traces of Norman moldings.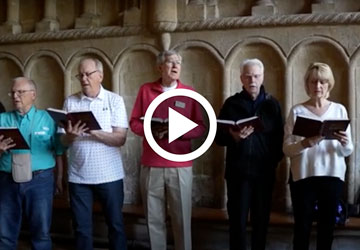 Watch a moving rendition of "O Lord, Our Lord"


"We climbed up a narrow, winding stone staircase, and he showed us the ropes, literally," says Lucy Perrin, director and archivist for the Rushford Center for Research on Churches of Christ and the Stone-Campbell Restoration Movement at Pepperdine. "He rang the bells and told us about the tradition of bell ringing. It was a fascinating and unexpected experience."
The welcome that Jerry, Lori, and the tour participants received this spring was especially warm, as British hosts and churchgoers had learned that Jerry was leading his final pilgrimage. The group's third day on the road was particularly moving, as the tourists and local Church of Christ members feted the couple in Bristol on the day of their golden wedding anniversary. Arriving at the church, the Rushfords were more than a little surprised to find it decorated with photos of their wedding day. Jerry says, "The preacher and the elders at that church had been helping me for years, and this year they enjoyed honoring us."
The tour's unique subject matter is a point of pride for Jerry. "Many people have led tours of the Holy Land, but to my knowledge, no one else does a hymns tour," he says. Perhaps even more meaningful to him is the distinctive sense of oneness that emerges among the travelers. "Everyone is just singing and praying and singing and praying," he says. "At the end of my tours, people exchange addresses and photos; everybody is drawing a map of where they live so others can visit when they're on vacation."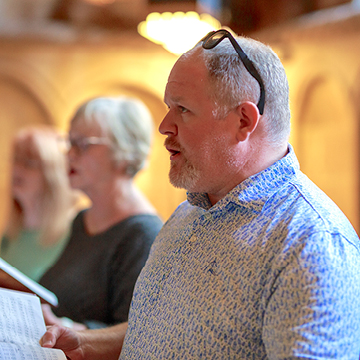 D. J. Bulls
Christians from all over the country have taken the hymns tours, but not surprisingly, many attendees have come from within the Pepperdine community. In addition to Pepperdine faculty and administrators, several members of the University's Board of Regents have traveled with him over the years. Jerry is glad that the tour has helped maintain Pepperdine's connection with its founding principles. "I've always desired to pay homage to George Pepperdine's vision, and I think that our hymn tours have done that," he says.
Susan Giboney ('62), a former professor of education at Seaver College, traveled with the group in 2013 and recalls her experience with great fondness. "What an amazing legacy these tours have created," she says. "They have left much richness of faithful appreciation in the hearts of us who were blessed by the tours. It is such a sweet memory for me, and I am thankful to have participated in one".
Although Jerry has loved researching, organizing, and leading his tours, he is comfortable stepping down. "You've got to love a capella music, and D. J. is the right person to follow me," says Jerry. "You could throw any hymn at him, and even if he's never seen it, he can lead it."
Your browser does not support the audio tag.

The tour group sings "I Stand Amazed" in Bedminster Church of Christ in Bristol, England.
With a PhD in hymnology, Bulls shares Jerry's passion for hymns and love for the church, and he is both excited and honored to be filling Jerry's shoes. "Jerry is a master storyteller, which is something I'll need to grow into," Bulls says. "He's given me the blessing to make the tour my own and inspired me to think about how I might bring new things to it, the way that he has. But this will always be Jerry's tour. I am just stewarding it for a while."
And while attendees don't have to sing well, the musically gifted have been most welcome. Jerry notes, "If you're going to have a hymns tour, and you're an a cappella group, you have no instruments to help you. It's just the ministry of song—it's the trumpet of the human voice."