The Perfect Game
As president and CEO of Tetris, Maya Rogers ('00, MBA '09) navigates the gaming industry with satisfying accuracy
Tetris is the top-selling video game of all time. Beloved for its simple graphics and straightforward rules, the block-based puzzle game was originally developed in the 1980s and has remained popular with generations of gamers since its inception. Yet, the game's origins in the troubled government-controlled economy of the then Soviet Union almost left Tetris in obscurity.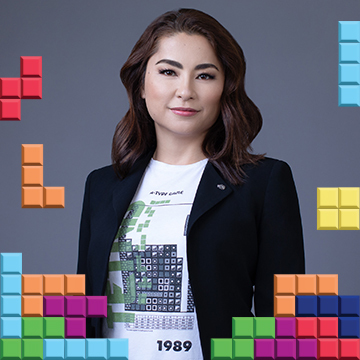 "The longevity of Tetris stems
from its universal appeal
and the innate desire to
create order out of chaos."
Months away from its 40th anniversary, Tetris remains pervasive in popular culture as the company continues to innovate and adapt the game to new platforms, technologies, and audiences. This March, the incredible story of how Tetris came to be was brought to life on Apple TV+. Maya Rogers, president and CEO of Tetris, Inc. and daughter of company cofounder Henk Rogers, developed and oversaw the creation of the 2023 film as an executive producer.
"At the core of it, Tetris is simply the perfect game," says Maya. "It's easy to play but difficult to master, and the longevity of Tetris stems from its universal appeal and the innate desire to create order out of chaos. This year, we took a great leap forward with the release of the film, which is a gripping tale based on the true story of how my father went to the Soviet Union in the 1980s on a tourist visa to secure the rights to Tetris."
Plagued by handshake deals, industry rivalries, and tense negotiations between Western executives and Soviet-era Russian officials, the compelling game owes its global success to a partnership between its creator, Alexey Pajitnov, and Maya's father, Henk, a Dutch American video game designer and entrepreneur. Developed by the young Russian computer programmer, Pajitnov often programmed games to test new equipment using simple tasks. In his spare time, he created a computer game inspired by his favorite puzzle board game, Pentominoes, which ultimately became the blueprint for Tetris. Unable to turn a profit while working for a state-owned organization, Pajitnov's luck would change upon meeting Henk, who was based in Japan at the time and working with Nintendo to expand the availability of the game through the company's new product, Game Boy. Together, Pajitnov and Henk formed a partnership that would bring Tetris to the masses and continues to this very day.
As the current president and CEO, Maya's responsibilities include overseeing the licensing of the Tetris brand and intellectual property and working with a global network of partners—from major video game publishers like Nintendo and SEGA, to collaborators in diverse sectors such as electronics, toys, apparel, lifestyle goods, and entertainment.
"On any given day, I might be negotiating contracts, greenlighting merchandising deals, navigating legal issues, testing products, chatting with the media, or strategizing our next move," says Maya.
---
Maya spent her early childhood in Japan before moving to Hawaii with her family when her father began transitioning his businesses to the United States. After earning her BS in business administration at Seaver College, she worked at American Honda Motor Company, Inc. as a logistics analyst and then at Sony Computer Entertainment America as a localization producer, where she discovered her passion for the video game industry. Maya joined her father's company as Tetris began expanding into the Chinese market, and she helped steer the cross-culturalization and development efforts for Tetris Online China while earning her executive MBA at the Graziadio Business School.
Although she had not been positioned to assume a leadership role at Tetris, Maya immersed herself in what would become the family business after her father suffered a severe heart attack. "Though he thankfully survived, it was a stark reminder of the fleeting nature of time," she says. "I decided to move back to Hawaii to learn from my father."
In 2014 Maya assumed the role of president and CEO of Tetris. Under her leadership, the game has continued to flourish with fans worldwide and has introduced top-ranked licensee titles, including Tetris 99, Tetris Effect, Puyo Puyo Tetris, and others. She has also led the expansion of Tetris as a lifestyle brand, which currently has more than 90 licensees and promotional partners globally who offer innovative Tetris-branded games and consumer products and experiences, including apparel, toys, décor, novelties, and more. With continuous branding deals and fruitful partnerships, Tetris is not only a game but a lifestyle, and Maya sees endless possibilities and creative avenues for the brand.
"We have continuously adapted to trends and technologies to keep Tetris accessible wherever our audience chooses to play, which has contributed to the game's enduring popularity," says Maya. "Today, Tetris has sold more than 520 million copies, making it the most popular video game in the world."
---
Beyond Tetris, Maya is a founding partner of Blue Startups, Hawaii's first venture tech accelerator, which helps early-stage startups advance their businesses with investments and mentoring. Founded in 2012, Blue Startups was the brainchild of Maya, Henk, and Chenoa Farnsworth, managing partner of Hawaii Angels. The partners saw an opportunity to leverage Hawaii's strengths to develop and bring more technology companies (such as Tetris) to the islands. Focusing on companies in the travel, technology, sustainability, and gaming businesses, particularly those with underrepresented founders, Blue Startups has currently invested in 110 companies around the world and attracted more than $400 million in follow-on funding, making it one of the top 20 accelerators in the country.
"Blue Startups was born from the need for a tech hub in Hawaii," says Maya. "Our paradise islands face a brain drain. Young, bright minds often leave in search of better opportunities on the mainland due to high living costs and scarce jobs. We dreamt of creating an ecosystem that would allow them to thrive right here at home."
Maya also currently serves on the boards of the Smithsonian Asian Pacific American Center, American Red Cross Hawaii Chapter, Women's Fund of Hawaii, and the Kapi'olani Medical Center for Women & Children. She is also a member of the Tiffany Circle, a Red Cross organization for women philanthropists and a member of the US-Japan Council, an educational organization that contributes to strengthening relations between the countries.
---
A testament to Maya's tactical decision-making and determined leadership, Tetris has expanded well beyond the confines of a simple game and established itself in popular culture indefinitely. Maya's plans for Tetris entail its continuous evolution, while maintaining the core game that everyone knows and loves.
"At the heart of it all, my key role is to uphold our brand values while pushing the boundaries of growth and innovation," she says. "Running a business isn't for the faint-hearted, but if you're armed with unshakeable belief, the sky's the limit!"