Triumph Through Turbulence
Oscar Munoz (MBA '86), the first Latino CEO of a major US airline, models resilience through adversity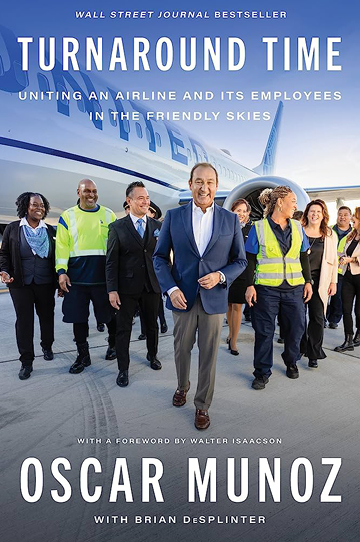 Nearly a decade ago, Oscar Munoz made history as the first Latino CEO of a major US airline when he assumed the role of chief executive officer of United Airlines. Following a successful career in a series of top financial roles at PepsiCo, the Coca-Cola Company, US West, and AT&T, Munoz transitioned to the transportation industry, where he held key roles as chief financial officer and chief of strategy, chief operations officer, and ultimately president of the CSX Corporation. In 2015 Munoz embarked on the job of a lifetime when he was named CEO of United Airlines. But 37 days into his new role, Munoz suffered a near-fatal heart attack and needed a life-saving heart transplant. In his new Wall Street Journal best-selling book, Turnaround Time: Uniting an Airline and Its Employees in the Friendly Skies, Munoz shares his triumphs and trials as he bounced back from a personal setback and went on to lead United Airlines through one of modern business's greatest corporate turnarounds.
Prior to his health troubles, Munoz had inherited a struggling empire and was intent on repositioning the airline's trajectory. His predecessor was facing bribery allegations, the company was underperforming financially, employee morale was low, and United was losing business due to poor service and a disappointing on-time record. Though five years had passed since United had merged with Continental, a divide remained between employees and management, and Continental staff continued to wear their old uniforms and wristbands to protest the merger. Munoz was tasked with building trust among his workforce and had developed a 90-day action plan—including a high-touch listening tour with employees from all corners of the company—to get the business back on track.
"To make people believe in you as a leader, you need to turn your words into actions," Munoz says. "The listening tour served to identify United's issues by listening to the people who were living it. The more you listen to people and learn from that listening, eventually you're going to aggregate and distill all the many points into something that's actionable."
---
Following his heart attack, Munoz was determined to return to work and continue what he started as he waited for a new heart. On his 57th birthday, while attending a strategy retreat with other United senior leaders, he received a call that a donor heart had become available. Munoz spent one week in the hospital following the surgery and, after two months of intense recovery, fully resumed his role as CEO and continued his listening tour.
But the turbulence did not wane. In 2017 a video circulated on social media showing security officers dragging a United passenger off an overbooked flight. A few months later, United was involved in another scandal when a passenger's dog died after a flight attendant placed it in the overhead compartment. Following several public apologies, Munoz announced a comprehensive plan to avoid any such situations in the future and embarked on a "contrition tour" to take ownership of United's mistakes and restore the company's reputation.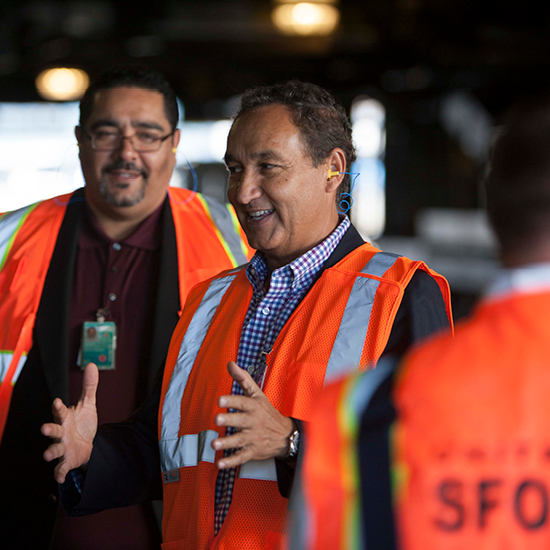 "There are many different types of leaders, but the greatest ones I've met have all been great storytellers," shares Munoz. "They have a talent for inspiring the people they lead to believe in a shared story and, in doing so, to believe in their own individual abilities to make that story the reality. That's how United's epic comeback story began."
One of Munoz's first accomplishments as CEO was finalizing negotiations for new union contracts. Within five years, United was achieving top-tier reliability and profits, which helped restore customer loyalty and earned the praise of major union leaders. The enduring turmoil of the Continental merger was finally ratified under Munoz's leadership, and United stock jumped more than 50 percent during his tenure.
Though he led the charge, Munoz credits United employees for rebuilding the brand and re-establishing the company's reputation as a top-tier airline. "When it comes to turning around an aircraft hundreds of times per day or turning around a company, both require a united team to do it well," he says. "Our team found a way to overcome divisions, reinvent and inspire itself, and emerge as a truly 'United' airline.
---
Since stepping down as United's CEO in 2020 and retiring as executive chairman in 2021, Munoz has continued to influence the business world through the compelling telling of his turbulent leadership journey. In Turnaround Time, Munoz recounts a childhood shaped by his maternal grandmother, Mama Josefina, who taught him the value of a relentless work ethic. Born in Mexico in 1959, Munoz was the oldest of nine children and spent his early childhood living with his grandmother before reuniting with his mother in Los Angeles who had traveled to the United States looking for work. Throughout his young life, Munoz witnessed the struggles his family had to endure to provide a better life for him and his siblings and learned the power of resilience from his grandmother, a woman who never shied away from hard work and eventually retired when she was well into her 80s.
"I always try to carry that perspective with everyone I encounter," shares Munoz. "It's important to see the world from their eyes, understand their struggles, and identify how I can be helpful. I feel a personal duty to care for other people because so many people cared for me. Those formative years and experiences really determine the person you will become in the future."
The first in his family to graduate from college, Munoz earned a BS in business from the University of Southern California and, a few years later while working at PepsiCo, was presented with an opportunity to earn his MBA, a moment he describes as crucial to advancing his career at the time. Well-versed in business by the time he entered the MBA program at the Pepperdine Graziadio Business School, Munoz was drawn to the bedrock values of the program that were reinforced by his professors and fellow students.
"[Pepperdine Graziadio Business School] deepened my commitment to an idea—that the best companies are not only profitable while principled, but profitable because of their principles."
"I credit Pepperdine for forcing me to return to basics and not be fooled by early success," says Munoz. "The school deepened my commitment to an idea—that the best companies are not only profitable while principled, but profitable because of their principles."
In 2020 Munoz transitioned to a one-year term as executive chairman of the United board. Today he sits on several corporate boards, including Univision, CBRE Group, Salesforce, and the pioneering personal aerial mobility developer Archer Aviation and supports various nonprofit organizations including Pave It Forward, a foundation he and his wife, Cathy, founded that raises scholarship funds for first-generation students. While Turnaround Time documents Munoz's diverse learning experiences throughout his leadership journey, it also acts as a guidepost for Munoz's imagination and his intentions for accomplishing his loftiest goals just beyond the horizon.
"This book is as much a look back as a look ahead," he says. "If this book is an attempt to distill the lessons I've learned, then my work as an advisor and director is about putting those lessons into action."