Always Looking Forward
A debilitating accident will not slow down Sam Schmidt ('86, MBA '87)
Sam Schmidt's trust in divine providence was never more evident than during his daunting mountain ascent in the Pikes Peak International Hill Climb, the second-oldest motor sports race in America, held annually on the last Sunday in June. Also known as the Race to the Clouds for its gorgeous panoramic views, the drive up the 14,000-foot mountain in the Colorado Rockies has about 150 switchbacks, sharp turns, and, for the most part, no guard rails. In his 2016 race to the summit, Schmidt made it to the top averaging 50 miles per hour, steering the car only by turning his head.
The Pikes Peak International Hill Climb is just one of many races and race car exhibitions Schmidt, a person with quadriplegia, has participated in since he first drove a specially designed car in 2014. The car is outfitted with interior cameras that respond to sensors on Schmidt's helmet, directing its movement.
"When you're driving, you're looking in your mirrors, you're looking at what you're passing. I can't do that," says Schmidt. "I can't turn my head prematurely, or else."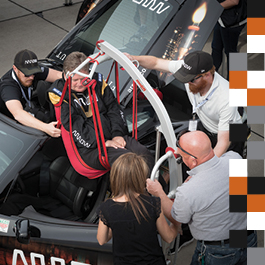 Schmidt's passion in life has always been racing. As the son of a race car builder and driver, he is hardwired for speed. His parents moved to Southern California shortly after he was born, and family life was centered around the sport. While his friends were learning to ride bikes, Schmidt's first set of wheels, at age 5, was a motorcycle.
He continued to dabble with racing throughout his youth, but he also knew the lifelong value of a good education. As a high schooler, Schmidt found Pepperdine's beautiful location irresistible. And while he originally toured 11 schools, he ultimately applied only to Pepperdine. While on campus, Schmidt worked to charter the Psi Upsilon fraternity and in time became its president. Traveling to schools and orphanages in Mexico with the fraternity instilled in the budding leader a sense of purpose and ignited in him a passion for service. "Everybody around Malibu knew our organization, and if they needed something they would know to call us," he remembers.
Four years in Malibu were not quite enough for Schmidt, and he stayed on to earn his MBA at the Graziadio Business School in 1987. The lure of the business world then took hold. Schmidt put his degree to work as a hospital administrator, worked for a car auction service, and even purchased his father's auto parts company—for a while sharing occupations with University founder George Pepperdine. But he also continued racing cars, and he felt in his heart he would always regret bypassing the chance to make it a career. He couldn't not race. "My perspective was always to look forward," says Schmidt.


---

Schmidt was an excellent race car driver; he won the West Coast championship his first year racing and finished third out of 42 cars in the National Championships. "That persuaded me I was pretty good at it," he says. He then stepped up from the Sports Car Club of America to professional open wheel racing. Schmidt raced in the IndyCar Series for three years, and in 1999 he had a great year, winning the Vegas.com 500 and leading at times in many other races, including the Indy 500. He was determined to win it the following year. But in January 2000 Schmidt crashed into a wall during a routine test drive. Remarkably he survived, but his C3 and C4 vertebrae were destroyed, and he was paralyzed from the neck down.
At the time of the accident, Schmidt had been married for seven years and had two very young children. He had a family to care for, and believing that this journey was God's plan for his life, Schmidt faced his circumstances head on. "I meet a lot of people who after their accident ask, 'Why did God do this to me? How can I have faith when I'm in this situation?'" But giving over to despair would belie Schmidt's trust in God and his determination to always look to the future. "God makes us a promise," he says. "Commit your way to the Lord, trust in him, and he will act."
Inspired by this faith, which steeled his gratitude to be alive and to be able to watch his children grow up, he devoted himself to his rehabilitation. Schmidt had seen the effect of physical rehabilitation firsthand, having witnessed his father, who had himself lost the use of his right side in a racing accident at the age of 30, recover the use of his right leg and live a productive, successful life.
"For those with paralyzing injuries, intensive rehabilitation is important," says Schmidt. "You have to give it 120 percent."


In 2013 Arrow Electronics partnered with Schmidt to create a car that he could drive using only his head. They devised the Arrow Corvette, also known as the SAM (semi-autonomous mobility) car, which is controlled by a combination of head motion, breath, and, for street driving, voice. Schmidt's helmet and sunglasses contain sensors that are tracked by four infrared cameras facing him from the windshield of the car. The beams from the cameras monitor the movement of the sensors, calculate the turn's degree and direction, and relay that information to the wheels.
If I WHISPER A BREATH, it is like coming upon a stop light; if I BLOW HARD, the car's going to do donuts.
"Thousands of customers have driven the car in exhibitions, and you need to give them a big parking lot, because they want to turn their head too early," Schmidt notes.
Schmidt directs the speed of the car with a straw in his mouth. He blows out to move forward—his top speed to date is 201 miles per hour—and sucks in to slow down and brake. He keeps the car in motion by biting on the straw to retain the pressure inside it. It takes practice to control the speed well.
"If I whisper a breath, it is like coming upon a stop light; if I blow hard, the car's going to do donuts," he says.
When not racing, Schmidt controls features such as turn signals and lights with voice commands, not unlike Amazon's Alexa technology. The car's engineering is under constant development; a recent innovation is the creation of a right-side driver's seat for Schmidt, which is easier for him to access than the left.
The technology used in the SAM car has allowed Schmidt to be a race car driver again. He recently returned from a tour of England where he raced in a similarly converted McLaren 720S, a road car that reaches a speed of 225 miles per hour. "It's an amazing feeling to be in control of the car. I'm steering it, I'm driving it," he says.
But what is even more powerful is the twofold potential this technology has for changing lives. Its tangible uses for people with disabilities are almost limitless. "This technology can help someone get back to work, whether it's a farmer harvesting a farm or someone driving a train or driving a forklift," Schmidt says. In addition, the potential for self-sufficiency and the purposefulness that Schmidt demonstrates as a race car driver serve as a great inspiration to others. His personal tenacity attracts people to the DRIVEN Neuro Recovery Center, the rehabilitation arm of his research foundation, Conquer Paralysis Now (CPN). "At the foundation, we get emails and texts from people every day who are motivated to get off the couch and get back to work and get something of their life back," he says.
Although motivating others became a theme of Schmidt's life by default, he has decided to make it a mission. The intensive rehabilitation program offered at his rehabilitation center requires clients to commit to a lot of hard work, and Schmidt admits his limited patience for people who give up easily. "I enjoy kicking people back to life," he says.
Schmidt's arguably aggressive stance to motivation was an outgrowth of his own experience. As his father had regained the use of his leg after his accident, Schmidt was determined to recover the use of his arms. "I was working out two to three hours a day just to get my arms back, just to be able to hug my kids." But his efforts didn't work, and it eventually occurred to him that he was not meant to regain the use of his limbs. "I can look anyone who has a lesser injury in the eye and say, 'What are you waiting for? I have nothing. You have the use of your arms, or you have the use of your left side.' I've given that speech hundreds of times."


---

Schmidt has found ways to bring the worlds of car racing and disability recovery together through CPN and other organizations that have brought great meaning to his life. Arrow McLaren SP, Schmidt's IndyCar race team, hosts "days at the races" programs for veterans and individuals with spinal cord injuries, both for fun and to offer visions of active, meaningful lives post-injury. More broadly, the motorsports community gives significant financial support to the foundation and to further the development of vehicles for people with disabilities.
"Helping others is my true purpose in life," he says. "While my dreams and goals were important forces in my life, I know that serving others is why I was placed on this earth."
I can look anyone who has a lesser injury in the eye and say, "WHAT ARE YOU WAITING FOR?"
Schmidt's work has successfully given many people with disabilities the will, confidence, and, through the Neuro Recovery Center, the physical ability to live fully and productively. He relates the story of a teenager he met through the center who had earned a scholarship to Duke University. He became a person with quadriplegia after an accident, and the young man's family asked Schmidt for his help. With a year of physical rehabilitation, the teen attended Duke unescorted, thereafter earned a Rhodes scholarship, and started his own foundation providing academic scholarships for those with disabilities. "He's a force of nature," says Schmidt, "but I wouldn't have had the authority to empower people like him if I had the use of my arms."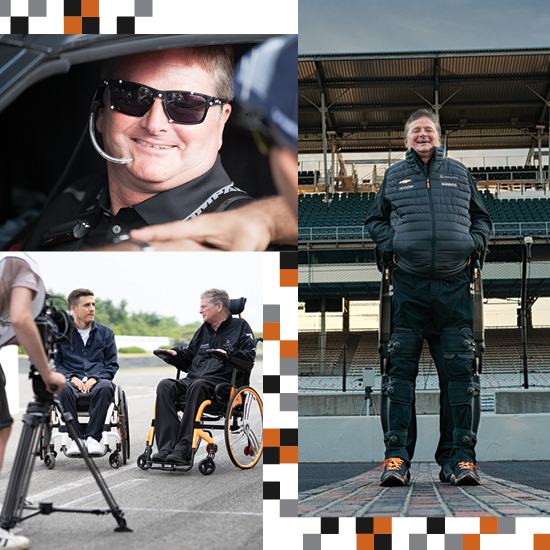 When it comes to himself, Schmidt always looks forward, but he never stops looking back at the support of his family. His parents, having undergone paralysis and illnesses, are living proof of the strength that comes from faith. His wife of nearly 30 years, Sheila ('87), has been his unwavering partner, and he says he would not be alive if it were not for her.
"Our family just grows stronger and stronger, and if we didn't have faith, I don't think we would still be here together," he says. Together, they are also very much a Pepperdine clan. The couple met as students at Seaver College, and both of their children, Savannah ('19) and Spencer ('22), the latter of whom now resides in Indianapolis and is pursuing a race car driving career, attended Seaver as well. Along with Schmidt's parents, they were all at Alumni Park in April of last year when he received an honorary doctorate at Spencer's graduation.
But, Schmidt says, even more significant to him than his many deep ties to the school is the understanding of himself and his purpose that Pepperdine instilled in him. It was in Malibu that his faith and his commitment to serve were deepened. "I came to Pepperdine already having received Christ as my savior, but the University experience taught me how to have a relationship with God that transcends everything in my personal and business life," he says. "I would not be the father or businessman that I am today without having attended Pepperdine."
Photos courtesy of Arrow Electronics