Equal Footing
On the occasion of the 50th anniversary of the passage of Title IX, female student-athletes past and present share how they have been shaped by Pepperdine Athletics
It's not quite boot camp, but the daily life of a student-athlete is extremely rigorous. For golfer Kaleiya Romero, a Seaver College junior, workouts start at 6:30 am, a sort of precursor to a four-hour stretch of classes that is followed by five hours of practice before a night of homework. Although this type of schedule may be routine for student-athletes at all colleges, what's less typical is Pepperdine's focus on building the skills that will help the women athletes thrive long after their playing days are over.
"Confidence and leadership are part of being an athlete," says associate director of athletics for academics and compliance and senior woman administrator Amanda Kurtz, "and fostering these qualities is built into the school's mission and everything we do at Pepperdine."
The world of women's sports on college campuses nationwide reflects the enormous impact of Title IX, the federal law requiring that male and female athletes be rewarded equally in higher education. Passed 50 years ago, the law is expansive, requiring that scholarship funding be proportionate for male and female athletes and that athletes of both sexes receive comparable services and benefits.
With the wide scope of Title IX's provisions, implementing it proved challenging for colleges across the country. Pepperdine was at a disadvantage structurally when compared with other schools—the brand-new campus in Malibu opened without a completed gymnasium in 1972—but by 1975 the school had women's teams in basketball, tennis, and volleyball. By the end of the 1970s the Waves added women's soccer, swimming, golf, and cross country to their roster.
Becci Roehl ('98), a former volleyball player for the Waves, relates that in the '90s, most colleges didn't treat men's and women's athletics equally. At Pepperdine, it was different. "We had the exact same resources that the men's volleyball program had," says Roehl. The school's efforts continue, and today, Kurtz assists in ensuring that the school meets the Title IX standards, including the important provision that the athletics participation figures are proportionate to the student body. Title IX, however, is only one factor in the story of the University's commitment to women's sports and to empowering its female students, and that commitment has unfolded in myriad ways.
---

Learning to LEAD and developing CONFIDENCE is part of being an athlete, and fostering those qualities is built into EVERYTHING we do at Pepperdine.

—Amanda Kurtz


---
A senior on the cross country team, runner Olivia Miller has transformed from a shy teenager to an advocate for mental health awareness. During her first year on campus, Miller felt overwhelmed and alone. With the assistance of Kurtz and Steve Potts (JD '82), director of athletics, Miller started a chapter of the Hidden Opponent, a nationwide student-athlete mental health group, at the school. As the organization's representative, she has offered advice at student-athlete orientation and worked with the counseling center to let other student-athletes know what mental health resources are available to them. She also makes sure they know they're not alone. "Olivia has been instrumental in helping break the stigma of mental health concerns among our student-athletes," says Kurtz. "She's found her voice and what she was passionate about."
Kurtz and Potts have furthered Miller's opportunities outside the campus as well, inviting her to the West Coast Conference (WCC) Executive Council meeting this year, where she learned about council members' ideas for making men's and women's sports more equitable in the NCAA. "I think that Pepperdine has done a really good job of being ahead of that curve, similar to what they've done with mental health," Miller says. She plans to go to law school next year, ready to apply her developing advocacy skills and grateful for the leadership opportunities that she's had. "I'm excited for the next chapter because I know that I'll step into it with confidence," says Miller.
A member of both the WCC Diversity and Inclusion Committee and the Waves Leadership Council, sophomore and first-generation student Savannah Broadus is motivated by her desire to be a role model. On the committee, she represents the University's students and, as a person of color, the diverse population ofstudent-athletes in the conference. She feels that the ways in which she's been able to grow at the University have been truly exceptional and that her Pepperdine experience has furthered her passion to be an exemplar for other female tennis players. "I hope I can inspire other girls to have big dreams and know that they are achievable," she says.
The big dreams nurtured by Pepperdine may also emerge for students along the way. Former Waves basketball player Kelsey Brockway ('16) became one of the school's first sport administration majors at the suggestion of the Athletics staff. "The way the school expressed its mission reinforced for me that I was there to find my purpose," says Brockway.


---

Many universities want student-athletes to attend because it will make the school LOOK BETTER.
But Pepperdine was always trying to make ME HAPPY, make ME BETTER.

—Kelsey Brockway ('16)
---

Brockway, an ESPN top-ranked recruit at the time, points out that Pepperdine's recruiter, the late Maurice Hilliard, was determined she find the perfect home for her unique talent—even if it wasn't at Pepperdine. "He genuinely wanted to find the right place for me," says Brockway. "Many universities want student-athletes to attend because it will make the school look better," she says. "But Pepperdine was always trying to make me happy, make me better."
Now the director of global partnerships for the Los Angeles Lakers, Brockway leads the team's international partnership expansion strategy, finding commercial opportunities to grow the Lakers brand. The communication skills she learned at Pepperdine help her build relationships with those outside the team's direct sphere.
After Brockway graduated, the University continued to contribute to her development, giving her the chance to hone her marketing skills as a corporate partnership and sales intern for Pepperdine Athletics. While an intern, Brockway was accepted into the Los Angeles Sport and Entertainment Committee Professional Development Program and began her career with the Lakers shortly thereafter to help launch the team's first Naming Rights Training Center partnership with UCLA Health. "Pepperdine allowed me to understand my purpose in life and gave me the tools to pursue it," says Brockway.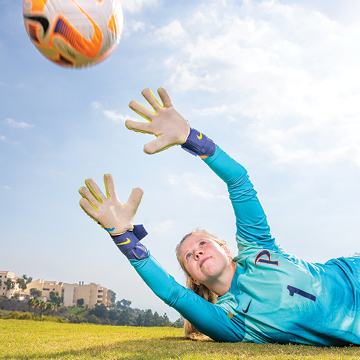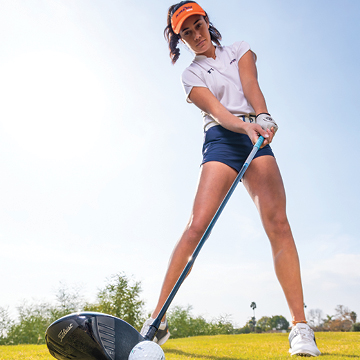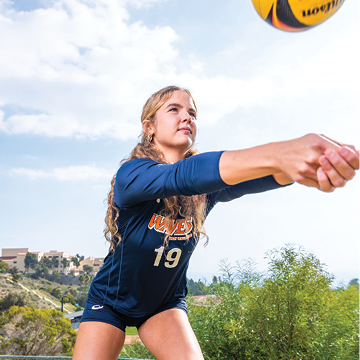 While the University empowers women to succeed as professionals, Kurtz relates that it also provides a springboard for student-athletes to turn pro. Lynn Williams ('15), a player for the Kansas City Current in the National Women's Soccer League and a 2020 Olympic bronze medalist, is among the country's 2 percent of college athletes who have professional careers. Williams' Pepperdine coaches saw her potential and helped her improve her athletic skills significantly.
"Assistant coach Twila Kaufman saw something in me that I don't know if I saw in myself," says Williams. "She encouraged me to be a better soccer player and also to be a leader." Williams is very much that leader, serving as a key advocate for equal pay for the US national soccer team. Due in part to her efforts, women soccer players won a $24 million collective bargaining settlement this year and the promise to bring pay rates for women players into alignment with the US men's team.
Fifty years after the passage of Title IX, Pepperdine's rising leaders are emerging as the game changers of tomorrow, bolstered by both implicit and explicit manifestations of the law's commitment to maintaining a level playing field for all student-athletes and the University's exceptional strides to support its community as they discover their endless potential. And while the athletic success of student-athletes is desired, school is the first priority. "We want these women to succeed," Kurtz says, "as athletes and as people." At this year's commencement ceremony, swimmer Lindsey Marian ('22) and fellow student-athlete beach volleyball player Peyton Lewis ('22) demonstrated the outcome of the support they received as students when they were presented as the co-valedictorians of their graduating class for earning the highest grade point averages—4.0—among their peers.
"So many doors have been opened by the passing of Title IX," reflects Brockway. "It gave my mom the opportunity to develop her love for athletics, and she passed on that love to me. It laid the groundwork for my passion to lead by example and encourage other women to pursue their dreams."
"Title IX and our experiences as student-athletes have made such a difference for all of us, whether we're learning in the classroom or playing on the field," adds Miller. "No matter where I go next, I'll know what it's like to face challenges and to overcome them because of the support I've had at Pepperdine."