How to Run the World
Foreign policy scholar Kiron Skinner brings her commitment to the value of a liberal arts education to the School of Public Policy
At age 14, Kiron Skinner, the recently appointed Taube Professor of International Relations and Politics at the School of Public Policy (SPP), was already pondering how to run the world. Having landed an internship with congressperson Pete McCloskey, the teenager drew the attention of a local reporter. In response to a question about her career goals, Skinner recalls telling him that she wanted to be an ambassador, although at the time she didn't really know what an ambassador did. "I knew I was interested in a wider world," she says, "realizing that what happens locally is connected to the far-flung parts of the world. Foreign policy was something I was thinking about for a long time."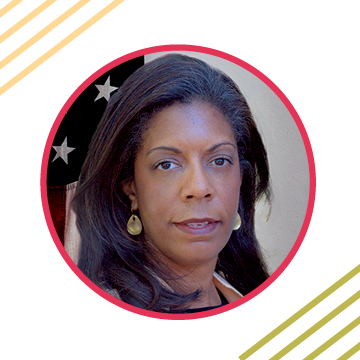 As a renowned policy scholar and an advisor in the complex machinery of the federal government, Skinner has continued to think about foreign policy ever since, and now the students at SPP—and the entire Pepperdine community—have the good fortune to share in the insights she's gained from her decades of experience. Skinner was raised in the San Francisco Bay area, but then spent much of her life on the other side of the country. After completing her PhD at Harvard University and a postdoctoral fellowship at the University of California, Los Angeles, she taught for 22 years at Carnegie Mellon University in Pittsburgh, Pennsylvania. There she founded and directed the school's Center for International Relations and Politics, Institute for Strategic Analysis, and Institute for Politics and Strategy, the latter of which is Carnegie Mellon's first intellectual home for the study of political science. She also served as a humanities and social sciences faculty member and as the Taube Professor for International Relations and Politics at the university's Institute for Politics and Strategy.
Concurrently, Skinner held the role of special government employee in the Department of Defense, where she was a member of the Defense Policy Board and Defense Business Board, the Chief of Naval Operations Executive Panel, and the National Security Education Board. She also served on the National Academies Committee on Behavioral and Social Science Research to Improve Intelligence Analysis for National Security. From 2012 to 2015, Skinner served on Pennsylvania governor Tom Corbett's Advisory Commission on African American Affairs. During the Trump administration, she was director of the Office of Policy Planning at the State Department and senior advisor to the Secretary of State.
---
Running the world is really about being a MULTIDIMENSIONAL PERSON who knows that one's job requires a multidisciplinary understanding of WHAT IS HAPPENING AROUND THEM.
As a trainer of future policy makers, Skinner is clear that sound foreign policy on behalf of the United States can be devised and implemented by only those with a robust education in US history and US government. "You can't go to Washington and defend the West if you don't know what the West is in the first place," she says. Skinner advocates that students obtain a strong background in economics and political, diplomatic, and military history, and she unequivocally supports SPP's Great Books approach to its curriculum. Noting that this liberal arts foundation is unique among policy schools, the use of this traditional Western canon provides a solid framework of the premises on which the country was founded. "When students are introduced to enduring ideas, the core philosophy of Western civilization, they're equipped with the intellectual tool kit to be highly effective policy analysts or statesmen," she says.
While Skinner endorses a deep exploration of the roots of Western thought, she also insists on the importance of a wide understanding of many disciplines for success in any field. Her years at Carnegie Mellon—a school best known for its excellence in the sciences and engineering—provided her with a great laboratory in which to practice academic outreach. "It made me a lot more of an intellectual entrepreneur," she says. Rather than succumb to the expectation that she would find ways to make the social sciences relevant to the university's scientists, Skinner stood her ground on the importance of her and her colleagues' fields, advising them to "take humanities and social sciences on their own terms and have the technologists jump rope with us."
Her strategy worked. One such effort, which Skinner is particularly proud of, is her leadership in the creation of an undergraduate minor in international conflict and cybersecurity. At first, she says, students majoring in political science and social science selected the minor, but it is now also a destination for engineering and computer science students. The latter discovered that in addition to skill in coding and solving problem sets, knowledge of the coding practices in international organizations, the cyber norms of different governments, and the ways in which autocratic regimes are different from more representative systems gave their expertise context and meaning. "It was a joy to watch," says Skinner.
---
She finds that as a rule, many academicians claim to take a multidisciplinary approach to education, but in practice, most do not follow through. "That is a way in which the School of Public Policy at Pepperdine stands out," she says. "Its liberal arts approach means perforce that you look at problems from a range of disciplinary perspectives." She's eager to put this commitment to a breadth of viewpoints to work in her classes at SPP and will be teaching a course presently called How to Run the World.
Skinner plans to introduce students to thought leaders in different sectors, such as the media, politics, government service, business, and the academy, and engage them in conversations about the passion and purpose that drives their lives and careers. Supplemented by an analysis of pertinent writings, she will explore with students the common threads among their insights and actions. For example, What are the tech firm CEO and the classics professor doing that is having a positive impact?
As SPP graduates will, in fact, be among those running the world in the years to come, Skinner's multidisciplinary approach is meant to ensure that students see specific situations from a variety of viewpoints. For example, in presenting an international conflict, journalists who have been on the ground in the midst of a battle and advisors who have served in the White House situation room during the same event might be asked to share their perspectives. "Those making policy need to be considering both the granular experience of the people involved and how to move governments and leaders," she says. "I think that running the world is really about being a multidimensional person who knows that one's job requires a multidisciplinary understanding of what is happening around them."