More Than a Story
An Academy Award–winning alumnus and a screen arts professor lead two Pepperdine students on a documentary project in purposeful storytelling
Bathed in the glow of a Northern Arizona sunset radiating from the burnt-orange mountain landscape dotting the desert skyline, a group of students from the Holbrook Indian School pedal up a winding trail. The sound of loose earth crunches beneath their bicycle tires while filmmakers Terry Benedict ('81) and Paul Kim, with the help of Pepperdine students Dane Bruhahn and Nadine Borum, capture their journey up the rocky path. As they reach the summit, they survey their progress, recognizing the inner strength that pushed them to the top of the mountain.
In 2014, Benedict, the producer of the two-time Academy Award–winning film Hacksaw Ridge, launched Shae Foundation, a nonprofit that supports other nonprofits and influences global humanitarian change through high-quality media productions. Empowered by the confidence instilled in him by his own academic and spiritual life mentors as an undergraduate at Pepperdine and beyond, Benedict positioned the foundation to also focus on mentoring young people as they pursued their deepest passions within their craft.
When Kim, Benedict's mentee-turned-colleague, joined Pepperdine as a professor of screen arts in 2021, the two filmmakers devised a unique screen arts internship program that brought Shae and Pepperdine together to inspire Pepperdine students to create mission-driven, humanitarian storytelling that honors their personal values and convictions.
"Our hope was to create an environment within the safety net of their education that also pushed them outside of their comfort zones and exposed them to the real and actual challenges people are facing around the world every day," says Benedict.
Giving students opportunities to explore THE CONNECTION between their VALUES and their CAREER is a uniquely Pepperdine experience.

Throughout nearly two decades of experience in filmmaking, Kim's work has centered, like Benedict's, on supporting mission-driven organizations in telling their powerful stories. They also share a deeper motivation of mentoring young students and artists in their pursuit of unlocking their own value system and purpose in their artistry.
"This partnership and program allow us to demonstrate to students, particularly in creative classes, that they aren't limited to just the entertainment and advertisement industries," says Kim. "Instead, they are seeing how they can provide a unique service to the world that fulfills their own personal value-driven goals and life mission. Giving students opportunities to explore the connection between their values and their career is a uniquely Pepperdine experience."
In May 2022, with the support of Seaver College dean Michael Feltner, protégés Bruhahn and Borum, alongside mentors Benedict and Kim, commenced a weeklong, hands-on production for the inaugural Pepperdine and Shae documentary collaboration. Their subject was the Holbrook Indian School located in a small town in Navajo County about 100 miles east of Flagstaff, Arizona. Their focus was on illuminating the school's unique approach to supporting and advancing Native American students' education, mental and physical health, and spirituality.
For more than 75 years, the Holbrook Indian School has provided a safe educational environment for Native American youth. In order to allow students to flourish academically, Holbrook staff members believe in a holistic approach to students' well-being.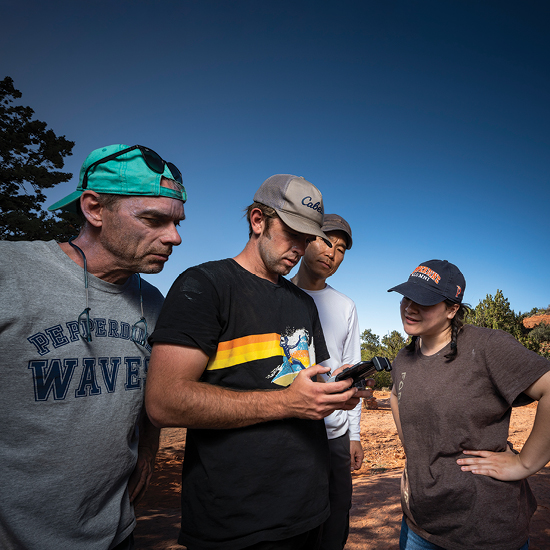 "I have worked with Holbrook for nearly a decade, and I am always amazed by the student stories," says Benedict. "They are all a testament to the power of Holbrook's emphasis on healing and nurturing students first and foremost."
As Native American students discover and learn how to navigate their own ethnic and cultural history, Holbrook incorporates Indigenous traditions into each level of the student experience, especially in art classes and agricultural studies. A majority of Holbrook's students are from the Navajo and Diné tribes yet are largely unable to speak to their elderly family members due to the diminished use of Native languages. To enable and reinforce their relationships with their families and heritage, Holbrook students receive rigorous language education and are provided with mental health care, physical health and nutritional support, spiritual mentorship, and outdoor excursions that focus on connecting them to their cultural heritage, personal strength, resilience, and leadership skills.
Informed and inspired by Benedict and Kim's vision for the documentary, Borum and Bruhahn quickly went to work to capture Holbrook's unique story. The students took active roles alongside their mentors behind the camera and in the field to bring the production—featuring moving student testimonials of Holbrook's impact on their lives and the healing effects of outdoor excursions such as the mountain biking experience—to completion. The team captured authentic student life at Holbrook, showing how the school's multifaceted treatment of student well-being is put into tangible action.
"In documentary filmmaking, all ego is stripped away," says Kim. "It's an intimate experience, and Nadine and Dane really jumped in to facilitate each element of the project while adding in their own expertise and personal flavor."
With a unique blend of studies in education and screen arts, Borum soaked up as much as she could from the school staff and, especially, from the Holbrook students. Following the advice of her mentors, she worked closely with the student subjects to break down the power dynamics between interviewer and subject. Her empathetic, human-centered style of storytelling and her deep care for the students' success allowed them to beam with radiant confidence and tell their stories in front of the camera with ease.
"I can't quite put into words what this experience meant to me as a future educator and as a filmmaker," says Borum. "It was surreal to learn so much about Holbrook's pedagogy while also learning how to be gentle and patient in nonfiction storytelling."
Bruhahn was able to put his keen eye for beautiful production and cinematography into spontaneous yet remarkably well-composed shots. He masterfully piloted a drone to capture spectacular aerial views of students mountain-biking their way up the trail. Encouraged by Benedict and Kim, he instinctually composed scenes depicting the authentic Holbrook experience, most notably capturing a break from the hot sun in a nearby stream during their outdoor excursion.
The most SACRED GIFT our creator gave us is CREATIVITY. We must do whatever we can to facilitate and protect it so we may contribute AUTHENTIC AND SINCERE work to this world.
"We were treated like professionals, which I think allowed us to really flourish and take so much away from this experience," reflects Bruhahn. "Plus, seeing Paul and Terry work through their intuition and instincts to create a powerful story—something not formulaic— was really amazing."
Kim believed that the two Pepperdine students were instrumental in supporting the Holbrook subjects in trusting their own abilities and feeling empowered to speak honestly and openly, an experience that would stay with Holbrook students long after their project wrapped.
"Dane and Nadine were able to see firsthand and in real time how their talents make a tremendous impact on communities and the lives around them," says Benedict, who is now in the midst of the project's postproduction. Once completed, the documentary will live on Holbrook's website, communicating the school's mission to prospective students, donors, staff, and supporters across the nation.
The week-long experience was just the first of many documentary productions Kim and Benedict are eager to facilitate. Through the annual internship program and with the continued support of the Seaver College dean and the Shae Foundation, they hope to encourage more students to cultivate their talents and artistry with their hands-on field work on humanitarian, mission-driven projects that highlight storytelling as a way to influence global change.
"The most sacred gift our creator gave us is creativity," says Benedict. "We must do whatever we can to facilitate and protect it so we may contribute authentic and sincere work to this world and pass on to the next generation all that we have received from our mentors before us."