Page Turners
From self-improvement to historical nonfiction, find out what the University's faculty members at all five schools were poring over beyond their office hours
While students explored the fascinating and foundational books that were assigned to them this fall, PEPPERDINE FACULTY MEMBERS enriched their minds and expanded their knowledge in various disciplines outside the classroom.
---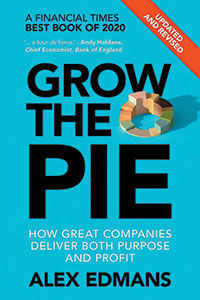 KWANGJIN LEE
Assistant Professor of Accounting, Graziadio Business School
---
Grow the Pie
By Alex Edmans
As a Christian business faculty member, finding practical and feasible ways to earn a profit and serve a purpose at the same time has been my personal, decade-long aspiration. During a conversation with one of my colleagues, Woo-Jong Lee at Seoul National University, this book was recommended to me to learn about how purpose-driven businesses are consistently more successful in the long term.
Reading this book would INSPIRE OUR STUDENTS to be moral and compassionate leaders at the top of their fields.
Grow the Pie shows that earning profits or serving purposes is not an either-or choice and provides an actionable roadmap for company leaders to put purpose into practice. This book also highlights the crucial role that citizens can play as employees, customers, and investors in reshaping business to improve our world.
As educating and developing Best for the World Leaders is the vision of the Graziadio Business School, reading this book would inspire our students to be moral and compassionate leaders at the top of their fields, encouraging them to be cognizant of the impact their business decisions hold on their local and global communities.
---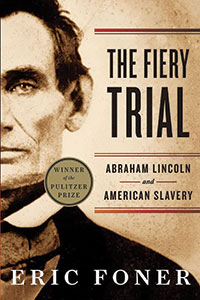 STEWART DAVENPORT
Professor of American History, Seaver College
---
The Fiery Trial: Abraham Lincoln and American Slavery
By Eric Foner
The central message of The Fiery Trial, a Pulitzer Prize–winning book by one of America's foremost historians, is that people do and can change as they confront seemingly intractable social problems. By reading this book I was hoping to better understand exactly what the subtitle advertises: what Lincoln, throughout his life and presidency, thought about the institution of American slavery and how those thoughts changed over time. Lincoln was always opposed to slavery, but he had to change—and move beyond some of his own racism—to develop into the heroic figure we revere.
This book tells that story beautifully (and accurately), offering readers a model about how they, too, can change and move beyond some of their own limitations when it comes to understanding the pain that systemic racism has inflicted on people of color in America. I definitely understand Lincoln better: his limitations, his failings, and his strengths. I know his flaws better now and still revere him for his accomplishments and character.
---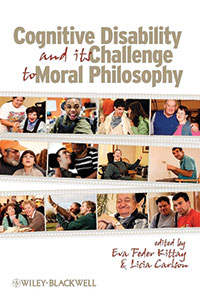 RICHARD CUPP ('83)
John W. Wade Professor of Law, Caruso School of Law
---
Cognitive Disability and Its Challenge to Moral Philosophy
By Eva Feder Kittay and Licia Carlson
In this collection of essays, I was particularly focused on the book's chapters addressing justice and the personhood status of humans with severe intellectual disabilities. In addition to being a prominent academic philosopher, Eva Feder Kittay is also the mother of, in her words, "a severely cognitively impaired child." In the book chapter she authored, Kittay makes herself quite vulnerable by combining her scholarly analysis with reflections about her experiences and emotions regarding her child and arguments related to the personhood status of humans like her child.
Some prominent philosophers have questioned whether it is just to recognize personhood in humans with severe intellectual disabilities while denying personhood to highly intelligent animals. Academic philosophy is often far removed from the necessarily pragmatic nature of our legal system. Reading this book is helping me as a legal scholar to contemplate academic philosophy's potential contributions and limitations regarding the question of how courts should address legal personhood's parameters.
---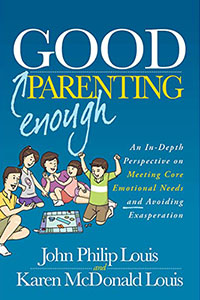 JAVIER MONZÓN
Associate Professor of Biology, Seaver College
---
Good Enough Parenting: A Christian Perspective on Meeting Core Emotional Needs and Avoiding Exasperation
By John Philip Louis and Karen McDonald Louis
I started reading Good Enough Parenting when it first came out in 2012 and my daughter was 2 years old. I remember enjoying it but didn't get past the first few chapters before getting distracted. Now my daughter is almost 12 years old, and I need a good, scripture- and evidence-based book to prepare for the challenges of parenting an adolescent.
The book's central message is that all children have "four plus one" core emotional needs: connection and acceptance, healthy autonomy and performance, reasonable limits, realistic expectations, and spiritual values and community. When those core needs are not met, children feel exasperated and are likely to develop "lifetraps," which are negative patterns of thinking and behaving that distort the ways children view themselves and others. Fortunately, unhealthy lifetraps can be corrected if we reconnect with our children and tap into the power of a functional, spiritual community.
In Ephesians, the Bible instructs fathers to avoid exasperating their children and to bring them up in the training and instruction of the Lord. However, that is easier said than done! I was hoping to learn practical ways to connect with my daughter and avoid what the authors call the Vortex of Conflict Escalation. Lifetraps can carry over into adulthood, marriage, and even one's parenting. Thus, I have been reflecting on and addressing my own lifetraps, while simultaneously identifying ways to prevent their formation in my daughter. As someone who is not overtly emotional and who has downplayed emotions for most of my life, the book convinced me of the reality of my own emotional needs and the importance of parents meeting their children's emotional needs to help them grow into healthy adults.
---
STEVE BAUER
Assistant Instructor of Teaching of Marketing, Seaver College
---
Cultural Intelligence: Improving Your CQ to Engage the Multicultural World
By David A. Livermore
Cultural Intelligence: Improving Your CQ to Engage the Multicultural World was recommended to me by Daniel Rodriguez ('78, MA '81), dean of the Religion and Philosophy Division at Seaver College, during a discussion we were engaged in about cultural sensitivity. This topic is a critical one in my international marketing course, as one of the key themes in the class focuses on the importance of understanding and adapting to foreign cultures during international business transactions.
The book describes a cultural intelligence quotient as the ability to address cultural differences in ways that are loving and respectful. It approaches the topic from knowledge/interpretive, motivational, and behavioral perspectives and shares that understanding yourself and your own culture is a critical first step in becoming more culturally sensitive. In addition, the whole process of understanding the nuances of other cultures requires much reflection and mentorship from people knowledgeable in the cultures. I intend to drive these points home in my classes and also develop group exercises to help teach them more effectively.
---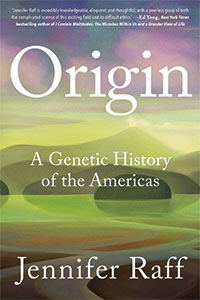 SHELLEY ROSS SAXER ('80)
Laure Sudreau Endowed Professor of Law, Caruso School of Law
---
Origin
By Jennifer Raff
I was surprised to find out how much CULTURAL MYTHS INFLUENCED SCIENCE in the analysis of archaeological, historical, and genetic information over time.
— SHELLEY ROSS SAXER ('80)
I was compelled to read Origin to increase my knowledge of the early migration of humans to the Americas before colonization.
I was surprised to find out how much cultural myths influenced science in the analysis of archaeological, historical, and genetic information over time.
When I teach property law and the concept of what constitutes property, I will be more knowledgeable about the existence of Indigenous peoples and how their property interests were treated by the colonizers.
---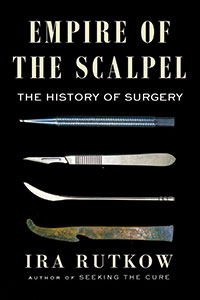 COLIN STORM
Assistant Professor of Communication, Seaver College
---
Empire of the Scalpel: The History of Surgery
By Ira M. Rutkow
Rutkow knits together his experiences as a surgeon with highlights (and lowlights) of the road to modern medicine to create a compelling examination of the history of surgery. From barber-surgeons and Galen to Semmelweis and Lister, Rutkow's work explores the innovation within the field of medicine and argues the success of modern-day surgery is based on four key pillars: understanding human anatomy, controlling bleeding, anesthesia, and antisepsis. Along the way, you encounter the quirky, brilliant, and bizarre ways the science community reached those four pillars. This is an extremely accessible book for anyone interested in the fields of history, science, and/or medicine, and it will challenge your views of human behavior and society.
---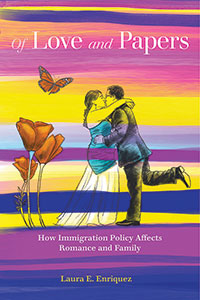 REYNA GARCÍA RAMOS
Professor of Education, MAT Director, and CABE Pepperdine Faculty Liaison, Graduate School of Education and Psychology
---
Of Love and Papers: How Immigration Policy Affects Romance and Family
By Laura E. Enriquez
As a member of the American Association of Hispanics in Higher Education, I was asked to read several books this year for consideration for the annual book award. Part of my attraction and attention to Of Love and Papers were the stories of lives made, shattered, and put on hold because of the immigration status of one or both partners in a relationship, including the author.
The central message of the book is to put a human face to the immigration debate. Regardless of where you are on the immigrant debate, 11 million-plus persons are already part of our society, in our schools and universities, and working alongside us in some cases. Remember that DACA recipients were brought to this country as young children and have only known this country and see themselves as Americans like you and me.
What I learned from reading some of the stories is that even if DACA students complete their educational careers, especially at private institutes of higher education, they face uncertain futures, as their status can change at any moment, and their investment in education may not allow them to pursue the American dream.
---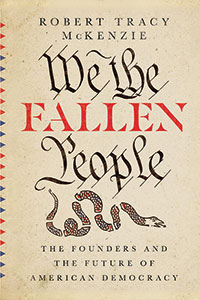 PETE PETERSON (MPP '07)
Dean and Braun Family Dean's Chair, School of Public Policy
---
We the Fallen People: The Founders and the Future of American Democracy
By Robert Tracy McKenzie
McKenzie argues that America's founders viewed human nature as being fallen, but that this view changed during the Jacksonian era in the 1830s when Americans were seen as inherently good. The author, a historian at Wheaton College, does an excellent job of introducing the subject of irony, which has run throughout human and American history.
The book has EXPANDED my appreciation of the CHRISTIAN UNDERSTANDING OF IRONY in American history.
— PETE PETERSON (MPP '07)
The book has expanded my appreciation of the Christian understanding of irony in American history. Churchill famously quipped that "democracy is the worst form of government there is except for all the others that have been tried." America's founders through its critics (including Christians like Reinhold Niebuhr) have understood that majority rule doesn't always produce moral outcomes, but the freedom offered by our constitutional system combined with humble, informed citizens can propel us toward a "more perfect union."
As someone who trains local government officials to improve their public engagement procedures, McKenzie's book is an important reminder that democratic processes alone—even the most inclusive— won't necessarily reach moral policy conclusions. Process must be combined with humility and a love of community—by citizens and political leaders—to do this.
---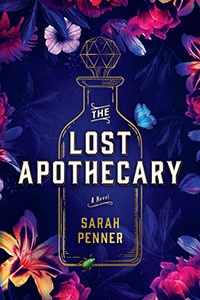 CHRISTINE CHAMBERS GOODMAN
Professor of Law, Caruso School of Law
---
The Lost Apothecary
By Sarah Penner
Exploring The Lost Apothecary by Sarah Penner was emotionally and intellectually satisfying. The book alternates between the perspectives of the apothecary, an unmarried woman living in the late 1700s in London, and a married woman in modern times on a wedding anniversary vacation without her spouse. On the emotional front, we engaged the stories of women and girls living without status or recognition in jolly England. I found myself rooting for the underdogs, but also came to sympathize with the housewives and society ladies who sought out the apothecary's services for similar reasons as other women.
On the intellectual front, the modern protagonist has given up her dreams of studying at Oxford or Cambridge because of a marriage proposal, and on vacation knowing that her marriage was on shaky ground, she pursued her dream of doing historical and anthropological research based on an item she found while trekking through the mud on the banks of the river. She reapplies to university and turns this research into a thesis and obtains the advanced degree that had been put on hold while she tended to her husband and his career.
So many lessons in this book apply to our current world. Back then, women were subordinated based solely on their sex, and power eluded most of them. The apothecary garnered power by providing a means for women to avoid unjust oppression by mixing poisons that the women could distribute to their male oppressors. The apothecary's courage— protecting the names of the women she had aided—in the face of accusations provides hope for those who fear that the subjugation of women's bodies to the will of state legislators is one large step toward complete subjugation.
---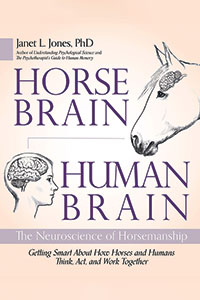 LYNDA PALMER (MBA '91)
E2B Program Director/ Practitioner Faculty of Marketing, Graziadio Business School
---
Horse Brain, Human Brain: The Neuroscience of Horsemanship
By Janet L. Jones
I had the opportunity to organize a riding clinic this year with an iconic equestrian named Hilda Gurney, who won a bronze medal in team dressage at the 1976 Summer Olympics.
It helps me to think about seeing things from a different PERSPECTIVE (the students') and not always focus on HOW I AM VIEWING a situation.
At 79, she still rides 10 horses a day, competes, and trains riders. She highly recommended this book on the similarities and differences between human and horse brains and how we negotiate the world. As a competitive equestrian, I speak to my horse in nonverbal, tactile language, asking her to perform a number of complex movements. The more I can understand how horses think and negotiate the world, the better I can communicate with her on her terms.
My focus in riding and competing has always been on my mental discipline and other traditional training methods. I did not always consider how a horse's brain works when I was asking the horse to do something. It helps me to think about seeing things from a different perspective (the students') and not always focus on how I am viewing a situation.
---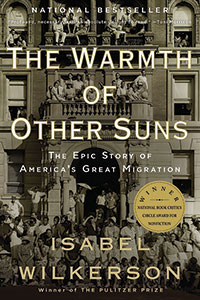 STEPHANIE WILLIAMS
Assistant Professor of Legal Research and Writing, Caruso School of Law
---
The Warmth of Other Suns: The Epic Story of America's Great Migration
By Isabel Wilkerson
Based on more than 1,000 interviews and a deep inspection of historical data, The Warmth of Other Suns tells the story of the Great Migration of Black Americans from the South to northern cities and Los Angeles from 1915 to 1970. Wilkerson takes the time to show how many of the migrants were fleeing violence and not just leaving the South for economic reasons. She also draws compelling parallels between these internal migrants, who were already US citizens, and the immigrant Europeans who came to America in earlier generations.
While I believe Wilkerson's overall conclusion is one of hope, I was struck by the way many Black migrants leaving the South only traded a terrible situation for a bad one. The three people she chronicled moved to their new homes during the decades my mother-in-law and her family members arrived in the US, but their opportunities were so different. I am married to a first-generation American whose mother was born in a Nazi camp. The United States was very good to his family. Of course, his mother had the usual immigrant struggles, but she succeeded here. I wish I could say Wilkerson showed me this American dream is equally accessible to everyone.