Kelsey Knox
Kelsey Knox, archivist for Special Collections and University Archives, holds the keys to Pepperdine's past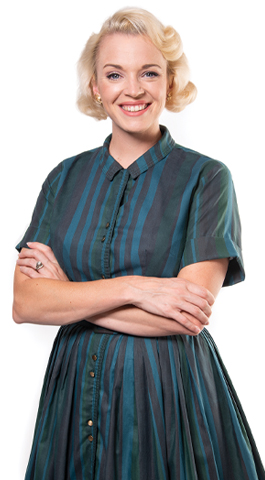 Archivists like Knox process archival collections, organizing them in a way that preserves the original order of the materials and arrange and describe them so that researchers can find them and understand what is in the collection. Knox also answers reference questions about Pepperdine's archival and rare book collections, curates exhibits using the University's materials, and teaches class sessions that give students hands-on experience with those materials.
Knox discovered archives as a student at the University of California, Santa Cruz, in a course called Documenting America, which introduced her to different types of archives, why they are important to preserving history, and how to pursue a career in the field. She went on to complete a master's in library and information science at the University of California, Los Angeles.
"I'm intrigued by the ways in which the past shapes our present, seeing direct results of events or movements across history and how they've informed how we do things today."
Archives and special collections offer patrons the opportunity to work with rare and unique materials that often can't be found anywhere else and provide research opportunities in very focused areas; in Pepperdine's case, the school's history, Malibu history, Churches of Christ and the Restoration Movement, and film and television.
"Margaret Brock's papers were fascinating to work on because she had such a remarkable life and kept absolutely everything (an archivist's dream)! Her collection includes dozens of letters from sitting presidents and photographs of her at early events on the Malibu campus."
Pepperdine's most impressive and unique pieces include 16th-century manuscripts and a collection of tiles from Malibu Potteries, a historic Malibu ceramic company owned by May Knight Rindge that played an influential role in local architecture. The archives also contain George Pepperdine's dedicatory address from 1937 and the roommate contract drawn up by Helen Mattox (Young) ('39) and her roommates in 1938.
When handling materials, Knox ensures she is not compromising their preservation by making sure that her hands are clean, the table is big enough for the materials so nothing is hanging over edges,
and books are supported, typically by a book rest.
A lover of vintage fashion, Knox is fascinated by photographs of what women were wearing in the 1950s and 1960s. "Our University archives are a treasure trove in that regard."
"I would love the opportunity to teach a full course about archives and rare books. I know how life-changing a class like that was for me in college.
I'd love to inspire the next generation of archivists."