The Curiosity Commitment
Across industries, founders are innovating in extraordinary ways simply by asking, "What's the problem?"
Albert Einstein famously quipped, "If I had an hour to solve a problem, I'd spend 55 minutes thinking about the problem and five minutes thinking about solutions."
As humans of typical intellectual ability, our natural instincts for solution finding are a bit different and much harder to quiet. Whether at work, home, or play, our brains are wired to constantly seek easy, convenient, and accessible explanations for our everyday quandaries both big and small. But while we generally focus on problem solving, we are significantly less adept at problem finding—a skill that founders, who are seemingly born with an above-average capacity for identifying inconsistencies and inefficiencies across industries, have apparently mastered.
Larry Cox, associate professor of strategy and entrepreneurship at the Graziadio Business School and lead faculty of Graziadio's entrepreneurship programs, distills the delicate dance of reframing our thinking down to a practice rooted in a person's commitment to curiosity.
"Curiosity is about recognizing your interest in something and then making a commitment to explore it to the fullest extent possible," Cox says. "Curiosity is volitional. It's an act of the will."
A professor of entrepreneurship for more than 30 years, Cox has been developing future founders by teaching them how to find a gap in the market—essentially, how to find a problem to solve in the world around them. He believes, with proven results, that thinking problem-first and guiding aspiring entrepreneurs through mindful creative solution-finding processes reaps the most rewards both personally and professionally.
Now in its 12th year of programming, the entrepreneurship program is ranked number seven in the country by Bloomberg—due in no small part to Cox's own discovery of a problem that was keeping him from imparting the tools he knew would benefit his students on their own professional paths. As he refined the process of becoming an entrepreneur and homed in on the critical steps required to launch a product or service, the results spoke—and continue to speak— for themselves.
"If you could hear the ideas that are pitched in my class each term, you'd be amazed," he says. "Students always comment on the variety and uniqueness of the ideas their peers come up with. If you look at the businesses started by Graziadio students, you'll see that they are novel, compelling, and life changing, all because our students know how to use curiosity to unlock their creativity."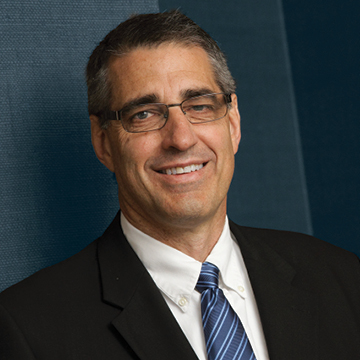 CURIOSITY is volitional. It is an act of the WILL.
Cox remembers former students Michael Lucarelli (MBA '16) and Paul Sirisuphang (MBA '16), the founders of RentSpree, who discovered inefficiencies in the apartment-finding process on both the renters' and real estate agents' sides and developed and pitched their idea for the online rental application and tenant screening platform in Cox's entrepreneurship class. They just closed a $17 million Series B round this summer and employ more than 150 employees. Or Fouzia Babar (MBA '17), who helped launch a technology company that develops life-saving solutions designed to allow individuals to immediately respond to sudden cardiac arrest emergencies. As head of finance, Babar just helped Avive Solutions close a $22 million Series A round, and Avive's product is scheduled to launch this fall. Or Jerry Lee (MBA '12), founder of Project Wonder and a self-described art entrepreneur, who will tell you he uses what he learned in his entrepreneurship class every day as he trains other artists to think beyond creating and channel their talents into a business that makes large-format art installations at major events and festivals.
"That's the essence of the Graziadio entrepreneurship program," says Cox. "That's what we aspire to do. To have students use what they have learned in our classes not only for themselves but for others. It's remarkable. I could not have taught Jerry about doing art installations, for example. He embraced the creative problem-solving process and said 'This is where I'm going to apply it.' Entrepreneurship is a discipline that helps people use creative skills to build incredible new businesses—from scratch."
Cox maintains that creativity is not a lightning strike, but a process that uses tools, principles, and skills that can be taught. He shares that the trick is not to become more creative but to lean into a process that uses curiosity to uncover and understand compelling problems. Cox says this type of commitment to curiosity is tremendously productive and necessary for the kind of innovation founders seek in their businesses.
"Innovation and entrepreneurship are just subsets of creativity," he says. "Creativity generates things that are novel and useful. Innovation produces improvements that are novel and have market value. Entrepreneurship develops concepts that are novel and foster new businesses. In sum, you can't get entrepreneurship or innovation without creativity. So, when we teach people how to unleash their creativity—this muscle that has been dormant—they're much more likely to launch a new venture."
Cox admits, however, that he got the formula wrong in his early years at the head of the classroom. His focus, he says, was misguided.
"My transition to this new approach for teaching entrepreneurship occurred when I noticed that every venture capitalist I knew was bemoaning a lack of deal flow," he explains. "It dawned on me that in order to create deal flow for these downstream investors, some needed to focus on the very beginning of the startup process. I had always thought that the beginning was the creation of a business plan. But as it turns out, the business plan is step six."
The series of steps Cox mentions refers to the eight phases he says are common to every entrepreneur's journey. These steps sequence a founder's linear problemsolving process from finding a problem, to discovering the circumstances of the problem, to launching the business or service that will help solve that problem. Between the problem and the solution are six other steps that encourage entrepreneurs to reframe the problem; develop a variety of solutions by thinking through different processes to solve the problem; identify the good ideas and the bad; create a model or plan that outlines how the idea works as a business; gain support and resources through funding, personal contributions, or technology; and, finally, take action.
"It was a big revelation for me when I discovered this creative problem-solving methodology for the first time," he says. "Once I incorporated it into my teaching, everything changed. Suddenly we were launching businesses."
---
Like many founders, Gajaba Hewamadduma (MBA '04) discovered a problem in the corporate world that ignited in him a desire to create greater efficiency for companies on their way to becoming midsize. An accountant by trade with an education in software engineering supplemented with a deep interest in business management, in 2015 he became curious about companies that were advancing to the next step in their business and finding themselves still operating on smallscale accounting processes as they scaled up.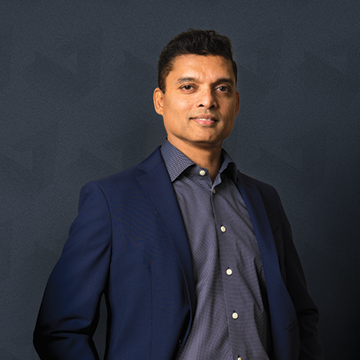 Gajaba Hewamadduma (MBA '04)
"When that happens, these companies realize they have to spend a whole lot of money to set up the proper systems and processes, often overnight, while at the same time cleaning up the processes they were operating with for a long time," he says. "They receive life-changing funding, and all of sudden they have a different set of needs."
Hewamadduma is the founder and CEO of CFOPlans, a company that provides the third-party operational accounting, CFO services, finance tools, and HR payroll services needed to manage back-office tasks and roles. He advises small business owners that CFOPlans' services guarantee that their company's accounting will be managed seamlessly from the day they launch until the moment they go public with a customized team of accountants organized to address their particular needs. While many companies seek third-party accounting services for temporary assistance such as tax services or external audits or consulting assignments, Hewamadduma discovered that no one was doing full-scale operational accounting for back offices at the time.
"We had some convincing to do with potential clientele," he recalls. "Most companies don't know what they don't know or what they need and don't need. They don't always know the differences between what an accountant does and what a CFO does, so they immediately think about hiring a CFO. We tell them they don't actually need one. They know everything about their specific product, but when people start a business, they shouldn't focus on the back-office operations. They should focus on their growth and their product."
Subscription services for businesses such as CFOPlans, Hewamadduma shares, are becoming the norm in various industries. "It's the future," he says. "Paying by the hour is abstract and creates a lot of unknowns for our clients. With CFOPlans, they know they are getting a customized package for a set price with a suite of services designed exactly for their needs."
Hewamadduma, as it turns out, is a founder who developed a way to help other founders become successful by avoiding the common pitfalls of startup enterprises. As he was building his own business, he discovered that focusing on building back-end services such as legal, marketing, accounting, and IT often takes attention away from bringing a product to market.
"Not knowing what we didn't know was very unsettling," he admits. "Once you go through the steps, you realize where you made mistakes and where you were successful. But if we can help companies minimize mistakes in their early days, it would help them save money and speed up the product development process. It's very fun for me to see these businesses grow and become successful. It's fulfilling to know we are part of their journey."
---
Problem finding—and solving—is a family affair for Hewamadduma, whose wife, Sue Weerasinghe (MBA '04), founded her own entrepreneurial venture that serves the operational needs of small to midsize businesses. It was a risky endeavor. Weerasinghe left a successful and secure corporate job managing a team of up to 50 employees as the chief accounting officer and co-chief operating officer for a leading real estate investment trust company. After witnessing her husband take a risk and find success as a founder, Weerasinghe was inspired by the idea of building something from the ground up for a different community of business owners, this time in healthcare.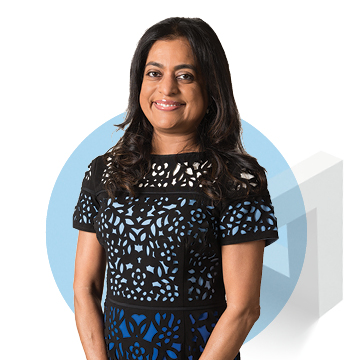 Sue Weerasinghe (MBA '04)
Invoisync, which launched in 2020 in the early days of the COVID-19 pandemic, is structured similarly to CFOPlans and provides back-office solutions for medical offices such as billing, revenue cycle management, collections, and accounting services, including payroll.
"We know that doctors are best at doing what they do, which is patient care," Weerasinghe says. "If they have to worry about managing their back office and being up-to-date on billing, their quality of care diminishes. Our vision was to free them of that administrative burden and at the same time help them secure their financial future."
However, the vision that launched in 2020 was blurred by the massive shakeups experienced by the medical community due to the COVID-19 pandemic.
"Anybody would think that a pandemic would be a good thing for the medical industry," Weerasinghe says. "But a lot of doctors' offices closed. Many doctors we worked with got sick. Some of our providers and their staff passed away. It was a very chaotic situation."
While Invoisync had a physical office space, staff could not start working on site due to mandatory closures. The circumstances were ripe for another pivot, and Weerasinghe once again considered deeply the greatest problems facing the healthcare field. She determined the areas with the most pressing need: urgent care and medical testing and research facilities that were working on the front lines of the pandemic.
"These places were functioning at high rates despite COVID," she says. "But while we were able to provide support in critical ways for their businesses to continue functioning during a time of crisis, it took a herculean effort to find those businesses and retain them in the chaos. We were motivated by knowing we were helping the situation somewhat by providing our services."
The pandemic also created challenges that made launching a business difficult. Marketing efforts such as pitch meetings or trade show and panel appearances were limited by local mandates. Weerasinghe and her team relied on online marketing efforts and word-of-mouth recommendations to get the business off the ground. Despite the challenges, Invoisync grew beyond expectations and continues to thrive due to Weerasinghe's sharp problem-finding and diligent problem-solving instincts. She maintains that the founder's mentality can be cultivated regardless of a person's position at an organization and encourages Invoisync staff at all levels to think like an entrepreneur even while working for somebody else.
"Entering the workforce with an employee mindset is a hindrance to personal and professional growth," she says. "Think as if you own these accounts you're handling. Look for ways to make the business more profitable. Think of how you can add value to an organization. Find the problems and explore the solutions."
---
Born and raised in Los Angeles to a college track star father and ballet dancer mother, Trae Smith (MBA '20) was destined to become an athlete. A quarterback at Birmingham High School in the San Fernando Valley, Smith was a standout player who earned a walk-on spot on the University of California, Los Angeles, football team after transferring in 2016 from Santa Monica College. But he quickly realized his experience as a college student-athlete would differ significantly from his high school glory days on the field.
"I wasn't getting the treatment I was used to, but I was still grateful to be surrounded by premier athletes," Smith recalls. "That part of my career was different for me, but it helped me cultivate and maintain my competitive nature."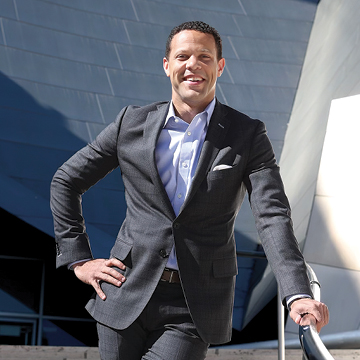 We have to make sure the athletes interview well and are charismatic, but it's also important to me to sign GOOD PEOPLE WHO CARE about their families and their communities. These are the qualities the NFL looks for BEYOND PHYSICAL SKILL and talent.
Though Smith didn't explore a career as a professional athlete after college, he pursued an MBA at the Graziadio School and was enjoying a career in wealth management when he found himself at a commercial shoot for Therabody, the manufacturer of a popular percussive muscular therapy device. Of the five football players on set, Anthony Arnou, a quarterback from California State University, Fresno, approached Smith about the NCAA's latest ruling that allowed college athletes to enter into endorsement deals pertaining to their name, image, and likeness. After spending three 12-hour days on set, they developed a rapport, and a few months later, Smith agreed to represent Arnou as he transitioned to the National Football League. Less than one year later, Smith's PowerHaus Agency has signed nearly 40 athletes—including their first professional tennis player, Dennis Novikov, and first National Football League athlete, De'Anthony Thomas—and employs seven staff members, including an NFLPA-certified agent.
"The problem I've seen is that a lot of agencies are similar to universities," Smith says. "They're going to call you while you're putting fans in the stands. But as soon as you hang up your cleats, you're left hanging. Having played the sport, I understand what the players go through. My experience helps me evaluate talent and determine which players should be signed. I can look at statistics and film footage and really gauge whether we should sign an athlete. But I can also relate to the athletes in a lot of subtle ways."
Beyond statistics, Smith is passionate about signing athletes of superior character with strong communication skills and the ability to represent themselves and their team with integrity. He favors athletes who give back to their community at both the collegiate and professional levels and can leverage their professional status, income, and celebrity to create foundations that benefit local youth.
"Part of the responsibility of the agency is securing marketing and endorsement opportunities," says Smith. "We have to make sure the athletes interview well and are charismatic, but it's also important to me to sign good people who care about their families and their communities. These are the qualities the NFL looks for beyond physical skill and talent."
Smith's founding vision was to support young men while they are thriving in their professional careers while ensuring they are set up for success on and off the field for years to come. He shares that 72 percent of retired NFL athletes face financial difficulty due to their early retirement age. Smith's knowledge of, experience in, and enthusiasm for wealth management has played an integral part in PowerHaus' plan for its athletes to make diversified investments and strategic financial moves to develop their portfolios.
"When an athlete retires at 27 years old and is not making an income until they are 65, it makes sense that they would lose a significant amount of their earnings," Smith says. "While athletes are making a substantially high income during their careers, they should be investing and creating businesses that generate income for them year to year so they don't have to be part of that 72 percent. Our goal is to build them up as athletes and entrepreneurs as well as valued members of their community."
Smith relates that close attention and genuine care for student-athletes during their Division I days is critical to their success following graduation.
"Many college athletes don't know where to begin after college," he says. "That's where our agency comes in—to connect the players to different fields outside of sports. We can try to get you to the NFL, but if that doesn't work out, you can still connect to other worlds such as sports management, coaching, business, or law."
One of PowerHaus' quarterbacks—a biochemistry major—will graduate college with a 4.2 grade point average. If football doesn't pan out, PowerHaus will set him up to pursue his alternate goal of going to medical school.
"A lot of kids who come from lower-income backgrounds think they can only make it if they become professional athletes," Smith says. "But PowerHaus exposes them to other industries and other avenues for success. Our relationship doesn't only end with football."
---
Beyond training students to think problem-first in the classroom, the Graziadio Business School is also committed to helping founders bridge gaps in their pursuit of securing funding for their startup businesses. Since 2018 the Graziadio School has invited US-based startups with less than $10 million dollars in annual revenue to compete for a space on the Most Fundable Companies List. Now in its fifth year, the program promotes startup business development by providing pathways for startup funding and inspiring entrepreneurial spirit across the nation. Each year, more than 4,000 companies across all 50 states apply for the program, which is supported by the Singleton Foundation for Financial Literacy and Entrepreneurship. Winners have raised more than $125 million since the program's launch.
Whether they make the list or not, EVERY COMPANY that goes through our Most Fundable Companies process receives FREE FEEDBACK. Our goal is to HELP ALL STARTUPS who participate to be better PREPARED to receive funding.
"We're not a pitch competition," says Craig Everett, executive director of Most Fundable Companies and assistant professor of finance at the Graziadio School. "Even though we pick fewer than 20 winners, our primary purpose is educational to all participating entrepreneurs— the benefits are not just for the winners." Not limited to Pepperdine student and alumni startups, Most Fundable Companies provides objective feedback on how a business will be viewed by potential investors beyond the introductory pitch and aims to help founders think about how to structure their business and position their service or product so that they are seen as a worthy investment.
"Our proprietary methodology focuses downstream on the diligence process of angel and VC investors," Everett continues. "Whether they make the list or not, every company that goes through our Most Fundable Companies process receives free feedback. Our goal is to help all startups who participate to be better prepared to receive funding."
As a platinum sponsor of Most Fundable Companies, Hewamadduma prizes the mentorship and guidance offered by the opportunity and incorporates it into his own entrepreneurial ventures on a daily basis. He shares that laying the foundation of CFOPlans was a two-year process, no doubt due to his commitment to personally training talent to understand deeply the company's systems, strategies, and mission—essentially coaching them to think like a founder. He says building a collaborative learning culture that prioritizes relationships and customer service is paramount to the success of any business owner and entrepreneur. He also ensures that the talent on his teams remains marketable because he hopes they will eventually take what they've learned from his experiences and leadership and start their own businesses.
"I tell them, 'At some point, you may take over this company,'" he says. "If you have thoughts and ideas about your own entrepreneurial journey, bring them up. We will help you. You don't have to be an employee for the rest of your life. Every leader in the company encourages their staff to be more qualified and more marketable so they may pursue their own thing. I tell them, 'Your job is to do that, and my job is to try and keep you.'"