Pepperdine Volunteers Serve Local Nonprofits for 35th Annual Step Forward Day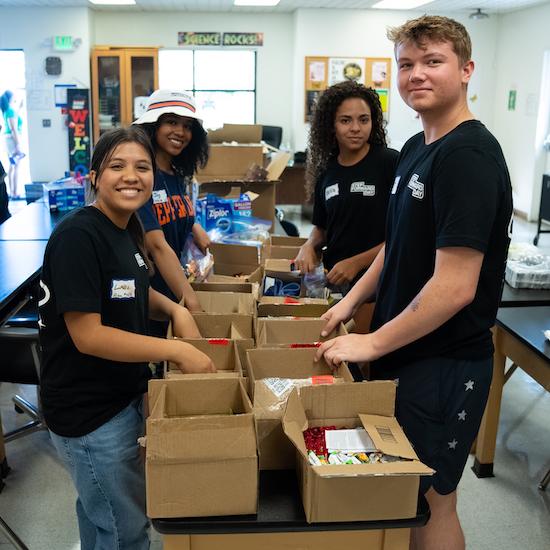 On Saturday, September 9, 2023, Pepperdine students, alumni, faculty, and staff came together to engage with one another and to serve local communities in Malibu and beyond by volunteering with more than 25 public and nonprofit organizations at the University's annual Step Forward Day. Celebrating its 35th anniversary this year, Step Forward Day showcases ongoing local service opportunities that the Pepperdine community can connect with throughout the year.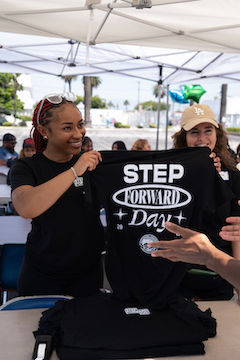 Sophomore Ruth Oppong (left) volunteering
at Price Schools for Step Forward Day 2023.
Organized by the Community Engagement and Service (CES) branch of the Hub for Spiritual Life, Step Forward Day 2023 brought together more than 600 Pepperdine students, faculty, and staff members to partner with nonprofit and public organizations throughout the Counties of Los Angeles and Ventura to provide services ranging from food sorting for the Manna Conejo Food Bank and Food Share of Ventura County to preparing building materials for a playground with Habitat for Humanity Ventura County.
Before Step Forward Day volunteers departed campus for their respective service tasks, Sarah Knauer ('14), a Los Angeles real-estate agent and co-chair and board president of The People Concern, a nonprofit organization that provides care and support for those experiencing homelessness and domestic violence, addressed the group with a message about the importance of community service. "Make the most of today," she said. "Meet new people. Connect with your classmates and professors. Learn something about others, about yourself, and about the world. And in the future, think about how fulfilling it is to see someone's life impacted by what you have done. Take opportunities to recreate that feeling in more aspects of your life and give it longevity."
Christin Shatzer Román ('03), director of CES, expressed pride in the scope of the work this year's participants accomplished. "We achieved so much with Step Forward Day 2023," she said. "More than 500 of our unhoused neighbors received hygiene kits and other essential items through our work with PATH West LA, the Dream Center, About My Father's Business, and the Ventura County Men's Rescue Mission. More than 100 formerly homeless veterans and others were served by neighborhood beautification projects through our partnerships with Many Mansions and PATH Vermont Villas. Our work with Operation Christmas Child from Samaritan's Purse will provide gift boxes that share the gospel with 1,000 children around the world. The impact of Step Forward Day is incredible."
Many members of the Pepperdine community, including a contingent from the Office of Admission, took part in a campus beautification project at Frederick K. C. Price III Christian Schools, located on the site of the original Pepperdine campus in the Vermont Knolls neighborhood of South Los Angeles. Participants also created classroom disaster-preparedness kits for students and teachers.
Ruth Oppong , a Seaver College sophomore majoring in business administration with a minor in entrepreneurship, graduated from Price Schools and chose to serve there because of her personal connection. "If I were to describe Price in one word, I would say 'family,'" Oppong said. "Besides my parents, my Price family has had the most significant influence on my mindset, my attitude, and the perspective I have on life. How can I not give back to the village that raised me? How can I not give back to my second home?"
Step Forward Day volunteers achieved many other important acts of service in local communities, including:
Organizing $10,000 of inventory at the Simi Valley Habitat for Humanity ReStore, which will provide revenue to support Habitat's newest construction projects
Providing 8,646 meals for food-insecure residents of Ventura County
Creating 150 outreach kits for Pepperdine's unhoused neighbors in Chatsworth in partnership with About My Father's Business
Cleaning five miles of Malibu beach through two trash pick-up projects
In addition to working with service organizations across California, the Step Forward Day with Pepperdine Alumni program coordinated 24 volunteer opportunities with nonprofits in 11 states, with the majority of these projects being led by regional alumni network leaders. More than 800 Pepperdine alumni, parents, and family members will participate in these service projects throughout the month of September. "This is the largest Step Forward Day that the Office of Alumni Affairs has produced since before the COVID-19 pandemic," said Rebecca Brueckmann, director of alumni affairs. "We are so glad to be able to partner with our regional network leaders to once again produce this volume of service opportunities for Pepperdine alumni and parents around the country."
CES sponsors service opportunities for students, alumni, faculty, and staff throughout the year, including the upcoming Volunteer Collective Interfaith Layer Up Clothing Drive, which will take place from September 18 to September 25. Members of the Pepperdine community are encouraged to contribute warm clothing for local families in need. Donation boxes will be located on the Calabasas campus and throughout the Malibu campus at first-year residence halls, Seaside Residence Hall, Payson Library, the Harnish Law Library at the Caruso School of Law, the Light House in the Tyler Campus Center, the Howard A. White Center, and the Center for Communication and Business. Volunteers are also invited to sort and distribute the donated clothing on October 14 and 15. Those interested in participating should contact Jadyn Gaertner, assistant director of worship and service at the Hub for Spiritual Life, for more information.
"In CES, our approach to service is not just focused on how much work can be accomplished in a two-hour volunteer shift," said Shatzer Román. "We're interested in learning from the community and hearing how issues impact our neighbors. Service is relational, not transactional."