Pepperdine Celebrates 80 Years of Harbor: The Pepperdine Bible Lectures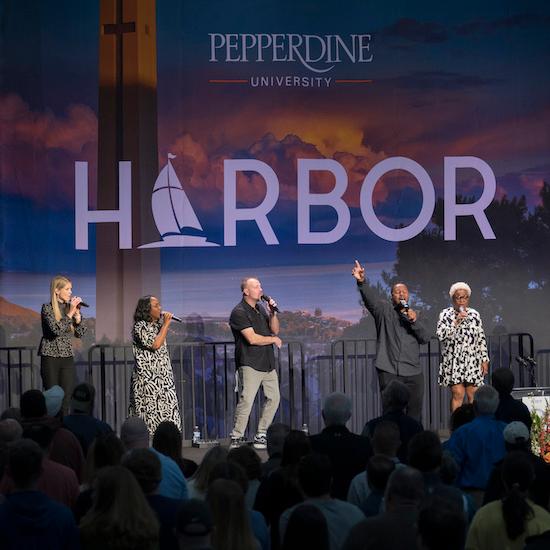 From Tuesday, May 2, through Friday, May 5, 2023, ministers, scholars, and lay people from around the country met on Pepperdine's Malibu campus to explore the theme of "God Loves Forever" through education, fellowship, worship, and rejuvenation at the University's annual multi-day conference, Harbor: The Pepperdine Bible Lectures, hosted by the Office of Church Relations.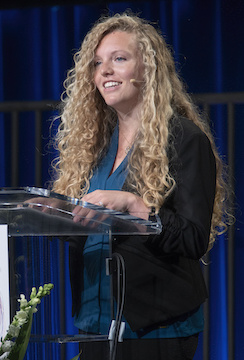 Falon Barton, campus minister at University
Church of Christ Malibu, speaking at Harbor.
Pepperdine has hosted the Harbor gathering every year since 1943, meeting virtually in 2020 and 2021 due to the COVID-19 pandemic. "So many similar conferences didn't survive the interruptions due to COVID-19," said Mike Cope, director of ministry outreach in the Office of Church Relations. "We're grateful that so many came from across the country and from overseas to participate in our 80th annual lectureship."
In Chancellor Sara Young Jackson's ('74) introduction to the morning keynote lecture on May 3, she spoke of her personal connection to Harbor over the years. Jackson's father, M. Norvel Young, served as president of Pepperdine from 1957 to 1971, and as its chancellor from 1971 to 1985.
"I grew up at Pepperdine and have been to so many Bible lectures, as we used to call Harbor," she said. "When I was 9, I heard the final address from our founder, George Pepperdine. I can't tell you how committed we are to the Churches of Christ and to Pepperdine University staying connected to the founding principles of George Pepperdine."
The 2023 conference theme, "God Loves Forever," was reflected in lectures and workshops presented by more than 100 speakers, including many Pepperdine staff and faculty members. In her May 3 morning keynote lecture, "Created in Love," Falon Barton, campus minister at University Church of Christ Malibu, focused on God's expression of his love through the natural world.
"Since the beginning, the earth has been our most intimate neighbor," she said. "We are created to share God's love forever with all creation. How God must love the earth to have shaped us out of it."
The May 5 morning keynote, "Love Does," was delivered by Bob Goff, best-selling author, Honorary Consul to the Republic of Uganda, and founder of Love Does, a nonprofit human rights organization. Goff encouraged Christians to show God's love through practical action. "Take a genuine interest in the world," he said. "Every selfless act of love is a declaration of faith."
In his introduction to the May 3 evening keynote lecture, Rick Gibson (MBA '09, PKE 121), senior vice chancellor, announced the official renaming of the Harbor information center, known as Lectureship Central, to the Joella Michael Welcome Center. Michael was the director of operations for the Office of Church Relations and, prior to her death in November 2022, was critical in organizing the annual Harbor conference for more than 15 years. "Joella Michael's fingerprints are everywhere on Harbor. Everything she did, she did with you in mind," Gibson told the audience. "Her loss for us is unimaginable."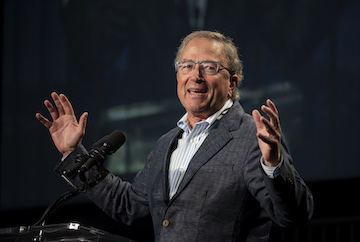 Mike Cope, director of ministry outreach for Pepperdine's Office of
Church Relations, has directed the Harbor conference since 2013.
Other keynote lectures included "His Love Endures Forever" by Wade Hodges, lead minister of the Greenville Oaks Church of Christ in Allen, Texas; "Rescued in Love" by Jonathan Storment, preaching minister at Pleasant Valley Church of Christ in Little Rock, Arkansas; "Embodied in Love" by Orpheus Heyward, senior minister at Renaissance Church of Christ in Atlanta, Georgia; "Reconciled in Love" by Richard Beck, professor of psychology at Abilene Christian University in Texas; and "The Simple Secret: Choosing Love in a Culture of Hostility" by Joshua Graves, teaching minister at Otter Creek Church in Nashville, Tennessee. Music for all keynote lectures was provided by United Voice Worship, an a capella singing group.
For the first time in its 80-year history, Harbor provided entertainment in the form of late-night, all-ages stand-up comedy by Jacob Parnell, preaching minister at Tri-Valley Church of Christ in Livermore, California, and Bryan Schackmann, preaching minister at Glendale Church of Christ in California. "Raitt Recital Hall was completely filled," said Cope. "We could have filled it a second time."
In addition to hundreds of in-person attendees, there were more than 1,000 downloads of Harbor sessions before the end of the conference's first day, according to Cope. "A major goal of Harbor is to reach out to those who are unable to attend in person," he said. "We've found that these classes and keynotes are resources for churches around the world." Video recordings of this year's keynote lectures are available on the Office of Church Relations YouTube channel.
"Harbor is intended to be a safe haven for those who want to be replenished by teaching, worship, fellowship, and the beauty of Malibu," said Cope. "We're hearing from so many church leaders that this did, indeed, happen."