Pepperdine Students Partner with Malibu C.A.R.T. to Serve Local Unhoused Community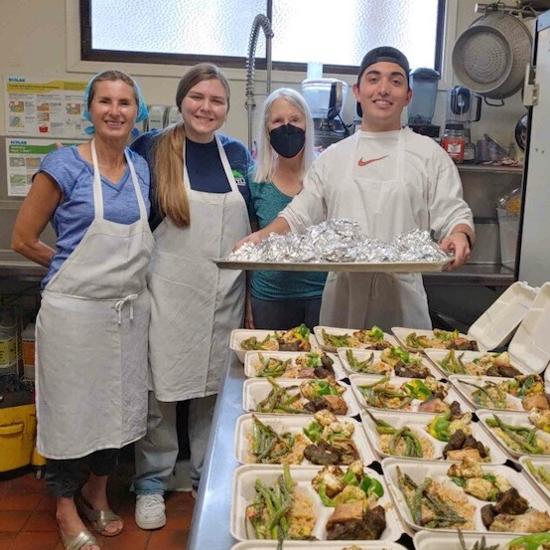 "For I was hungry and you gave me something to eat; I was thirsty and you gave me something to drink; I was a stranger and you invited me in." Dacia Hanell ('23) quotes Matthew 25:35 as the inspiration for her volunteer work with Malibu C.A.R.T. (Community Assistance and Resource Team), a nonprofit organization that provides basic necessities to unhoused residents of Malibu. Hanell (second from the left in the photo above), who recently graduated from Seaver College with a bachelor of arts in biology, volunteered with Malibu C.A.R.T.'s meal-distribution program throughout the spring 2023 semester. "I enjoy serving the community because it broadens my perspective on every person that God has created, whom he has created in his image," she says.
Hanell became involved with Malibu C.A.R.T. through her position as a student employee in Pepperdine's Hub for Spiritual Life, which seeks to engage the University community in vibrant and consistent experiences of worship and spiritual care. "In the community engagement and service branch of the Hub for Spiritual Life, our focus is on convening and connecting students of all backgrounds to meaningful engagement and service opportunities on and off campus," says Christin Shatzer Román ('03), director of community engagement and service at the Hub for Spiritual Life. "Pepperdine has had a relationship with Malibu C.A.R.T. for a number of years," she continues. "We mobilize students and other members of the University community to volunteer time and donate supplies to the meal offerings for our unhoused neighbors. Pepperdine students are especially interested in responding to the issue of homelessness in our immediate community and beyond."
Carol Moss, a prominent resident of Malibu for decades, along with Reverend Sandy Liddell, founded Malibu C.A.R.T. in 2015 to help connect unhoused individuals to community services and to lessen the suffering for all impacted by homelessness. Terry Davis, president of Malibu C.A.R.T., assumed her current leadership role when Moss died in April 2021.
"We are committed to the benefit and care of the overall community," says Davis. "We help, befriend, and assist individuals in need. Our mission is to ease the struggles of the hungry, the working poor, and the unhoused. I'm very appreciative of the concern, compassion, and commitment Pepperdine students have demonstrated through their service to Malibu C.A.R.T."
Last December, Hanell met with Malibu C.A.R.T. leaders to discover how the Hub for Spiritual Life's community engagement and service branch could best assist the organization in contributing to the community. The meal-distribution program, a Malibu C.A.R.T. signature outreach effort that, in cooperation with Malibu United Methodist Church, provides nutritious food five times per week to anyone who needs it, caught her attention.
"This past semester, we partnered with Malibu C.A.R.T. to prepare food, organize kitchen supplies, and hand out grocery bags with home-cooked meals to our local, unhoused neighbors," says Hanell. "My fellow student volunteers and I would begin by washing vegetables and fruits, chopping and seasoning foods, placing them on trays to roast in the oven, distributing yogurt and bread, and portioning out desserts for the day's meal."
Lea Johnson, Malibu C.A.R.T.'s board director, expresses gratitude for the work of Hanell and her fellow students. "We absolutely love the Pepperdine student volunteers. We need more of them," Johnson says. "They are invaluable. They could do a million things with their time, and they choose to spend a few hours with us every week. To work with the homeless is a sacrifice."
Serra Retreat, a Catholic retreat and conference center in Malibu, provides kitchen space to Malibu C.A.R.T. for food preparation, and Whole Foods Market donates the majority of the produce, frozen foods, and pantry items that are used to create the meals. "This is a beautiful partnership which has provided many meals to Malibu's unhoused residents," says Hanell.
She views her service work as an integral part of her faith. "How I serve my community is a reflection of what Christ has done for me," Hanell says. "By supporting Malibu C.A.R.T.'s team of cooks by helping them in the kitchen and taking on some of the more strenuous tasks, Pepperdine students are working under Jesus' calling to meet people where they are so that we can better serve them and make their lives easier."
Johnson calls the Pepperdine student volunteers "a tremendous help and a blessing." She says, "We've been hugely positively impacted by their dedication and the energy they bring. They're a big inspiration for us. We absolutely couldn't do it without them."