Microenterprise Students Graduate from Unique Pepperdine Program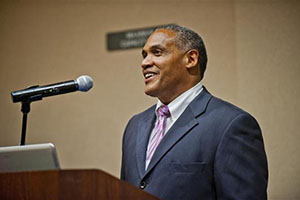 With graduation season in full force, Pepperdine recently marked one unusual commencement with much emotion, support, and hope. There were no long robes or caps typical of traditional commencements. Instead, the 13 members of the Pepperdine Microenterprise Program Class of 2015 stood nervously before an audience of family, friends, and business leaders, and took turns presenting their business ideas.
The Microenterprise Program teams Los Angeles area residents of shelters and low-income housing with Pepperdine graduate and undergraduate students, faculty, and the business community in establishing microbusinesses or finding employment. Pepperdine students work with entrepreneurs on various topics including self-improvement, developing marketing strategies and business plans, and creating websites for their microbusinesses are all part of the 24-week curriculum along with plenty of encouragement and guidance. The graduates, who range in age from young adults to senior citizens, live in Los Angeles-area shelters and low-income housing. Most hit rock bottom at some point in their lives due to various challenges, yet found the strength to get up and try again, thanks to the outstretched hand Pepperdine extended.
Military veteran George Lowery, a former addict, is now sober and pursuing his dream of establishing an infant carrier business. Single mom Glenda Smith escaped an abusive relationship and is launching a health food firm. Tierra Nawrocki fought depression and abuse and having to give her first baby up for adoption, and is now developing a natural cosmetics line.
After the presentations, there was much applause, proud smiles, bittersweet tears, and hugs. Program leaders will continue to provide support to the budding entrepreneurs after graduation through continued education, guidance and encouragement, and providing space to house their businesses.
Learn more at the Pepperdine Microenterprise website.