Pepperdine Faith Ministries Foster Vibrant Spiritual Life Opportunities for Students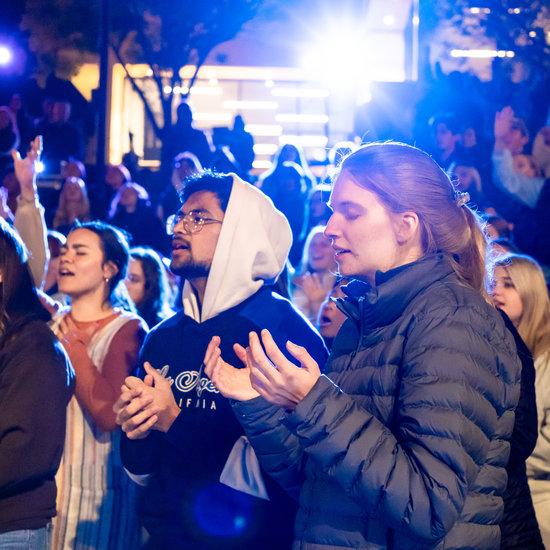 As new and returning students arrive to the Malibu campus to begin the 2023–2024 academic year, they will discover a wealth of opportunities beyond the classroom that will inspire and deepen their faith—a distinct aspect of the Pepperdine student experience. For students in all stages of their faith journey, Pepperdine provides ample resources and meaningful opportunities throughout the school year that include weekly worship events, campus- and student-led ministries, and clubs and service activities that cultivate the campus community's vibrant culture of faith.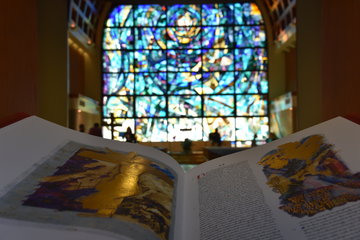 At the center of Pepperdine's faith community is the Hub for Spiritual Life, a framework of ministries overseen by the University's Spiritual Life Team that includes faculty-, staff-, and student-led ministries. The Hub for Spiritual Life aims to engage the Pepperdine community through worship and spiritual care and to develop and integrate programs, training, and resources to foster a stimulating and consistent spiritual life at the University.
"If you ever have any questions regarding spiritual opportunities at Pepperdine, look to the Hub for Spiritual Life," says Tim Spivey ('97, MS '00, MDiv '00) associate vice president for spiritual life at Pepperdine. "Our goal at the Hub is to uphold the University's mission by developing and fostering spiritual opportunities that inspire the larger Pepperdine community."
The vision for the Hub also seeks to cultivate worship services that honor Pepperdine's diverse faith community. The Well, a free event held at the Amphitheater on Wednesday nights at 8 PM, is Pepperdine's ongoing opportunity for believers from all backgrounds to come together for a weekly night of worship and teaching.
Beyond high-impact worship and spiritual care, the Hub for Spiritual Life engages University students, faculty, staff, and alumni through its Community Engagement and Service opportunities that connect the University community with local nonprofits, special service events, and customized service projects for student clubs, organizations, and other University groups. Step Forward Day, the annual University-wide day of service taking place this year on Saturday, September 9, connects the campus community with local, ongoing service opportunities and encourages individuals to connect with them throughout the school year. Other local outreach opportunities include the PATH Cooks Service Project, a year-round volunteer program beginning this fall that provides home-cooked meals to residents living in PATH's interim housing facilities, and Malibu C.A.R.T., a weekly opportunity to provide food for Malibu's unhoused population.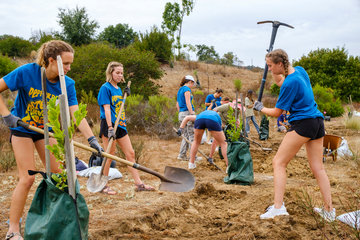 "By participating in service, Pepperdine students develop skills, knowledge, and abilities that will help them now and in their careers," says Christin Shatzer Román, director of Community Engagement and Service. "By sharing their gifts and talents in these community spaces, Pepperdine students extend God's peace and love through the service they provide."
Students interested in gaining spiritual leadership skills are encouraged to participate in student ministries that offer club and group opportunities for leadership training and discipleship programs that provide student leaders the opportunity to grow in their roles as they guide their peers in worship, discipleship, and spiritual practices. Pepperdine currently offers six student-led ministries on campus, including Word Up, Celebration Chapel, Veritas Club, Koinonia Campus Mission, Catholic Student Association, and AO Waves. From instrumental worship and preaching to apologetics and Bible studies, each student-led ministry's unique mission and vision appeals to a variety of students while also equipping the campus community to develop deeper connections with God. For more information on each ministry, visit the PepperVine website.
Additional worship opportunities that are available to all members of the Pepperdine community, as well as members of the Malibu community and beyond, include the University Church of Christ Malibu, Pepperdine's campus congregation that meets weekly and gives the community a chance to connect spiritually and fellowship together. For the first few Sundays of the school year—August 13, 20, and 27—services will be available at 10:15 AM in the Amphitheatre and then continue at Stauffer Chapel, with virtual access available via Zoom.
"Our multigenerational church community is devoted to loving and serving our college students and our entire campus neighborhood," shares Falon Barton, campus minister at University Church of Christ Malibu. "We want students to be full and active participants in our on-campus congregation—to experience the breadth and depth of a community that loves God, each other, and the world." Eric Wilson, lead minister at the University Church of Christ, adds, "We attempt to receive one another and our guests with radical hospitality as we seek to equip ourselves with the ability to do God's good work in the world and are committed to nurturing the spiritual formation of all of our members, young and old, including emerging adults."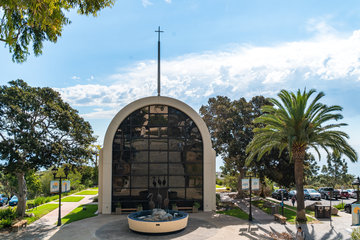 And launching Sunday, August 20, Waves Church will provide an additional opportunity for students and other members of the campus community to grow in their faith through an intimate on-campus service held every Sunday evening at 5 PM at the Joslyn Plaza Fountain. "We felt a calling to look at Pepperdine as a mission field," says Alan Beard ('94, MPP '99), member of Pepperdine's Board of Regents. "There are thousands of students on campus without a church home, some of whom are Christians and some who will hear the gospel message for the first time. We are called to a multigenerational effort to focus on student outreach and campus ministry."
Pepperdine's mission to create an environment of academic excellence integrated with Christian values allows students to thrive academically as well as spiritually. Throughout their journey at the University, students are invited to participate in a variety of events, service activities, and clubs that will ultimately help to prepare them to lead lives of purpose, service, and leadership.
"A spiritual education is equally valuable to the academic education Pepperdine provides," says Spivey. "Our goal is to continue to explore ways we can help our students develop as spiritual leaders while focusing on providing quality, in-depth spiritual programs and service opportunities."