Pepperdine to Celebrate 82nd Anniversary of Founder's Day 2020 Online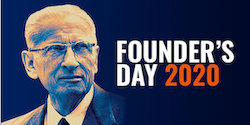 In an effort to maintain recommended health and safety measures amid the coronavirus pandemic, Pepperdine faculty, staff, students, alumni, and friends will gather virtually this year to celebrate the University's annual Founder's Day event via livestream on Wednesday, August 26, at 10 AM PDT.
Declaring the opening of the 2020–2021 academic year, Founder's Day commemorates the University's early beginnings and honors the vision of its founder, George Pepperdine. The ceremony will feature a reading of George Pepperdine's 1937 dedicatory address and a special message from President Jim Gash (JD '93).
For additional information about the annual celebration, and to watch the event online, visit the Founder's Day 2020 page on the Pepperdine University website.