Pepperdine Introduces Summer 2019 AEG/STAPLES Center Classroom Series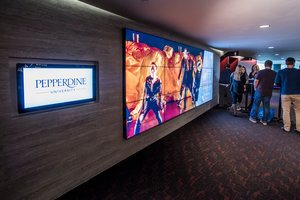 The Institute for Entertainment, Media, Sports, and Culture at Pepperdine University, in partnership with AEG, will host a series of summer courses at STAPLES Center in Downtown Los Angeles. The classes, which will be available via Livestream, are scheduled to take place on July 10, 17, 24, 31, and August 7, from noon to 1 PM.
Eight industry leaders will explore the following topics:
July 10
Richard Gille, Partner, ReedSmith
"A Matter of Fairness and Protection: Who Is Looking Out For Student-Athletes When Schools Purchase Disability Insurance For Them?"
July 17
Peter Hammon, Director of Government Relations and Business Development, US, Smarkets
Peter Pham, Director of Publishing, Gamblit Gaming, LLC
"Ethics and Sports Betting: The Legal Lines Between Profit and Responsibility"
July 24
Jeff McFarland, Partner, Quinn Emanuel Urquhart & Sullivan, LLP, Co-Chair, National Media and Entertainment Practice
"Litigation in Hollywood: Stories from the Trenches"
July 31
Amy Baer, President and Owner, Gidden Media, Board President, Women in Film
Christa Zofcin Workman, Executive Vice President, Business and Legal Affairs, River Road Entertainment
"Entertainment and Film: Breaking In and Moving Up"
August 7
Natalie Brunell, National Correspondent, ABC News, and Adjunct Professor Broadcast and Digital Journalism, University of Southern California
Jonathan Handel, Counsel, TroyGould, Contributing Editor, The Hollywood Reporter
"Journalism in Entertainment: Protecting the First Amendment, Finding the Truth, and Reaching the Audience"
The Institute for Entertainment, Media, Sports, and Culture facilitates the education and development of a new generation of multidisciplinary graduates who are uniquely positioned for impactful leadership roles within the media and entertainment sectors and committed to stewardship of its cultural and societal impacts. The institute creates pathways for students from Seaver College, Graziadio Business School, and the School of Law to become business savvy individuals, creatively minded executives and entrepreneurs, and entertainment industry-focused lawyers.
For additional information about the series, visit the Institute for Entertainment, Media, Sports, and Culture website.