Pepperdine University Celebrates Earth Month with 6th Annual Climate Calling Conference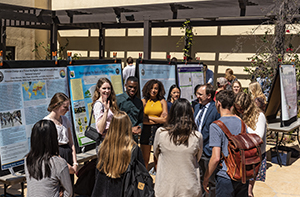 To commemorate Earth Month, a month-long focus on sustainability efforts throughout April culminating with Earth Day on April 20, 2022, Pepperdine University will host the annual Climate Calling Conference from April 5 through April 8, 2022. The conference, made possible by the Office of the Vice Provost and Pepperdine's Center for Sustainability, explores climate change, its consequences, and the call to respond.
The Earth Day Fair on April 5 will kick off the week's events. From 11 AM to 2 PM in Joslyn Plaza a variety of informational booths, environmental organizations, and sustainable food options will be available for guests to explore. The Center for Sustainability will also gift a succulent to the first 100 guests who stop by the center's booth.
In partnership with the Malibu Public Library, author and Pulitzer Prize–finalist Elizabeth Rush will lead the Keynote Address in Elkins Auditorium on April 7 at 7 PM. Rush will explore how to include the voices of those historically left out of environmental discourse. She is the author of Rising: Dispatches from the New American Shore, and her writing has appeared in TheNewYork Times, The Washington Post, The Guardian, and more. A book signing will follow the keynote.
Other conference events include an all-day electronic waste drive on Wednesday, April 6, and student research presentations that focus on climate change on Friday, April 8. The Earth Month celebrations will also continue for the rest of the month with Community Garden Day on Saturday, April 23, where community members can learn about sustainable gardening options.
To learn more about the series of events, visit the Climate Calling Conference website.