Pepperdine University Celebrates Founder's Day 2021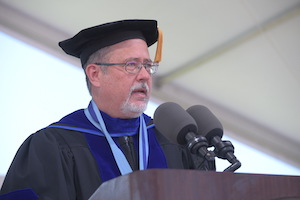 On the morning of September 22, 2021, members of the Pepperdine community gathered at Alumni Park on the Malibu campus to celebrate the 84th annual Founder's Day—a beloved University tradition that officially declares the beginning of a new academic year, commemorates the institution's beginnings, and honors the vision of its founder, George Pepperdine. Following a 17-month campus closure amid the coronavirus pandemic, Founder's Day 2021 brought the Pepperdine community together in fellowship, highlighting Pepperdine's commitment to the community belonging and shared purpose inherent in its Christian heritage.
This year's processional featured alumni and international student representatives who graduated between 1938 through 2021, as well as those anticipated to graduate between 2022 and 2025. University officers and boards in attendance included the Pepperdine Board of Regents, the University Board, faculty emeriti, and boards and councils representing various Pepperdine schools and University-wide departments.
Following the processional, Pepperdine president Jim Gash (JD '93) introduced to the audience Jay L. Brewster, the University's new provost who also serves as a professor of biology at Seaver College. At the podium alongside Dee Anna Smith ('86), chair of the Pepperdine Board of Regents, who later during the program delivered a reading of George Pepperdine's original dedicatory address from 1937, President Gash presented Brewster with the provost's medallion.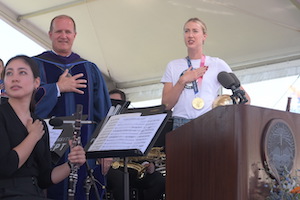 During the provost's welcome, Brewster honored the University's decadeslong history through a reading of scripture and addressed the community's passion for fostering a sense of belonging among all members. J. Goosby Smith, vice president for community belonging and chief diversity officer, offered an invocation that highlighted the University's connection to diverse internal and external groups who have helped shape the institution's foundation, reputation, and path toward excellence.
Introduced by President Gash, professional volleyball player Kimberly J. Hill ('12), a 2020 Olympics gold medalist, led the audience in the recitation of the pledge of allegiance. Hill played on the USA women's national volleyball team in Tokyo and is the only alumna in University history to win Olympic gold.
Pepperdine's "2020–2021 Year in Review" video was also unveiled during the ceremony, featuring the University's most memorable events and accomplishments from the previous academic year. Under the direction of Ryan Board, director of choral activities, the Pepperdine Chamber Choir performed the song "One Voice," featuring a guitar accompaniment by Seaver College student and Pepperdine Chamber Choir member Nolan Harvel.
In his welcome remarks, President Gash explored the topics of community belonging and unity as noted in the New Testament, explaining that one of the most distinct components of a Christian university is its clear demonstration of unity. "When we're to something, it means that we're totally devoted to it, so much so that we'll do anything to express our devotion to it," he said. "We'll abandon our dignity to express our commitment to what we're truly devoted to, as Christ calls us to be devoted to him and to one another."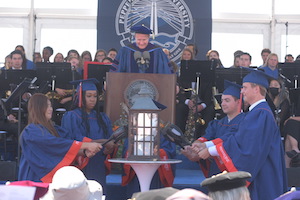 Announcing this academic year's theme of "Unity," President Gash called upon the Pepperdine community to communicate with one another, specifically by encouraging conversations, actively listening, and building relationships with peers and colleagues. "If we're going to build a community of togetherness, of belonging, and of unity, we need to be talking," he expressed. "Our goal is unity. Our method to get there is together. If this takes talking, let's talk together. If it takes work, let's work together. If it's a fight, let's fight together."
Following Provost Brewster's benediction and declaration of the new academic year, President Gash stood alongside the Waves men's golf team for the unveiling of the team's 2021 NCAA Division I national championship banner.
The event concluded with an introduction of two new Founder's Day traditions: the lighting of the lantern by student and alumni representatives from all five Pepperdine schools and the University's new alma mater, "We Will Climb," written by celebrated songwriter, composer, and film and television producer Jimmy Dunne and performed by the Pepperdine Chamber Choir and the Pepperdine Wind Ensemble.
For those unable to attend in person, a recording of the livestream of the event is now available on the Founder's Day website.