Pro Football Hall of Famer Tony Dungy Defines the Values of a Mission-Driven Team During 45th Annual Pepperdine Associates Dinner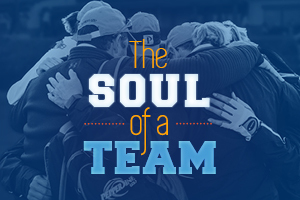 On the evening of May 15, 2021, members of the Pepperdine community gathered virtually to celebrate the 45th annual Pepperdine Associates dinner. Featured speaker Tony Dungy, former head coach of the 2007 Super Bowl Champion Indianapolis Colts, football analyst for NBC Sports, and author of several books, including The Soul of a Team: A Modern-Day Fable for Winning Teamwork, explored the theme, The Soul of a Team, in a pre-recorded interview with president Jim Gash (JD '93). The event also featured exclusive moments with Pepperdine's record-breaking student-athletes and the coaches guiding their teams to success both on and off the field with their exemplary leadership.
Hosted by TV personality and former national news correspondent Adam Housley ('94), the event commenced with opening remarks by Lauren W. Cosentino ('97, MBA '12), Pepperdine's vice president for advancement and chief development officer, as well as an invocation from Dee Anna Smith ('86), chief executive officer of the Sarah Cannon Research Institute and chair of the Pepperdine Board of Regents.
As part of the main program, men's basketball coach Lorenzo Romar and women's tennis coach Per Nilsson took turns sharing highlights from the sports careers of NBA-hopeful Waves guard Colbey Ross and Ashley Lahey, the most decorated female tennis player in Pepperdine history. The segment followed with a pre-recorded interview with Ross and Lahey led by President Gash.
Sam Laganà (MBA '17, PKE 137), former Pepperdine associate vice chancellor and SoFi Stadium's voice of the Los Angeles Rams NFL team, recognized the celebrated works of former Waves coaches Marv Dunphy ('74), Nina Matthies, and Terry Schroeder ('81), who each addressed the audience on the virtual stage.
As President Gash began his segment, he shared his insights about meeting Dungy, the first African American head coach to win a Super Bowl, in Florida, defined the elements that create the soul of a team, and discussed the unique and exemplary spirit of Pepperdine.
"The soul of a team is its essence, its ethos, the core values that bring life to a team," President Gash said. "In Coach Dungy's team, he defined the core values of his teams as selflessness, ownership, unity, and a larger purpose."
In examining the University's core values, President Gash noted that Pepperdine, too, has a soul that is both transcendent and tangible—two characteristics that set the institution apart from all others around the globe. Pepperdine, Gash expressed, operates based on four core values: faith, excellence, a transformative student experience, and a community of belonging—distinct qualities motivated by the University's commitment to its Christian mission, with students at the heart of the institution.
President Gash also announced two upcoming initiatives: the University's 2020 purchase and remodel of the 250-year-old Chateau d'Hauteville on Lake Geneva near Vevey, Switzerland, and the development of the Mountain, a technologically advanced student gathering space located on the Rho lot of the Malibu campus.
The program continued with a candid conversation between President Gash and Dungy, who began the discussion by sharing the setbacks he experienced early in his career that developed him into a leader. Despite those setbacks, including not being drafted into the NFL at the age of 21 after having tremendous success as a quarterback, Dungy experienced a series of transformative chapters in his life that led him to make NFL history by becoming the youngest assistant coach and later the youngest coordinator in the league.
When asked by President Gash about his success at such a young age, Dungy credited his scientist father for continually motivating him to explore everything around him. "My dad instilled in me a sense of trying to learn why things happen and how things work, and not just what happened," Dungy said.
Inspired to show the players how to not make football their only interest and purpose in life, Dungy would tell his team that as role models with millions of fans, they would be expected to become involved in community outreach and make Tampa a better place to live—goals that are intentionally unrelated to playing football.
"I wanted guys who were like me, who were patient, who were encouragers, who were teachers," said Dungy about selecting team members who share his vision. Understanding the challenges that professional athletes can experience, he expressed that while excellence and hardwork are important, he sought positive and encouraging players who could overcome those challenges without giving up.
Dungy also shared his thoughts about the role of faith in coaching a professional sports team. "As head coach, it was my mission to pour into the men and women in the community and shine a light for Christ," he said.
In a candid discussion of his 2019 book, The Soul of a Team, Dungy referenced the four key elements that comprise the acronym SOUL: Selflessness, Ownership, Unity, and Larger purpose.
He explained, "Selflessness is putting the team above yourself, and that doesn't mean not having individual goals and not being motivated individually . . . Ownership is about owning your role everybody can't be the star . . . Unity is being together without being the same . . . a larger purpose is the most important part because it's not human nature to be selfless, own your role, or be unified . . . We have to have a bigger purpose, and to me, that's making a difference in the community."
Dungy also shared that, ultimately, he hopes his legacy would not be associated with the Super Bowl or playoffs, but rather the essence of his purpose in life. "I would hope that would say it was fun to go to work, we all had a larger purpose, we all had to work together, and that he was a guy I could trust and he helped me be a better person," he said. "If they would say that about me, I'd be thrilled."
The evening culminated with a musical performance of "How Great Thou Art" sung by singer-songwriter and actress Caitlin Quisenberry ('18) accompanied by Pepperdine's chief investment officer, Jeff Pippin (MBA '83).
Learn more about the Pepperdine Associates program.