School of Public Policy to Host Applied Policy Research and Training Program in Washington DC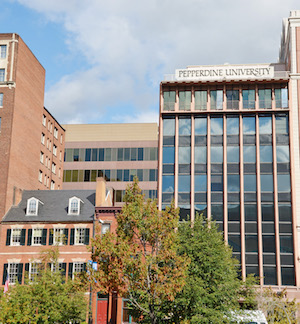 Pepperdine University School of Public Policy will host the two-session Applied Policy Research and Training Program at the Washington DC Campus on Thursday, May 4, from 1:45 to 5 PM.
This year's program will include:
Session 1: Importance of Physical and Digital Infrastructure for Entrepreneurship
Faculty Mentor: James Prieger, professor of economics and public policy
Student Presenters: Heng Lu (MPP '17) and Qian (Habi) Zhang (MPP '17)
Discussants:
Katherine LoPiccalo, economist, Office of Strategic Planning and Policy Analysis Federal Communications Commission; Visiting economist, Economic Analysis Group, Antitrust Division, US Department of Justice
Mary C. Boardman, courtesy Professor, University of South Florida College of Arts and Sciences, School of Information; methodologist, Pherson Associates, LLC/Globalytica
Session 2: Mobile Banking as a Mechanism to Increase Access to Financial Services
Faculty Mentor: Luisa Blanco-Raynal, associate professor of economics and public policy
Student Presenters: Xizhu Wang (MPP '17) and Christopher (Drew) Bosque (MPP '17)
Discussants:
Ellen A. Merry, principal economist, Consumer and Community Development Research, Federal Reserve Board
Ryan M. Goodstein, senior financial economist, Consumer Research and Examination Analytics, Division of Depositor and Consumer Protection, Federal Deposit Insurance Corp.
The Applied Policy Research and Training Program allows students to receive training and research experience in public policy beyond their learning in the classroom. Students selected to participate in the program take part in two series of training workshops in advanced research methods, covering a variety of quantitative and qualitative methods useful for economic and policy analysis.
A few select students are chosen for additional graduate student research fellowships.
These fellows work closely with faculty at the School of Public Policy on policy research projects chosen jointly by the students and the faculty member. The research culminates in publishable academic articles on contemporary issues of significant interest to policymakers.
Through the research fellowships, students gain additional quantitative and research skills while being mentored outside the classroom by the faculties working with them. The goal of this program is to develop the students' skills for policy research while advancing their career paths as policy researchers and future policy makers.
Funding for this program was provided by the Charles Koch Foundation and Carla Sands for the 2016-2017 academic year.
For additional information, visit the School of Public Policy website.