Pepperdine University to Commemorate Anniversary of 9/11 With Annual Waves of Flags Display and Memorial Ceremony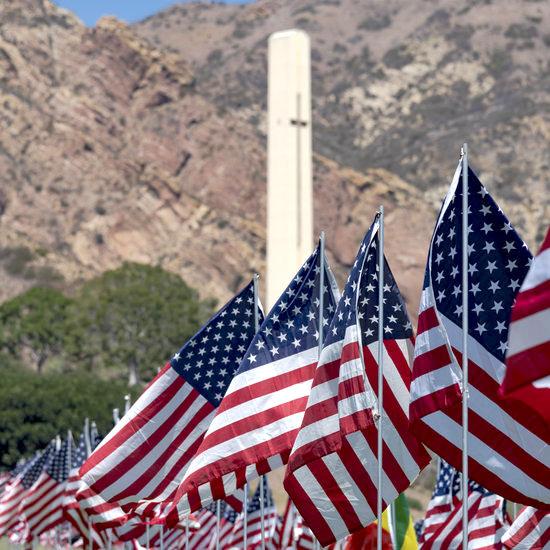 For the 15th consecutive year, Pepperdine University will honor the lives lost in the terror attacks on September 11, 2001, with the Waves of Flags display at Alumni Park on the Malibu campus. From Friday, September 9, to Friday, September 23, 2022, nearly 3,000 flags will fly along Pacific Coast Highway and Malibu Canyon Road—one for each innocent victim, including a national flag for each foreign country that lost a citizen in the attack. The Pepperdine community and the public are invited to visit the display and take a moment to reflect on the lives lost, the families affected, and the countless sacrifices made by emergency personnel and servicemen and women in the days that followed.
On Monday, September 12, 2022, Pepperdine will host Honoring the Heroes of 9/11, a commemoration ceremony led by University chancellor Sara Jackson ('74) with special remarks by president Jim Gash (JD '93) and Pepperdine alumni Ryan Sawtelle ('09) and Chris Garcia ('11), who brought the Waves of Flags idea to life in 2008. The ceremony will be held at 11 AM at Alumni Park.
Started by students in 2008, Waves of Flags has become a Pepperdine tradition that attracts attention and admiration from across the country. It has come to transcend the commemoration of a single tragic day. The display educates both students and people far beyond the campus about the history of the United States and the sacrifices that heroic men and women have made to keep it safe, prosperous, and free. Fulfilled in 2021, the Waves of Flags Endowment Fund ensures permanent support for the Waves of Flags display and the remembrance ceremony on the Malibu campus.
The Pepperdine community is invited to remember the heroes of 9/11 year-round at the Thomas E. Burnett, Jr. Heroes Garden located at one of the highest points on the Malibu campus. The reflection site is designed to honor the heroes of the attacks, including its namesake, Pepperdine alumnus Thomas E. Burnett, Jr. (MBA '95). A passenger aboard the fourth hijacked jetliner, United Flight 93, Burnett and his fellow passengers attempted to regain control of the aircraft from the hijackers to prevent them from flying it into their intended target of the Capitol Building in Washington, DC. This heroic act saved countless lives.
Learn more about Pepperdine's annual commemoration of the terror attacks on 9/11 on the Waves of Flags website.