National Student Employment Week
Pepperdine University 2016-2017 Celebration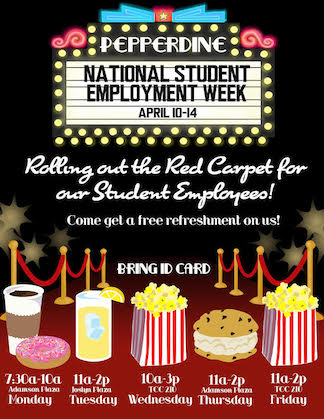 This year's National Student Employment Week took place from April 10-14, 2017. With a Hollywood theme to set the stage for daily events, the Student Employment Office invited students to the office for treats and sweets throughout the week to show their appreciation for student's efforts in their employment throughout the year. From popcorn to Diddy Riese to fresh lemonade and coffee, students were not only thanked profusely for their work but were also given snacks that they could take and enjoy during classes or their workday. Students were also encouraged to participate in a raffle drawing for prizes that were donated by our own Pepperdine community and also local businesses within the Malibu community. The outpouring of love and support for our student workers this year was a blessing, and it is with hope that each student walked away knowing that they were valued.
"Student Employment Week was a blast! Receiving little treats everyday and getting surprised by candygrams from my supervisors me feel so appreciated!"
Throughout the week, over 625 students visited the Student Employment office either to grab a treat or place their name in the raffle drawing. The office was always bustling with activity and filled with the sounds of chatting and laughter. Though not everyone was able to make the daily events, students were strongly encouraged to stop by any time to say hello and receive a word of, "thanks." With supervisors and departments across campus celebrating their students in various ways, it was inspiring to see so many students smile and realize that their efforts and time are noticed and appreciated. As the week came to a close, the Student Employment Office was encouraged by the turnout with the goal to engage more students with every year. A heartfelt thank you to all of our student employees, supervisors, and volunteers who helped to make this week possible!
What is National Student Employment Week?
Each year colleges and universities across the country recognize the importance of the student work experience during National Student Employment Week (NSEW). Student employment offers students career-enhancing opportunities, the ability to develop skills relevant in any career, and better preparation for the job market upon graduation. Student employees perform invaluable services with enthusiasm, dedication, and initiative on campus and throughout the community. Indeed, most schools and surrounding businesses depend on the contributions of this reliable workforce for the efficient operation of the campus and community. Each year Pepperdine University celebrates National Student Employment Week during the second full week of April. National Student Employment Week enables us to recognize and thank Pepperdine students for the contributions they make as employees to the University and the Malibu community.