Welcome New Graduates
Congratulations to the Class of 2023! We are excited to honor your achievements and welcome you to the Pepperdine Alumni family. As a graduate of Pepperdine, you are automatically a lifetime member of the Pepperdine Alumni Association, and there is no cost for you to participate in all the benefits, services, and activities offered to alumni.
Join the Class of 2023 Group on PeppConnect
PeppConnect is the University's exclusive online networking platform for alumni and students. The Class of 2023 Group on PeppConnect has been created as an exclusive space for you to connect with classmates and network with new alumni from across all five schools at Pepperdine. Visit the group often for the latest alumni job offerings, career advice, and news from your alma mater.
Networking Opportunities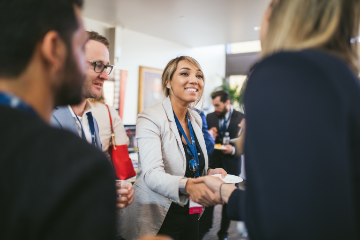 Staying connected is now more important than ever! Stay in touch and take advantage of the many opportunities Pepperdine has to offer including social events, volunteer opportunities, professional networking, and mentorship programs.
Get Involved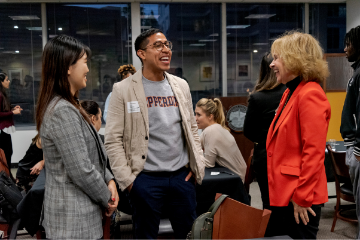 Pepperdine students and alumni are called to live a life of service, purpose, and leadership. Share your time, talents, or passions to help build the global community of Waves. Enjoy the many opportunities to be a mentor, host an event, serve as an ambassador, and connect with current students or alumni.
Career Services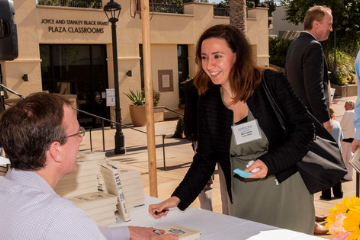 Take your career to the next level with the valuable resources offered to you as a Pepperdine graduate. Each school offers a career office with resources for alumni, or visit PeppConnect to search for jobs or to find a mentor.
Frequently Asked Questions
Can I still access my Pepperdine email address?
Graduates normally lose access to WaveNet and student email approximately 90 days after graduation (or discontinuation of classes). After official graduation ceremonies are held, students will have 90 days to access their student email (before it is disabled). We encourage you to transfer your data to a personal email as soon as possible after gradiation.
How do I update my contact information?
Have you moved, updated your email, changed jobs, or celebrated any milestones? Tell us here!
How do I connect with my classmates?
PeppConnect is Pepperdine's online community for alumni. Log in or create an account on PeppConnect to use the alumni directory. You can search for alumni by school, class year, industry, location, and many more filters to narrow your search!
What benefits do Pepperdine Alumni receive?
As a valued member of the Pepperdine alumni family, you and your family receive discounts on insurance and financial services, plus special offers on travel, entertainment, and more! Visit our Benefits and Services page for more information.
Can I access campus facilities?
Contact Alumni Affairs
Still have questions, or need more information about services for Alumni?