Featured Concerts and Presenters
Keynote Speaker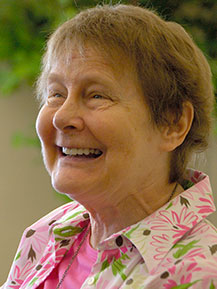 Marva Dawn, Ph.D., theologian and author of Reaching Out Without Dumbing Down: A Theology of Worship for These Urgent Times, will deliver the Keynote Address: "Like a Lark".

Internationally renowned theologian, author, and educator Dr. Marva J. Dawn serves as Teaching Fellow in Spiritual Theology at Regent College in Vancouver, Canada. Dr. Dawn has preached and taught at seminaries, clergy conferences, churches, assemblies, and universities throughout the U.S. and around the globe, including Canada, Australia, China, England, Ireland, Hungary, Japan, Mexico, New Zealand, Norway, Poland, Singapore, and South Korea. A scholar with advanced degrees in English, New Testament, Old Testament, and a Ph.D. in Ethics and Scripture from Notre Dame, Dr. Dawn is a popular preacher and speaker for people of all ages and the author of numerous articles and about 25 books, several of which have won awards and have been translated into other languages. She and her husband, Myron Sandberg, reside in Vancouver, Washington, U.S.
Other concerts and presenters
The Ascending Voice Choral Festival Choir, directed by Simon Carrington, choral director emeritus of the Yale University Choir and co-founder of the internationally acclaimed vocal ensemble, The King's Singers. This choral festival combines the talents of over 150 college choristers from across the United States.
Take 6, the most awarded vocal group in history with 10 Grammy Awards, 10 Dove Awards, a Soul Train Award, and 7 Downbeat Awards, amid countless other musical and humanitarian citation.
Cerulean, Choir-in-Residence of The Ascending Voice. This sixteen-voice a cappella jewel features the talents of some of the country's best vocal-chamber musicians, under the direction of Dr. Ryan Board, Associate Professor of Music at Pepperdine University.
Keith Lancaster will lead the Praise & Harmony singing workshop to enhance congregational singing.
Dr. Ken Nafziger, Eastern Mennonite University, will conduct daily singing classes, drawing from rich global traditions of Christian music.
Symposium registration includes one ticket to each evening concert (free Take 6 ticket guaranteed to the first 200 early-bird registrants only).
To purchase additional tickets to the evening concerts featuring Cerulean, the Festival Choir, and Take 6, please click here to visit the Center for the Arts Box Office website.