People
Campaign Leadership

Greetings from the Campaign Chairs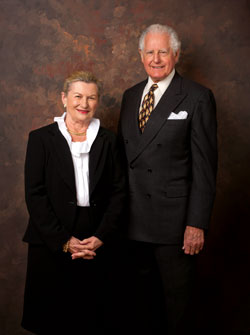 When we began the Campaign for Pepperdine, we had one key objective: to tell our story well and in a way that invites all of our alumni and friends to be both involved and invested in our future. Lucky for us, Pepperdine has always had a good story, beginning with the daring tale of an entrepreneur who founded a Christian college in the heart of Los Angeles and now penning a new and defining chapter—the triumphant conclusion of the University's third and largest-ever fundraising campaign.
For the past decade, we've shared our story—along with the thousands more of our alumni and students—and we count with pride the more than 49,000 donors who responded with gifts to the campaign. We gratefully acknowledge the 25,000 new alumni, friends, faculty, staff, foundations, and corporations who made their first gift to Pepperdine. Every dollar donated is being put to work for the mission of the University and the students we serve.
Our goals have been realized with a generous $44 million in annual support dollars to our schools and programs, more than $140 million in new faculty and academic initiatives, and an incredible $141 million in new scholarship funds and support for students. Gifts to the campaign have also made possible more than $114 million in campus improvements, including key international facilities, the beautiful Mullin Town Square, and our future University Events Center.
From the Office of the Chair, we are humbled by the extraordinary talent and generosity of all who participated in this quest. We are grateful to have served alongside the chairs of the various campaign committees and to each volunteer who was a fervent ambassador of this unique institution. Your allegiance to this campaign is the reason for its success, and we are blessed to have had your leadership on this journey.
In the coming years, students, faculty, and leaders of the University will continue to write its exceptional story, endlessly enriched by the campaigns before it. Thank you for the role you've played in shaping Pepperdine's future—indeed its destiny—as it remains committed, now and forever, to changing lives across the globe.
Marylyn M. Warren ('58)
Vice President, eHarmony.com
Member, Board of Regents
Glen A. Holden
U.S. Ambassador (Ret.)
Member, Board of Regents
Campaign Committees
We gratefully acknowledge the volunteer leaders of the campaign for their unwavering dedication and commitment to the mission of Pepperdine. Your confidence in Pepperdine University and steadfast support of our students and faculty is enabling us to change lives, for the better, every single day.
OFFICE OF THE CHAIR
Chairs
Glen A. Holden
Marylyn M. Warren, '58
Vice Chair
SEAVER COLLEGE
Co-chairs
John T. Lewis, '83
Harold R. Smethills, Sr.
Members
Belinda Chrysiliou
Louis W. Drobnick, MBA '91
Sara Young Jackson, '74
Kimberly J. Lindley
Rick R. Marrs
Lucie H. Moore
Dawn R. Pettersen, '88
Paul H. Reim, '83
Jay S. Welker
Robyn B. Zimmet
GRADUATE SCHOOL OF EDUCATION AND PSYCHOLOGY
Chair
Betty Rengifo Uribe, MBA '00, EdD '12
Vice Chair
Honorary Members
Pat Boone
Shirley Boone
Rosalyn S. Heyman
Allie Evans Tegner, '47, MA '68
Helen M. Young, '39
Members
Yolanda Aguerrebere, MS '83, EdD '09
Fereshteh Amin, EdD '06
Sheila K. Bost
Jenna M. Burkey, '08, MBA '10, MA '13
Kerri R. M. Cissna-Heath, EdD '12
Randy E. Clark, EdD '05
James B. Douglass
Carolyn M. Harrison, MBA '94
Kyewon Ko
Farzin Madjidi, MBA '88, EdD '91
Claudette S. McLinn, MS '83, EdD '06
Michael D. O'Sullivan, MS '74, EdD '87
Richard Sherman
Earnestine Thomas-Robertson, '69, MA '73, EdD '03
Margaret J. Weber
Helen Easterling Williams
Marilyn S. Wright, MA '89, PsyD '95
Wendie Z. Young, '85
Ziegfred G. Young, MS '83, EdD '88
Farshid V. Zanjani, EdD '14
SCHOOL OF LAW
Co-chairs
Terry M. Giles, JD '74
Mark O. Hiepler, JD '88
Barbara A. Jones, JD '89
Members
David J. Barrett, JD '91
Thomas G. Bost
Stephanie C. Buckley
Stephen G. Butler
Charles R. Eskridge III, JD '90
Thomas A. Fessler, JD '83
Janet Kerr, '75, JD '78
John W. Knapp, JD '78, In Memoriam
Michele L. Maryott, JD '97
Ronald F. Phillips
Deanell Reece Tacha
SCHOOL OF PUBLIC POLICY
Chair
Honorary Members
Pat Boone
Virginia Braun, In Memoriam
Members
Ernie Maldonado, BSPM '76, MPA '80
Stephen E. Olson, MBA '73
Ronald Plotkin
Gary Polson
Marilyn Puckett
Russell L. Ray, Jr.
William E. Simon, Jr.
Eric L. Small
Augustus Tagliaferri, MBA '74
Bonnie B. Thomas
George E. Thomas
Robert A. Virtue
Beti Ward
Michael Y. Warder
James R. Wilburn, MBA '82
Barry L. Wolfe
Mireille Wolfe
GRAZIADIO SCHOOL OF BUSINESS AND MANAGEMENT
Chair
Honorary Members
Christos M. Cotsakos, MBA '83
G. Louis Graziadio III
T. Kendall Hunt, MBA '79
Richard G. Newman
Members
Jack M. Area III
Mary Lou Area
Cindy U. Ayloush, BSM '80, MBA '13
A. Ronald Berryman, '62, MBA '67
Christine Q. Bishop
Alida Calvillo
Bruce N. Calvin, '83
Jose A. Collazo, MBA '77
Manuel M. Del Arroz
Louis W. Drobnick, MBA '91
Brett M. Johnson, MBA '05
Kenneth L. Knas, MBA '85
William L. MacDonald
Faye W. McClure, '78
Todd Mikles
Mark J. Miller, MBA '04
Kay Rosen
David R. Wells, MBA '88
UNIVERSITY EVENTS CENTER AND ATHLETICS
Co-chairs
B. Joseph Rokus, '76
Tari Frahm Rokus, '76
Honorary Member
Virginia Braun, In Memoriam
Members
Nabil Barsoum
Robert Beaman
Louis Colombano
Robert J. Katch, '84, MBA '91
Samuel Carl Lagana
John F. Monroe, '79
Loretta T. Monroe, '78
Chad Mooney
Ted O. Porter, '59, MBA '75
Steven T. Potts, JD '82
John R. Rettberg, '59
Charles B. Runnels
G. Tyler Runnels, '78, MBA '80
John G. Watson, '72, MA '75
Judy Zierick
UNIVERSITY LIBRARIES
Chair
Honorary Members
Michael Reagan
John W. Payson, '66
Members
Maureen Duffy-Lewis
Mark Wayne Dundee, EdD '00
Laurel Karabian, In Memoriam
Ken LaZebnik
John D. Miller
Lani A. Netter
Claudia Arnold Preston
Mark Roosa
Amy Jo Runnels, '00
Norman Sarafian
Lisa Smith Wengler
Darryl L. Tippens
Ellen Weitman
Jeanette C. Woodburn
Deborah Yamada
Patti Yomantas