Programs
Pepperdine Athletics
"By building our athletics endowment through scholarships and designated funds, and making steady progress toward our goal of a new student-serving events center, we are strengthening resources that will perpetuate our national prominence, and ensure that all of our student-athletes have the opportunity to excel in their sport and graduate with a Pepperdine degree, equipped for a life of purpose."

Steven T. Potts (JD '82)
Director of Athletics
At Pepperdine, we have high expectations for our student-athletes. They are expected to perform with excellence on the playing field and in the classroom, and serve as leaders, both on their respective teams and in the campus community. The success of our athletics campaign is a valuable reminder of the University's commitment to our student athletes as they represent Pepperdine, compete with purpose, realize their dreams, and exceed our expectations.
Increased annual support through Waves booster clubs, athletic associate memberships, and generous unrestricted commitments from some of our most loyal fans have provided additional aid for our program's yearly operational needs and priorities.
The growth of our endowment has allowed us to amplify scholarship rewards and recruit more competitively within our division. The Marv Dunphy Endowed Volleyball Fund, the Terry Schroeder Endowed Water Polo Fund, and the Schley Family Baseball Endowed Scholarship are just three of the many new life-changing investments that were made during the campaign.
Among our notable achievements, the campaign years included a milestone celebration of the newly named Charles B. Runnels Sports and Recreation Village, and the dedication of the Shannon and Lewana Pirozzi Springboard Diving Platform, honoring a generous commitment to the Swimming and Diving Program.
Much-needed refurbishments to Helen Field Heritage Hall's Jones Trophy Room and first-floor weight room, as well as upgrades to the Firestone Fieldhouse lobby have contributed to the renewed look and feel of Pepperdine athletics. In addition, the Raleigh Runnels Memorial Pool underwent some much-needed repairs to improve infrastructure and accessibility, and the more than 20-year old courtyards and plazas surrounding Firestone Fieldhouse were updated with new landscaping and shaded seating areas.
With the promise of a state-of-the-art events center on the horizon, we are making positive strides toward our goal of raising the reputation and caliber of our Pepperdine Waves programs. The campaign has energized our teams, our coaches, and our growing community of Waves fans, providing a unifying catalyst for our future aspirations.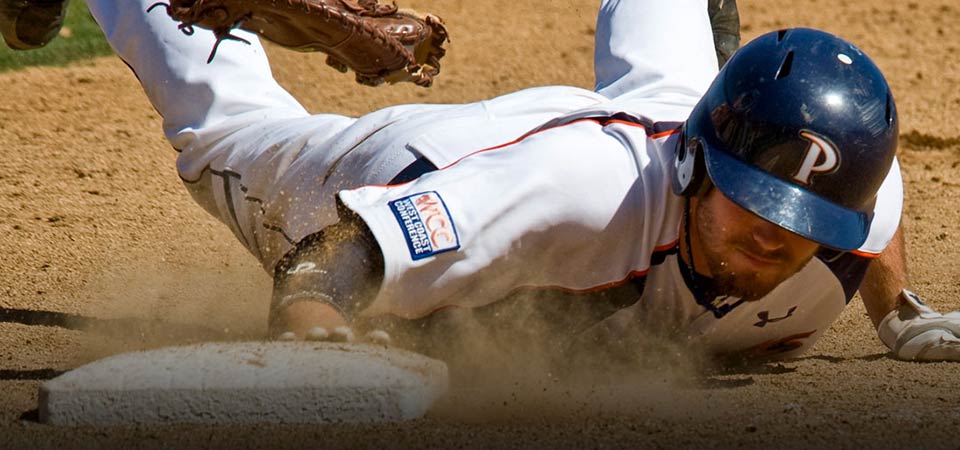 University Libraries
"Through the tremendous support of our benefactors during the Campaign for Pepperdine, we are now poised to create a 21st-century library that will support student learning, teaching, and discovery, while offering visitors a fantastic place to engage with social and cultural issues of the day."

Mark S. Roosa
Dean of Libraries
Aspiring to transform the University's intellectual centerpiece into a 21st-century library of the future, an energetic committee of volunteers and staff proceeded to become the "library engine that could," and did! Embracing a $22 million renovation goal for Payson Library, one of the oldest facilities on the main Malibu campus, the committee sought to raise funds not just for the transformation of study spaces, book stacks, and reading rooms, but for archival and special collection displays and student gathering niches. With nearly $13 million in gifts and pledges tallied, including major support from the Fletcher Jones, Parsons, and Rose Hills foundations, the University expects to launch the project in the next 12-18 months.
Ahead of the "dust and rubble" renovation to come, several dramatic assets were added during the campaign. Commemorating Pepperdine's 75th anniversary in 2012, a cadre of donors and the library committee funded the acquisition of the globally acclaimed Saint John's Bible, the first illuminated, handwritten Bible created in more than five centuries. Gifts totaling $1.5 million, including anchor support from Eff and Patty Martin and Jay and Judy Welker, will also enable a permanent exhibit alcove for the Saint John's Bible's seven volumes when the renovation is completed.
Payson Library also was enriched mid-campaign with resources from longtime friends. University Libraries committee chair Robert Barbera funded the Barbera Information Gateway—the main portal through which students and library patrons enter the facility and navigate its halls. Pepperdine parents Celeste and John Plueger—a University regent—made possible the Dr. Aaron L. Plueger Reading Room as a legacy to John's late father, an author, minister, and George Pepperdine College alumnus. And the Americanism Educational Leaders organization transferred its endowment to Pepperdine Libraries, sustaining AEL's tradition of inspiring patriotism among young people.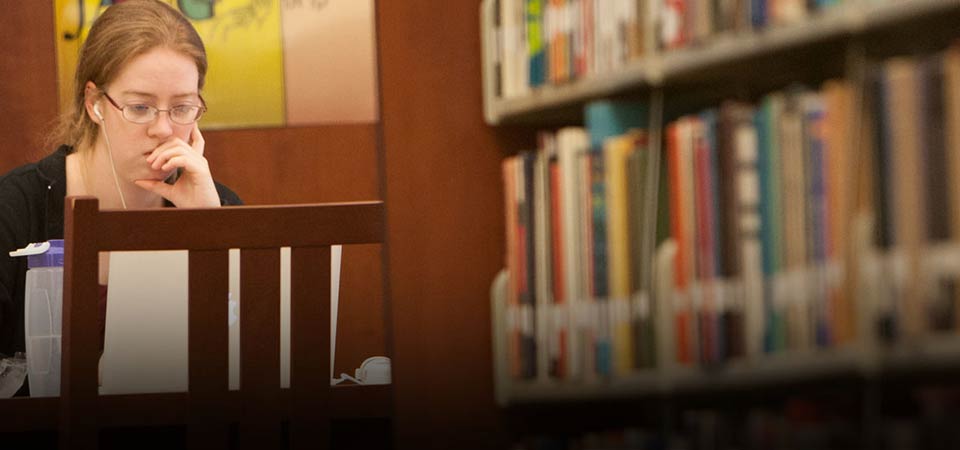 Annual Support
"The conclusion of the Campaign for Pepperdine is not intended to simply be the summary of unconnected milestones and achievements. Instead, I see it as a review of the growth in the commitment of individuals who are becoming a living endowment for the University's future. Programs and initiatives like the Pepperdine Fund steward this endowed future, rallying annual supporters and inspiring financial gifts at every level."

Cynthia Ware
Director, The Pepperdine Fund
Throughout the Campaign for Pepperdine, the development of the Pepperdine Fund has been critical to developing an enthusiastic new generation of donors who continue to connect the University to its students and stakeholders. In fact, nearly 90 percent of annual donors gave through the Pepperdine Fund, raising on average almost $1 million per year during the campaign.
At Seaver, the campaign helped annual giving efforts scale new heights, where successes with the Pepperdine Fund are creating a sustainable future of annual giving through engagement with students. In recent years, work with the Pepperdine Fund has established the Student Philanthropy Council, student "case for support" education, a donor appreciation day and campus-wide giving day, class-specific giving initiatives, a senior class five-year pledge program, and new anniversary giving programs.
Across the University, new support from the Waves family led to a 15 percent increase in annual giving-club memberships, and—with the help of two new giving channels—we recorded the highest donor count in Pepperdine's history during the final year of the campaign. Looking inward, the Pepperdine Fund also helped rally support for the University's faculty/staff campaign initiative, which encouraged nearly 73 percent of full-time employees to make a gift to the campaign.
Annual support has also been generated through the University's robust Pepperdine Associates program. Founded in 1976, the distinguished circle of friends has grown in size to nearly 2,000 members who invested nearly $20 million in just the last five years. These gifts continue to bridge a financial gap not covered by tuition revenue and are channeled directly into what makes this university thrive: our academic programs, our library and technology services, our distinguished faculty, and our students who rely upon essential scholarships and other forms of financial aid.
Each year, annual support dollars demonstrate that every gift—from modest to mighty—makes an enormous difference in the lives of students. Thank you.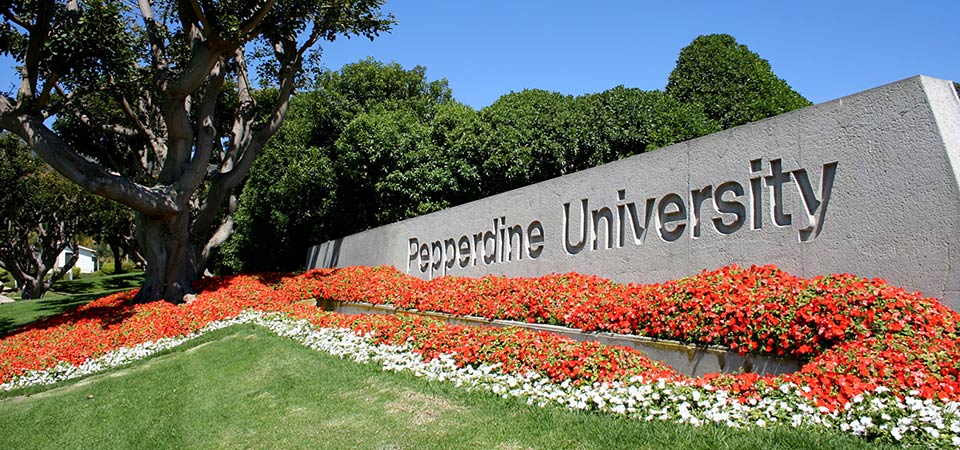 Lisa Smith Wengler Center for the Arts
"By endowing the Center for the Arts, Lisa Smith Wengler has made a philanthropic investment in the cultural life of Malibu and in the creative spirit of Pepperdine. Her gift secures the future of the arts at Pepperdine and ensures that future generations will be able to attend high-quality performances and exhibitions and be inspired—even transformed—by the arts."

Rebecca Carson
Managing Director, Lisa Smith Wengler Center for the Arts
The arts community at Pepperdine has never been stronger. Invigorated by the campaign, our programs are brimming with talent, expertise, and creativity. We have a full calendar of performances at Smothers Theatre, Raitt Recital Hall, and Lindhurst Theatre, and a robust line-up of exhibits at the Weisman Museum.
The Center for the Arts greatest campaign success came as a result of a treasured friendship with Malibu resident and local real estate developer, Lisa Smith Wengler. Her transformational commitment to endow the center will enrich programming and expand our influence throughout Southern California and the nation.
The Weisman Museum received a substantial gift of 30 works of art, valued at over $1.6 million, from the estate of Eric and Peggy Lieber, adding significant depth to Pepperdine's holdings of contemporary art. The collection includes works by David Hockney, Lynn Foulkes, Tim Hawkinson, and John Register.
Through the generosity of Howard and Roberta Ahmanson, funding for the Parkening International Guitar Competition continues to bring the finest young classical guitarists from around the world to compete on Pepperdine's stage for top honors. An endowed gift from Daniel and Luciana Forge to name the annual fall musical is providing vital support to the development of our young artists at Seaver College, while safeguarding a University tradition for the future.
And thanks to the annual support of our Center for the Arts Guild members and President's Circle, our ARTSReach program—serving 10,000 schoolchildren each year—continues to thrive. A source of inspiration and imagination for students, alumni, faculty, staff, and campus visitors, the Lisa Smith Wengler Center for the Arts has a vital role in the University community, and we are deeply grateful to our benefactors and friends who have partnered with us to light the path into our future.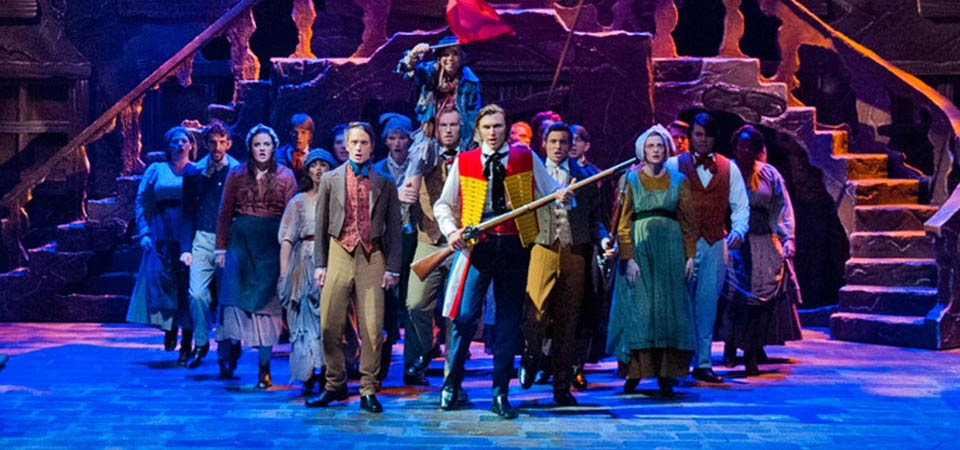 Institute for Entertainment, Media, and Sports
"Pepperdine encouraged me to dream big as a student, and now the University has the opportunity to come on to the world stage and achieve its own dream—shaping culture with the power tools of our day."

Brad E. Cummings ('88)
Chair, Center for Entertainment, Media, and Culture Advisory Board
The next generation of storytellers has arrived in Malibu with Pepperdine's Center for Entertainment, Media, and Culture (EMC), whose vision is to be recognized as one of the top 25 cinema and media arts programs in the world. More than $1.2 million in campaign support is fueling this dream, supporting widely acclaimed programs and initiatives from the emerging center.
Pepperdine boasts hundreds of students, including undergraduate and graduate, who are currently preparing for careers in media. A new master's degree in media production has been created to equip students with the skills needed for the changing media marketplace, and the MFA in writing for screen and television is training future screenwriters as they become influencers of culture in the entertainment industry.
With major campaign gifts from the Brenden Mann Foundation, EMC partnered with University Libraries to launch Hollywood Visionaries and Beyond, a series of celebrations, film screenings, and panel discussions celebrating the Jewish visionaries who helped create Hollywood. The Brenden Mann Foundation has also generously sponsored one of the center's State of the Industry conversations.
A board of industry leaders, including Rob Moore ('84), vice chair of Paramount Pictures, and board chair Brad Cummings, cofounder and CEO of Windblown Media, continues to provide insight, access, and expertise for the center's key fundraising and programming benchmarks. In coming years, the board, along with center director Craig Detweiler, will further develop EMC's key priorities for student scholarships, internships, and educational trips, as well as programming resources for faculty, new equipment and production facilities, and special events. Thank you for helping us generate the next wave in technology, storytelling, and education.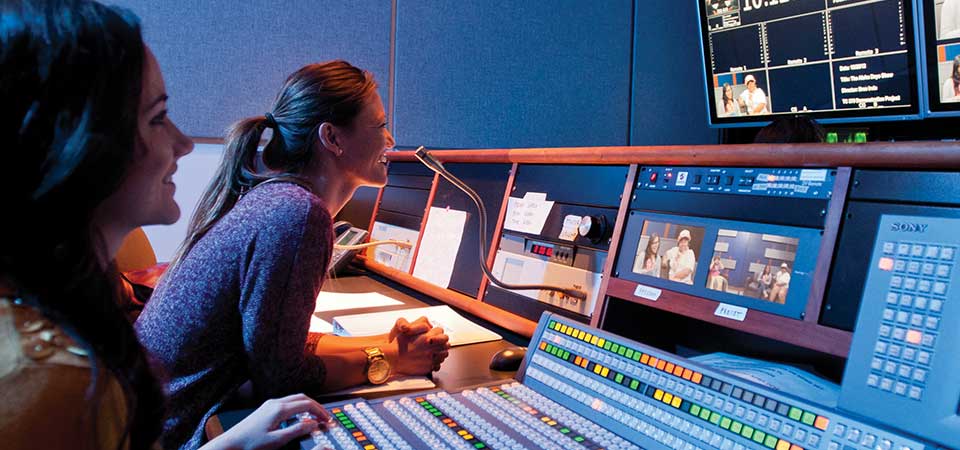 Center for Faith and Learning
"Because of the campaign, I've been given the opportunity to continue the Center for Faith and Learning's vital work of helping to empower and equip both new faculty and long-time faculty as they explore new ways to bring faith and learning together in the classroom and in their scholarship."

Gary Selby
Director, Center for Faith and Learning
Begun in 2002 with a grant from the Lilly Endowment, Inc., Pepperdine's Center for Faith and Learning is the anchor for spiritual formation at the University, connecting scholarship, stewardship, and service programs across all five schools. After the expiration of the Lilly grant, the center became reliant on critical campaign funding to continue core programs and outreach initiatives. With the help of key Pepperdine regents and generous University friends, we are happy to report that we have exceeded our campaign goal by almost $2 million.
Ensuring the continuation of the Seaver College first-year reading program, faith and learning workshops, faculty-staff-student book groups, and our annual new-faculty retreat, the campaign has allowed us to launch a mid-career faculty retreat program as well. These formative retreat experiences challenge our faculty to think deeply about what it is to be a Christian teacher, provide a strong sense of community, and foster a deep resonance with Pepperdine's Christian mission.
By building a strong endowment and advancing the four campaign aspirations, the Center for Faith and Learning has set a solid foundation for the development and delivery of our most transformative University-wide initiatives. We are deeply grateful to the campaign donors who have invested in the important work of the center, enabling the future of a mission-centered program that continues to bless the heart, mind, and soul of our entire Pepperdine community.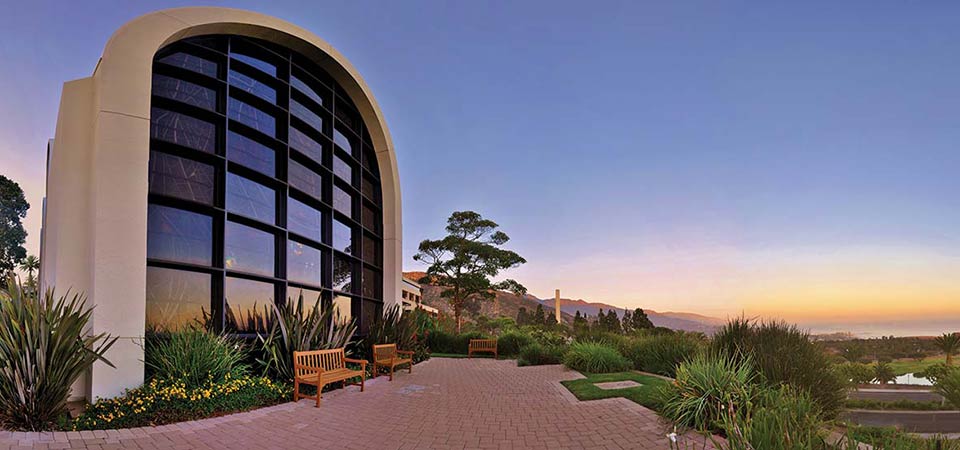 Pat and Shirley Boone Center for the Family
"The ability to face life's challenges comes through living in healthy relationships with both Christ and those around us. The Boone Center for the Family promotes relationships that bring healing and hope to these difficulties in life. Thanks to so many donors who believe in what we do, we are able to train university and seminary students, church leaders, and young professionals how to live well in relationships—and equip them to be powerful leaders and mentors to those they serve."

Sharon Hargrave
Executive Director, Boone Center for the Family
Anchored by a 2006 endowment gift from its namesakes, Pepperdine's Pat and Shirley Boone Center for the Family extended its mission on multiple family-centered fronts during the campaign years. Support grew for its popular Relationship IQ (RIQ) series of on-campus sessions and peer counseling workshops for Pepperdine undergrads, equipping them to form and sustain healthy and successful relationships. The RIQ program developed a training manual now being used by other colleges and universities, modeling Pepperdine's pioneer effort.
An active and supportive advisory board and the Friends of the Family League's yearly fundraiser, SavvyChic, provided crucial funds for the center's operations and outreach initiatives. New programs have launched, including the MarriageStrong small-group experience for couples and its extension for leaders; Marriage Intensives for relationship rebuilding; and the Minister's Marriage Enrichment in Malibu.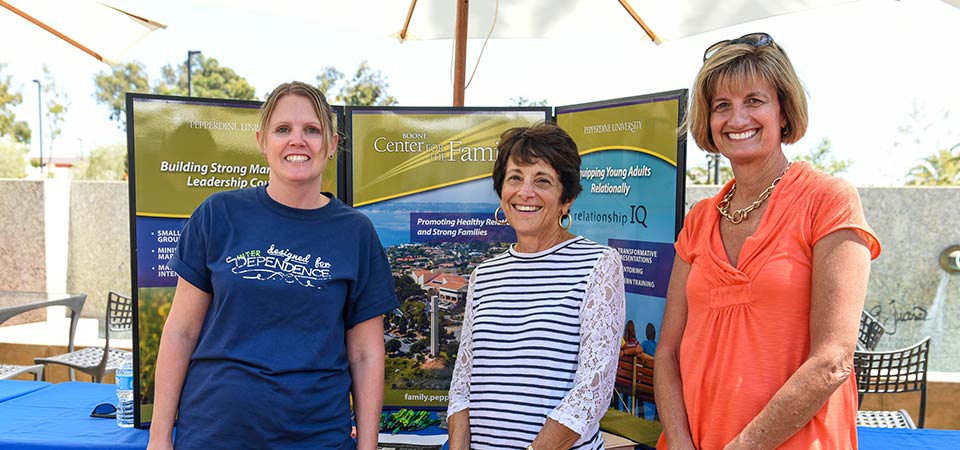 Mullin Town Square
"At the beginning of my term as president, the notion of a Town Square on campus was just a dream. But, after extensive discussion, careful planning, and a visionary commitment made by cherished friends Terry and Sharon Mullin, Pepperdine's Mullin Town Square became a reality that now serves as the centerpiece of student life, enriching our University with an even stronger sense of community."

Andrew K. Benton
President
One of the campaign's most striking campus changes is the addition of Mullin Town Square. Thanks to a pacesetting gift from benefactors Sharon and Terry Mullin, Pepperdine's central campus has been transformed into a lively town square surrounded by sweeping ocean vistas. A vibrant community space for students, Mullin Town Square hosts numerous campus activities each year and is a popular place on campus for gathering to study or catch up with friends.
Because of the scope of this monumental project, renovations for Mullin Town Square have been divided into two phases. The first phase of this grand transformation to create tree-lined walkways and welcoming courtyards at the heart of campus has been completed. Phase One included a thorough restoration and renewal of Elkins Auditorium, Joslyn Plaza, and the surrounding area, and the addition of office space and four technology-rich classrooms to accommodate the academic needs of a growing student body. Fittingly, a life-size bronze statue of our founder George Pepperdine was installed near the central fountain in Mullin Town Square, ready to welcome students, alumni, and visitors to campus.
The second phase of Mullin Town Square will include the dramatic conversion of the main campus parking lot into a sprawling park with benches and shade trees. A new gateway entrance to campus will create an enhanced visitor experience, and a new subterranean parking structure will significantly reduce the parking burden for lower campus. Once completed, the Mullin Town Square "college green" will draw students together and serve the University community as a quiet space for contemplation and a beautiful outdoor venue for a variety of student events.