Campus Notes
Explore fun facts from Pepperdine University
Pepperdine People
Chalak Richards (JD '12)
The Caruso School of Law's first assistant dean of student life, diversity, and belonging wants to transform the legal profession
After practicing law for a few years, Chalak Richards returned to the law school in 2018 as assistant dean of career development. Her passion for inclusivity resulted in her appointment in the new position where she will oversee the full student life experience, ensuring that all students are welcomed into a community that values and celebrates diversity and leading initiatives that care for each student's well-being.
Richards sees the array of human diversity, like the flowers in a bouquet, as an expression of divinity. "Flowers don't all look the same. We don't say the tulip has to be exactly like the rose and exactly like the lily. We celebrate them and put them together in bouquets and admire the beauty they bring to the table. We recognize that they have different purposes. That's how God made them."
In addition to her role with the law school, Richards serves as co-chair of the University Diversity Council, which seeks to enhance practices related to the recruitment, retention, and promotion of a diverse community at Pepperdine and consults on diversity climate issues as they arise.
To generate interaction in the law school community during the pandemic, she's initiated a number of online discussion series, such as the Reimagining Justice Series. Along with alumni and faculty, Richards tries to feature current students in leading roles in every event, so that they might meaningfully and deeply engage with one another outside the classroom.
Richards' grandparents left their families in Jamaica and moved to Canada to build a better life. "I live every day wanting to make them proud. I see myself as walking on the visions of what they thought their family could be, of why they made the choice to leave everything they were familiar with and go to a better place."
In August 2020 Richards was appointed to serve a four-year term on the State Bar of California Council on Access and Fairness in its efforts to strengthen its diversity goals, which include retention, career advancement, judicial diversity, and the pipeline to the legal profession.
---
Clean Bill of Health
Eagerly anticipating the day that students, faculty, and staff will return to learning and living on campus, the University has invested in a variety of health and safety measures to outfit its campuses with protective equipment.

---
Chatter
Although closed to the public, Pepperdine's 13th annual Waves of Flags display commemorated the lives lost in the terror attacks of September 11, 2001, with both a physical display and virtual reality tour.
Facebook
KATHY BARTON
Praying for all those families and the brave and selfless first responders who gave their lives to help others.
Facebook
STEVEN MOCK ('03)
9/11 happened when I was in my sophomore year at Pepperdine. Once our class graduated, I joined the army as soon as I could, and I'm still in. Rest assured, I'll never forget.
Twiter
@LILUB13
And this is one of the many reasons I love my school.
---
Did You Know
On September 9, 2020, 214 worshippers gathered online during the Jericho Challenge: Prayer and Action for Racial Healing to pray and share Pepperdine's plans for inclusion and belonging.
---
Sound Bites
Explore a collection of some of the most notable moments from recent events held across the University.
"I challenge each and every one of us to muster the courage it takes to create a community of belonging, the courage to reach out and love each other through differences and disagreements, and through difficulties and disappointments, because that's when the power to love is real."
Jim Gash (JD '93), President and Chief Executive Officer, Pepperdine University
EVENT: 82nd Annual Founder's Day
"I encourage people to pick up the phone and call someone, to actually hear their voice and have that human connection. . . There are still ways to use digital technology to bring us together, and can continue to find ways to have human connection."
Sharon Kopp, Chief Business Officer, PTK Capital Cofounder and Chief Operating Officer, Category41
EVENT: Navigating an Uncertain Future in Digital Media: Emerging Technologies Webinar
"If you make city data easily accessible and consumable by anyone . . . companies will build products around it, and you can generate economic activity from that in your community. Data is the source for economic expansion in your community."
Jonathan Reichental, Chief Executive Officer, Human Future
Author, Smart Cities for Dummies
EVENT: Smart Cities: History and Technology Webinar
"9/11 was a defining moment for our nation and our military. The days ahead were different but filled with purpose and belonging. Thousands of young men and women would yet again answer their nation's call to service, just as they continue to do today."
Eric Leshinsky, Director, Student Veteran Affairs, Pepperdine University
EVENT: 9/11 Memorial Service
---
From the Archives
Pepperdine University president M. Norvel Young introduces donors Charles Payson (second from left) and George Elkins to then governor Ronald Reagan and Nancy Reagan while Pat Boone (far left) looks on during the Birth of a College dinner held on February 9, 1970. Governor Reagan was the keynote speaker of the event that revealed plans for Pepperdine's Malibu campus. The event, which was held at the Century Plaza Hotel in Century City, California, was such a success that guests filled out an overflow ballroom at the Beverly Hilton Hotel.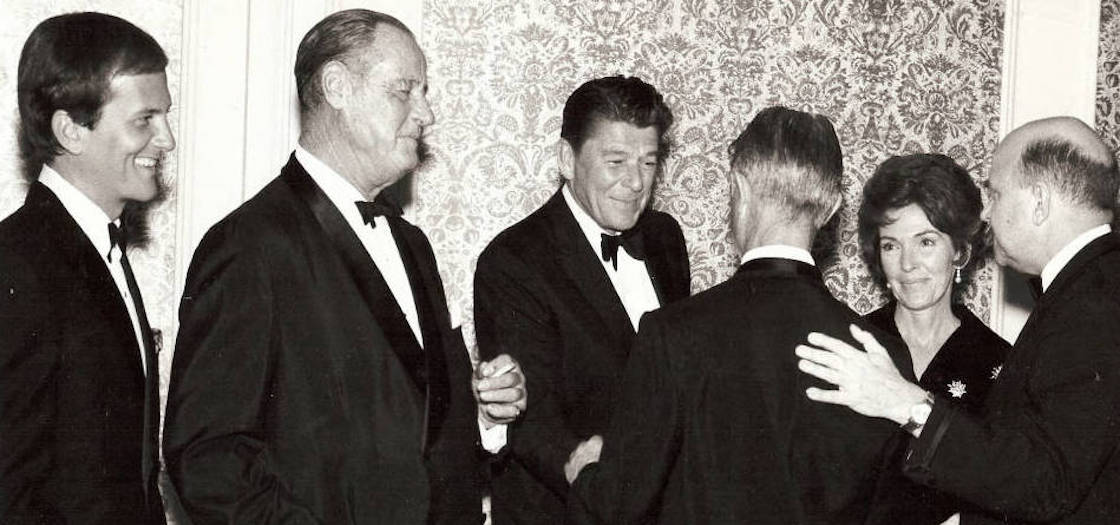 Courtesy of Pepperdine Libraries Special Collections and Archives