A Culture of Giving
During this generation's most financially trying times, current students and young alumni continue the timeless tradition of giving back to Pepperdine
In 1972 the first class of students to attend Pepperdine's Malibu campus were the beneficiaries of communal generosity, as gifts from industry leaders and philanthropists like Henry and Virginia Braun, Margaret Brock, Leonard Firestone, Odell McConnell, George Page, Rosemary Raitt, Flora Thornton, and John Tyler—among many others—embraced and endorsed the University's vision for developing the next generation of leaders.
One of these philanthropists was Blanche Ebert Seaver, who, upon her husband's death in 1966, presented George Pepperdine College with a gift that enabled the school's historic move from South Los Angeles to Malibu where the Frank R. Seaver College of Letters, Arts, and Sciences was established in the couple's honor. Over the years, Seaver and her estate have continued to give to Pepperdine through the Blanche Ebert Seaver Endowment Trust, the Frank R. Seaver Trust, the Seaver Institute, and the Seaver Paragraph V Trust
"The history of fundraising is truly based on relationships and donors believing in a life-changing mission," says Claudia Arnold Preston, Pepperdine's senior vice chancellor for donor relations, who has served Pepperdine in various capacities since 1976. "The University's earliest donors had no direct reason to give to Pepperdine other than their trust in our leadership team, support for our mission, and belief that we were educating young people with a moral compass," she continues. "They knew our graduates entered the world understanding the difference between being just financially successful and actively investing in their faith, community, and country."
---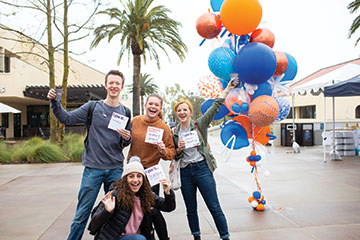 Over the next five decades, the University grew in student and faculty population size, offering dozens of new degrees and certifications and expanding into multiple national and international campuses. The fruit born of those early gifts became evident as alumni advanced in competitive careers and made significant impacts on their communities.
Today, more young people are participating in the worthy endeavor of cause-driven philanthropy. This shift, according to "The Next Generation of American Giving," a study conducted by software company Blackbaud which serves the social good community, also points to data that indicates Millennials—individuals born between the years of 1981 and 1996—are more likely than other generations to give. College students, especially, are carrying on the tradition of investing in the idea and impact of higher education, a cause that facilitates societal change and creates advancements that better humankind.
College-age individuals are also reframing the narrative that young people are too economically burdened to be involved in charitable giving. Based on research conducted by the Pepperdine Fund, a University-wide resource for scholarships and financial aid, while earlier generations tend to support operating costs at organizations with which they are affiliated, current students and young alumni are interested in seeing the impact of their contributions by giving to specific causes that are meaningful to them, like Pepperdine's athletic teams, study-abroad programs, or the theatre department.
"It's important to meet people where they are during these times and to cultivate an environment of gratitude upon giving," shares Brandon Easley, copresident of the Student Philanthropy Council, a group launched in 2014 by the Pepperdine Fund comprising about 20 Seaver College students who educate their peers on the concept of giving. In Easley's experience, most students are deeply involved in at least one component of campus life that they consider worthy of giving back to, so when fundraisers are connected to individualized ways of giving back, many enjoy getting involved.
"Giving back to higher education presents a multitude of opportunities for us at Pepperdine, like getting involved in campus activities, studying abroad, and engaging with your academic division—all of which are a result of fundraising on and off campus," Easley says. "If we want these opportunities to continue to be available for future Waves, then students will have some interest in giving back."
While charitable giving has historically funded tangible items on campuses, Pepperdine Fund staff explain that today's potential donors have a greater understanding that true philanthropy analyzes the bigger picture and that small, participatory gifts have the potential to vastly influence social impact. "Millennials are giving at higher rates than older generations because they feel a responsibility to create change and are optimistic that they can make a difference through collective action," says Allissa Thompson, assistant director of the Pepperdine Fund.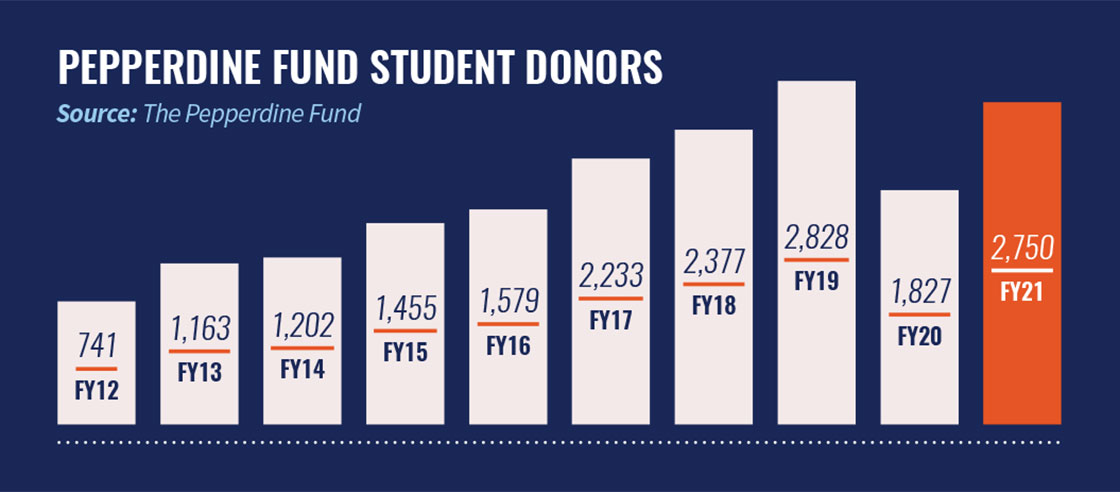 ---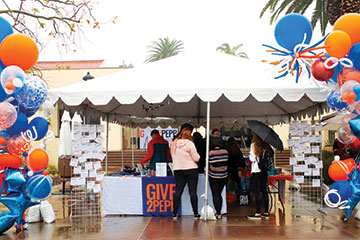 According to a 2018 study conducted by the Millennial Impact Project that analyzed how Millennials engage with causes and social issues, younger generations view giving to nonprofits as a way to bring about change to systems that are no longer serving populations in need.
While student giving has increased significantly through the Student Philanthropy Council, Thompson notes, "Giving is a habit, and if students learn and subsequently create that habit, they will carry it with them as alumni, and often throughout their lives."
Digitizing the giving process has also been a boon to philanthropy among young people, and accepting gifts through accessible online platforms such as Pepperdine's dedicated crowdfunding website and the mobile payment service Venmo has been critical to appealing to students who are digital natives. "Millennials aren't pulling out their checkbooks and searching for postage stamps," says Pepperdine Fund director Cynthia Ware.
Millennials have also grown up with maximum exposure to the issues they care about due to smartphones and social media. "Their generosity is often a result of an emotional response of peers supporting the same causes that they find meaningful," Ware says.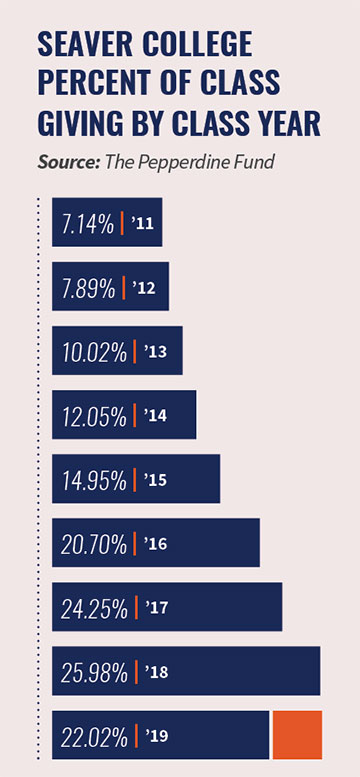 Increasing a university's alumni giving rate is key in increasing the value of the degree earned, according to various annual college rankings data and surveys, namely those released by the U.S. News & World Report. Engaging students in philanthropy during their college years cultivates in young people a lifelong desire to give back, especially to those causes that inspire affinity. During Ware's 10 years of service to Pepperdine, the two-time Pepperdine parent has witnessed an exponential increase in student donor count across all five Pepperdine schools every year, from about 100 to about 1,000 students, with 70 percent of donations being made through Venmo.
Cofounded by Ware in 2017, Give2Pepp, the University's annual day of giving, has further expanded the joy of giving, as students and alumni from all over the world are able to participate in giving to their Pepperdine passions during a 37-hour period, in celebration of George Pepperdine College's 1937 founding. With the exception of the 2020 event, which coincided with the beginning of the coronavirus pandemic in the United States and the closure of Pepperdine's campuses, the number of donors who participate in Give2Pepp has increased annually.
"It's not how much is given, but how many gifts we receive," Ware says. "Donors are not born. They are nourished. The goal of student giving is for them to associate giving with becoming stakeholders in their passion zones and making a positive change in the world when they become alumni. Having their voices be heard in areas they care most about empowers them to become leaders."
Charlotte Lang, copresident of the Student Philanthropy Council and a member of the Pepperdine Ambassadors Council, says that as Pepperdine becomes a home away from home throughout the most transformative years of their lives, students become more engaged in philanthropy when they know the impact of their gift and believe in the cause. "We encourage giving directly to the passion that has contributed most tremendously to their college experience," she says.
As the coronavirus pandemic has created unfavorable circumstances for philanthropy, Lang notes that her team has carefully and methodically approached individuals about giving to causes that directly serve those who have been impacted by this particularly devastating season. "Perhaps now, more than ever," she says, "it is important to help those who are suffering and to lower barriers to entering or continuing their education journey."
Learn more about giving at Pepperdine