Curators of Culture
Through a comprehensive collection of art, artifacts, and relics from some of the most painful and poignant periods in history, the Kinsey family celebrates the cultural contributions of African Americans and helps shape the narrative of the Black experience for generations to come
Khalil Kinsey was born in March 1977, two weeks after Roots, the television miniseries based on Alex Haley's 1976 novel, first aired. During each episode of its eight-night run, Khalil's parents, Shirley (MA '76) and Bernard (MBA '73) Kinsey, the matriarch and patriarch of what would become a family deeply invested in the sharing of critical historical art and artifacts, watched with wonder as their history—and the histories of many others born in their generation—was displayed in spectacular detail.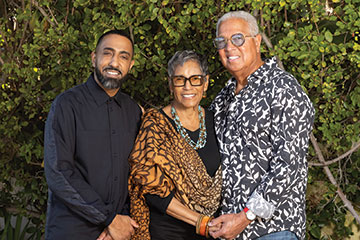 L–R: Khalil, Shirley, and Bernard Kinsey


Shirley, who met and married Bernard, a former Xerox executive, when they were both attending Florida A&M University, had grown up with her grandmother in St. Augustine, Florida. Like many African Americans, Shirley did not have a complete understanding of her family's background. "My grandmother's parents and grandparents, I'm sure, had to have been born into slavery," she says. "Finding out [through Roots] that people could actually go back to Africa and find out a little bit more about their history was really special for me."
It wasn't until Khalil was in fourth grade that the gaps in their family history became increasingly apparent.
"I thought I had done a great job," says Khalil, who had pored over limited family trees and interviewed living family members and elders to gather information to help him complete an assignment that tasked him and his classmates with preparing a family history report. "It was a sober awakening when I got to school and realized that my report only went back about four generations. That was all that anybody could tell me about," he recalls. "My classmates' family trees could go back for centuries, and I just remember the confusion I felt coming home with questions. My parents didn't have all of the answers, and that is what informed their steps moving forward."
While the Kinseys could not uncover much about their own personal history, they were galvanized by the potential and the healing power of examining the collective history of a people—one whose narrative had been defined by the accomplishments of a handful of notable figures throughout time that were, albeit honorably, repeated over the course of generations. What started as an earnest effort to excavate library resources containing evidence of the impact of Black people throughout history became the starting point for a lifetime of profound study of stories that transcended the few that were elevated during Black History Month each year.
"Kids, Black and white, didn't think that Black folks did anything else," says Shirley. "It was important for me that that knowledge got out there. From that point on, Khalil had to do all his reports on African American people who did something notable. It was hard at first because the school library didn't have very much, so we went to the public library and found what we could. And it just grew from there."
---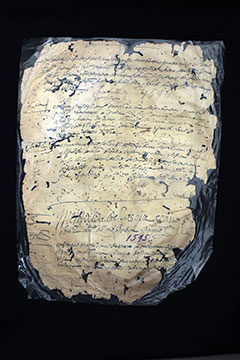 A baptismal record and a marriage certificate dated 1595 and 1598


The Kinsey Collection
The family had humble goals of increasing their own knowledge and information. They first started collecting African American art prior to including historical documents in their search and befriended and supported artists that they met along the way. Coupled with a love for discovery that the Kinseys have nurtured through the travel and cultural appreciation and preservation they have engaged in since the beginning of their relationship, their desire for understanding was the lens through which they approached their tremendous undertaking.
"You cannot understand American history without understanding the African American story," Bernard continues. "Most Black people and white people walk around every day with cataracts because they have no idea of the American story as it relates to the contributions of African Americans and building this culture."
Beyond wanderlust, their thirst for discovery took the Kinseys on challenging journeys—both physically and emotionally—through some of the most significant milestones and the darkest days of perpetually oppressed peoples. In 1995 Bernard received a document from 1832 recording the purchase of a young African American male in Alabama, which set in motion their decades-long pursuit of truth and facts that painted an accurate historical record of America.
"It literally changed my life because until I actually had this document in my hand, I didn't really believe or know that someone could own someone," he says. "Holding that document sent shivers through me because it was like I was holding his life in my hand. I immediately began to think about how African Americans got into this predicament in America, that we could have no agency to the point that someone could buy and sell us like cattle or a piece of lumber."
During their partnership, which now spans more than five decades, Bernard and Shirley set a goal of traveling to 100 different countries during their lifetime and have amassed one of the most significant private collections of African American history and art.
The decorated corridors of the Kinsey home, one of many pieces of real estate they have developed over the years, became a gallery of sorts of art, artifacts, historical documents, and relics from critical times in history that the family shared with visitors with great joy and enthusiasm.
"They have been sharing [their collection] with whoever came through their doors for years. Especially my friends," says Khalil. "Their goal was always about sharing with young people and aiding in their journey of life and living and its possibility."
In 2005 the Los Angeles Times visited the Kinseys' Pacific Palisades home to profile the family and showcase the architectural details of their Modernist cliffside property. In "These Walls Do Talk," readers were taken on a guided tour of oil paintings, bronze busts, and Aboriginal abstracts produced by artists such Artis Lane, Ed Dwight, Tina Allen, and Colin Byrd and documents and ephemera depicting significant moments throughout time. As the Kinseys added pieces to their personal possessions, their home became the launching ground of the Kinsey African American Art & History Collection, a traveling exhibition considered to be one of the most comprehensive surveys of African American history and culture outside the Smithsonian Institution. To date, it has been experienced by more than 15 million people across the world, toured more than 30 US cities, and received three national awards.
---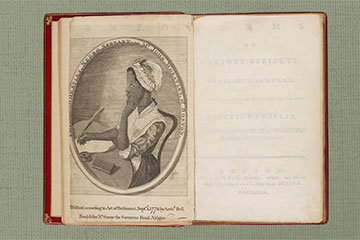 The first book of poetry, written in 1773, by an African American, Phillis Wheatley


A Traveling History
Most recently on tour at the Tacoma Art Museum in Tacoma, Washington, one of Shirley's favorite pieces, Untitled, an oil painting created in 1951 by Hughie Lee-Smith, was showcased among dozens of other treasures from the Kinseys' massive collection. In a segment about the exhibition shot for the TODAY show, Shirley relates the first time she saw the artwork that depicts a young girl, joyful despite the instability and isolation the painting evokes, jumping rope among the ruins of a home.
"I thought, 'That's me,'" she shared with the journalist. "I didn't know where I was going, but I was going somewhere," an accurate representation of the childlike innocence and fragile promise of hope Lee-Smith's series of paintings elicits.
Through primary source material, documents, artifacts, and art, the Kinsey Collection illuminates a comprehensive story that, the Kinseys relate, is painful in parts. Notable historical pieces include the earliest known Black marriage record from 1598; the first book written in 1600 by an African about Africa before the continent was marred by slavery; a proclamation from Warren County, North Carolina, that declared "any person may kill or destroy said slaves"; the Dred Scott decision; and a portrait of Alexander Lucius Twilight, the first African American college graduate (1823) and the first African American to hold elected office (1836).
"Overall, the collection is about an incredibly strong people, a brilliant people, a loving people and those who I always say, perhaps, might be the most patriotic of us," says Khalil, who serves as the chief operating officer and chief curator of the Kinsey African American Art & History Collection and Foundation. "Black people have always been the barometer for the viability of this American process and the ideals that America is still striving to live up to." In its 34 tour appearances over the last 15 years, the collection has made stops at the Smithsonian American History Museum, where the collection was the preview exhibition for the National Museum of African American History and Culture prior to the physical location's groundbreaking. In 2013 the collection also began a five-year partnership with Disney World and was the first private collection to be exhibited at Epcot in the American Pavilion. It has earned a nomination for the National Endowment for the Humanities Medal as well as a citation for the President's Medal for Museum and Library Services, the nation's highest honor conferred on museums and libraries for service to the community, for its exhibition at the Norton Museum of Art in West Palm Beach—a museum that Bernard recalls he was not allowed to enter as a boy growing up during segregation.
From December 2016 to March 2017, the University of Hong Kong partnered with the Kinsey African American Art & History Collection on the exhibition Rising Above that included more than 120 items and culminated in the printing of the book Rethinking America's Past: Voices from the Kinsey African American Art and History Collection that was produced in collaboration with eight professors from both Hong Kong and the United States to be used by the university's American history department in class discussions. In February 2017 the Hong Kong Philharmonic honored the Kinsey Collection by performing a concert inspired by the exhibition.
In 2014 Pepperdine held an exhibition at Payson Library featuring key pieces from the Kinsey Collection during Black History Month, an initiative that planted the seed for a larger exhibit in the future. Both Pepperdine alumni and, that same year, recipients of the University's Distinguished Alumnus Award, Bernard and Shirley formed close relationships with the University and have been imagining ways for the Pepperdine community to engage with the collection ever since.
In February 2021 the Kinsey family presented their collection and illuminated both significant and previously unseen pieces of American history at Pepperdine's President's Speaker Series. As Bernard took attendees and viewers on a journey through the transatlantic slave trade, the Civil War, the Reconstruction era, segregation, the Harlem Renaissance, and beyond, he paid homage to intellectuals, entrepreneurs, and trailblazers who significantly contributed to the culture and endurance of African Americans in America.
"We are very excited about the opportunity to expose the Pepperdine academic community and students to these wonderful stories through different avenues," says Bernard, who references future collaborations to enhance the inclusion of such historical reference materials in the University's curriculum.
The Cultivators: Highlights from the Kinsey African American Art & History Collection, which will be on display at the Frederick R. Weisman Museum of Art from January 15 to March 27, 2022, on Pepperdine's Malibu campus, will bring the collection to Los Angeles for the first time since 2006 when it was presented at the California African American Museum. The exhibition will home in on a narrative that speaks to Bernard and Shirley's origin story of meeting through the civil rights struggle and coming to Los Angeles to begin their journey through collecting art and history.
"This exhibition will focus on telling this very connected, cohesive story through the lens of Los Angeles and Pepperdine and my parents' journey through it all," says Khalil.
The Weisman Museum exhibition will feature never-before-seen art pieces and artifacts such as the first book of poetry written in 1773 by an African American, Phillis Wheatley, in the United States. On display will also be poetry by Langston Hughes, letters from Zora Neale Hurston, and books by Alain Locke. A baptismal record and a marriage certificate dated 1595 and 1598, respectively, offer updates to historical records that document the arrival and the presence of people of African descent in America pre-slavery. They were both found in St. Augustine, Florida, Shirley's hometown.
---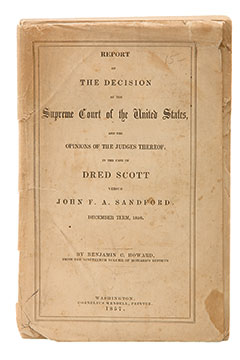 The 1857 US Supreme Court decision in the case of Dred Scott, a slave from Missouri, whose fight for freedom reached the nation's highest court


The Myth of Absence
From 1595 to the present, the 700 treasures in the Kinsey Collection stand as a declaration of truth—and the foundational concept of the myth of absence, the spirit in which the collection is curated and shared. The concept, first coined by author and historian Lerone Bennett and utilized by the Kinseys through their endless exploration, states that Black people are "invisibly present" in common tellings of American history and the American story.
"They are absent not because they weren't there, but because of a myth that requires that absence," says Khalil. "With every exhibition and every object, our motive is to dispel the myth that we weren't there and that we did not participate at every level or in every aspect of the human, American experience. We are trying to normalize this history in a way that demonstrates ordinary people doing extraordinary things, but also ordinary people doing ordinary things that at the time were extremely difficult for them to do."
The collection mostly speaks to the historical record and artistic contributions of African Americans and intentionally omits their involvement in the realms of sports or entertainment, categories the Kinseys acknowledge have been covered largely elsewhere and have long been one of the primary reference points for Black life and contribution.
"We hope to increase the scope—both internally as Black people, for Black people—how Black people look at ourselves and see what's possible for us and our community," says Khalil, "but also how our greater society understands and then views Black contribution and Black people as a result. The Kinsey Collection represents, among so many other incredible organizations and collections and museums, an analysis of moments in history through primary source material that can offer solutions for untangling some of these issues and approaching them in a different way."
Throughout their curation process, the Kinseys are guided by the facts and the notion that people are entitled to their opinions but can not outrun the facts presented in primary source documents— artifacts that unlock the door to the breadth of the Kinsey Collection.
"It has to be factual," says Bernard. "It has to be a letter, a book, a document, a manuscript. What we found throughout the 34 cities we've been in is we don't have to do much. We just tell the audience to read the material, and they will have an aha moment. The collection is not open to personal interpretation or judgment. We are laying out the facts and providing the connective tissue and believing in the human process. Anybody that's of an open mind and spirit that comes through the exhibition is going to come to certain conclusions and understandings on their own that will forever expand their minds. Our hope is that they will then go and take that knowledge outside of the museum and share it with others."
The Kinseys' second principle is a concept called "Learn, use, teach," a philosophy that has informed each exhibition and display throughout the family's 15-year journey of showcasing their collection and is a reflection of Shirley's former profession as a teacher. Through the Bernard and Shirley Kinsey Foundation for Arts & Education, the Kinsey family is dedicated to impacting educational and cultural institutions through exhibitions, public programs, lectures, books, workshops, and training seminars to increase awareness of African American history and ancestry. The foundation has partnered with the Florida Department of Education to develop a curriculum taught to K–12 students throughout the state as well as with the Los Angeles County Office of Education to make historical educational content available to students and teachers online. Most recently, the Renton School District in Washington began to develop a curriculum based on the contents of the collection that will be replacing outdated textbook material.
"We are giving our ancestors a voice, a name, and a personality," Bernard says. "The world knows that they matter. That we matter. And to America, the understanding of that is very important. These are people who were buried with no names at all. No gravestones. When we talk about commitment to the Myth of Absence, we say it's like walking into a graveyard with bare headstones. And with this, we are able to give them a voice and name and personality so they can be known."
---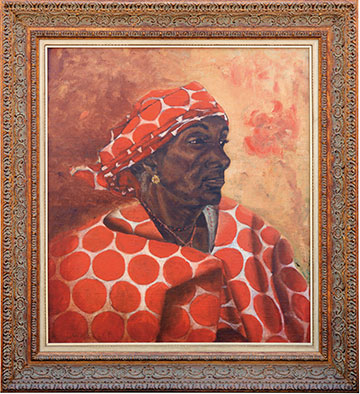 Laura Wheeler Waring, Woman Wearing Orange Scarf, 1940. Oil, 17 x 12 in.


A Discovery of Self
While the traveling Kinsey Collection offers a deep dive into African American history, it also includes cultural art and artifacts from around the United States and the world. A vast landscape of pieces from Aboriginal, Japanese, Chinese, Haitian, Cuban, and Belizean artists and Native American and Inuit art outlines the couple's early collecting days and mirrors their broader travels.
As a college student, Bernard was a park ranger at the Grand Canyon and helped to integrate the park service. His and Shirley's first travel venture took them to national parks to explore Indigenous culture and Native American artifacts. Their search later expanded to Mexico, where they learned about the Teotihuacan, Mayans, and Aztecs, and they began to see the similarities between their beadwork and basket weaving and that of Africans.
"While learning about these other cultures, we began to wonder why we didn't know enough about our own," says Shirley. "It brought us to understand the commonality among cultures."
Through their endeavors, Bernard also learned that his own father, U. B. Kinsey, was involved in the civil rights movement and the teachers rights movement in Florida. When her uncle, James A. Webster, passed away in 1993, Shirley discovered that he grew up knowing and attending the exhibitions of many of the artists, including Jacob Lawrence, in the Kinseys' collection.
"It's been very interesting and, frankly, keeps us moving," says Shirley. "We have no plans to slow down with this.
"We hope," says Bernard, "that when anyone experiences the Kinsey Collection, they will learn something, they will begin to use it, then they will teach someone else." Shirley continues, "We hope they walk away educated, motivated, and inspired and wanting to learn more."