The Great Connector
For 20 years, Jimmy Azadian (JD '01) has mentored more than a dozen law students throughout their pursuit of judicial clerkships and helped place them in prestigious legal positions—but he's not stopping there
In May 2021 the Honorable Consuelo Maria Callahan of the United States Court of Appeals for the Ninth Circuit served as the commencement speaker at the Caruso School of Law commencement ceremonies for the graduates of the Classes of 2020 and 2021. Callahan, the first woman and first Latina to become a Superior Court judge in San Joaquin County, was appointed to the Superior Court in 1992 and elevated to the California Court of Appeal for the Third District by governor Pete Wilson in 1996. After serving seven years as a State Court judge, Callahan was nominated to the Ninth Circuit Court of Appeals in 2003 by George W. Bush and went on to be confirmed by a Senate vote of 99-0.
Taking the podium to address the attendees, Callahan reflected that one of the highlights of her profession is wishing graduates well as they chart their own destinies in their pursuit of their legal careers. She advised, "Be the Pepperdine lawyer you have been trained to be. Do live a life of purpose, service, and leadership. Do see value in yourself and every person that crosses your path. Set goals for yourself, and don't let the nonbelievers define your future. Know that hard work and determination are essential to your success."
Just before her poignant address, Callahan was introduced to the guests seated in Alumni Park by James "Jimmy" Azadian, a Caruso School of Law alumnus, member of its Board of Advisors, and one of Callahan's former judicial clerks, who, over the course of his own remarkable career, would far exceed the standards of legal professionals his mentor described to the graduating class.
Since his time as a clerk in her chambers, Azadian has established himself as a highly respected litigator, serving as the West Coast appellate chair and coleader of the nationwide appellate and critical motions practice of Dykema's Los Angeles and Washington, DC, offices. Throughout the years he's developed a close bond with Callahan that has defined and reinforced his own relationships with law students and graduates seeking mentorship as they pursue judicial clerkships. In fact, Azadian has cultivated a vast network of judicial greats that has translated into an extraordinary track record of connecting and elevating Waves in their pursuit of judicial clerkship opportunities.
I truly consider myself an officer of the court rather than just an advocate.

Jimmy Azadian (JD '01)
In simple terms, a judicial clerkship offers hands-on training for both future litigators and transactional attorneys. Law clerks read briefs, examine records on appeal, reference research guides created by staff attorneys, conduct legal research, and prepare bench memoranda that outline the case's key facts, procedural history, issues on appeal, arguments, and relevant precedents. These memoranda also include the clerk's recommendation on how the judge (or judges) should resolve the matter.
"A clerkship is an invaluable opportunity for budding practitioners to hone their research, writing, and analytical skills," says Laine Kontos (JD '98), assistant dean of the Caruso School of Law Career Development Office. "Litigators learn what influences judges' decisions, and transactional attorneys learn what happens when deals go bad and result in litigation, enabling them to better strategize and structure deals for their clients. Clerkships provide a high level of responsibility and autonomy early on in one's legal career while simultaneously providing an opportunity to develop a close relationship with a talented lifelong mentor."
Azadian stresses the importance of learning at the hands of the most gifted and talented lawyers in the country who make critical decisions every minute of every day. "Looking at it through the eyes of jurists, you develop a very different way of practicing law as a lawyer because you start to see that it's not about sheer advocacy. It's about what argument is most likely to be accepted by the courts for your clients or for your adversary."
Azadian, an appellate lawyer who had initially decided early in his schooling to pursue a career as a trial lawyer, specializes in complex federal and state court commercial litigation raising cutting-edge and core business issues, the First Amendment to the Constitution, Article I of the California Constitution, and the application of California's anti-SLAPP statute in federal court. He also serves as a member of the Advisory Board for the United States Court of Appeals for the Ninth Circuit as appointed by Ninth Circuit chief judge Sidney Runyan Thomas and is a court-appointed mentor to civil practitioners through the Ninth Circuit Mentorship Program. He credits Callahan with changing the course of his legal career and, specifically, his interest from trial litigation to appellate litigation.
"My experience as Judge Callahan's clerk called me to the area of building a case—to harness the facts in order to advance and secure the law and to be the chief architect of a legal theme and of a systemic design for winning a case," says Azadian. "I felt I could make a significant difference in those areas for both corporate clients and individuals. I truly consider myself an officer of the court rather than just an advocate."
---

Lifting All Ships
As a law student, Azadian completed his first experience working for a court with Judge Dickran Tevrizian, a now retired United States district judge of the United States District Court for the Central District of California. Tevrizian hired Azadian to serve in his chambers full time during Azadian's third and final year of law school—an opportunity that granted the law student the same experience as being a judicial law clerk, but without the pay. At the time, Tevrizian was the first and only Armenian federal judge in the country and had been appointed to the state bench by former governor of California Pat Brown when he was still only in his twenties—details that impressed and intrigued Azadian beyond the fact that several of his classmates had completed judicial externships with Tevrizian.
"I wondered what it took for him to become a judge because the Armenian American Bar is a small community," says Azadian, who became deeply invested in Tevrizian's story and his journey to the bench. Before applying, Azadian spent time learning more about Tevrizian and visited his courtroom to witness the judge's mastery at work.
"He was fiercely intellectual, fiercely shrewd, and fiercely real," says Azadian. "He was just a real person and would write and speak to lawyers and non-lawyers with the same easy-to-understand language. His example compelled me to consider becoming a judge."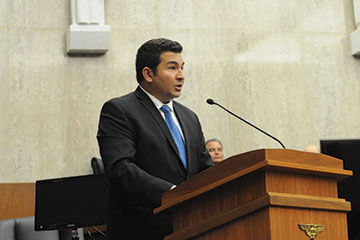 Azadian impressed Tevrizian enough to encourage him to pursue a clerkship following graduation—an ambitious endeavor for a law student already midway through his third year of law school. Tevrizian wrote a glowing letter of recommendation that caught the attention of several federal trial and appellate court judges, including District Judge Ricardo M. Urbina of the United States District Court for the District of Columbia, considered by many to be the most prestigious court in the country after the Supreme Court. During the full-day interview with Judge Urbina and his law clerks, Azadian completed a writing assignment that demanded quick problem-solving skills and concluded the meetings with a conversation with Urbina in his chambers.
"He said, 'I don't hire people out of law school,'" Azadian recalls of the discussion. "'I'm not really even sure why you caught my attention.'" Despite his exceptional performance as a student, Azadian did not have the experience typical of Urbina's previous clerks, one of whom had served as a federal prosecutor in Hawaii and the other who had served as New York governor Mario Cuomo's chief of staff. Urbina offered him the job nonetheless and required an answer immediately. Despite the other interviews he had scheduled that week, Azadian accepted and served a three-year clerkship that established his legal foundation in the nation's capital.
Today, Azadian advises law students similarly and has a clear piece of advice for law students with aspirations of securing a clerkship: "Do what the judge says."
"The first offer you get is the one you take," he continues, "and never keep a judge waiting." Amanda Luck Culp (JD '05), a faculty scholar at Caruso Law, was the first Pepperdine judicial extern Azadian helped hire. As a law student, Culp was interested in pursuing an internship in Washington, DC, and reached out to then professor Jim Gash (JD '93) who directed her to Azadian for his expert guidance. "Jimmy taught me that meticulous, clear, and concise legal writing need not be devoid of personality," Culp says. "He demonstrated that effectiveness demands honesty. He advised me to tell the truth, admit my mistakes, and treat everyone with respect. Jimmy's mentorship was profoundly significant to my professional development and to my confidence as a young lawyer."
Jimmy's mentorship was profoundly significant to my professional development and to my confidence as a young lawyer.

– Amanda Luck Culp (JD '05)
Azadian's wisdom made an impact far beyond that moment and continued as Culp proceeded through her academic career. One year later, she received a call from her mentor who informed her that Judge Urbina was hiring law clerks out of cycle.
"He told me, 'Stop everything and send me your resume today,'" Culp says. "He believed in me, he mentored and prepared me, and he advocated for me. Jimmy Azadian represents the very best of Pepperdine."
Upon graduation, Culp secured a judicial clerkship with Judge Urbina and served in that capacity for three years. " was sensational," says Azadian. "Her hard work and excellence opened up the door for future Waves to join Judge Urbina's chambers."
Over the last 20 years, Azadian has helped place more than a dozen Caruso Law alumni in judicial clerkships, including Jeffrey Cook (JD '06), Mark Kanow (JD '18), Brittney Lane Kubisch (JD '12), Shant Ohanian (JD '11), Margot Parmenter (JD '13), James Slattery (JD '05), Cory Webster (JD '10), and Matt Williams (JD '10), many of whom were Azadian's own students in his appellate advocacy class at Caruso Law. Webster later became Azadian's teaching assistant and is currently a decorated appellate advocate and senior counsel in Dykema's Los Angeles office, where he works in the national appellate and critical motions practice group that Azadian leads.
"Since I met Jimmy 12 years ago when I was a 2L, he has gone out of his way to advance my career," says Webster. "Like a zealous advocate for a client, he made my burdens and goals his own. He knew my desire to be a judicial law clerk. My pursuit of that goal took several years, but he stuck by me all along the way, giving advice, reviewing and editing application materials, and making phone calls to advocate for my cause. I treasure my appellate clerkship experience, and it never would have happened without Jimmy."
The common thread among the students Azadian has helped place has always included a desire to work hard, dedication, and perseverance in spite of obstacles. "Kevin Durant says, 'Hard work beats talent when talent fails to work hard,' and these students and alumni have clearly demonstrated that truth," Azadian says.
---

From Mentee to Mentor
Azadian's path to mentorship began as a law student at Caruso Law, where, he says, he discovered the value of supporting students throughout their professional growth as he developed close relationships with his first mentors—his professors.
"They were epic in how they mentored me," says Azadian. "And that mentorship did not stop at the law school doors upon graduation. It continued throughout my career. To this day, I rely on my law professors."
Beyond the judicial titans that Azadian has learned from, he credits "Pepperdine law legends" with inspiring him to advance the next generation of leadership—legends such as Andrew K. Benton, president of Pepperdine University from 2000 to 2019; Ken Starr, dean of Pepperdine Law from 2004 to 2010; Ron Phillips, senior vice chancellor and Caruso School of Law Dean Emeritus; President Gash; and professors Barry McDonald, Bob Cochran, Allen Linden, and Douglas Kmiec. He recalls many times while sitting in Kmiec's office when Kmiec would receive calls from Supreme Court Justice Antonin Scalia.
"Professor Kmiec would say, 'Nino, I'm meeting with a student right now. I'm going to have to call you back,'" Azadian recalls. "Can you imagine that? What does that tell you? It tells you somebody thinks of a student as that important, and the student starts to feel that they can add value to our justice community."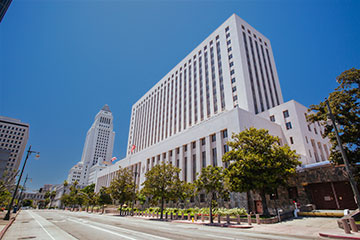 A decade later, Azadian taught a course in appellate advocacy with then dean Starr and invited Justice Scalia to speak to students as a distinguished guest lecturer. "I remember telling Justice Scalia that I was a fly on Professor Kmiec's wall when Justice Scalia would call him," says Azadian. "Justice Scalia quipped, 'So, you were the reason he wouldn't take my calls!'"
"You may be thinking, 'All these people did was support you,'" Azadian continues. "No, they didn't. They talked to me for hours about what it means to do justice. They told me what they regret in their own careers. What they wish they would've done differently. And for me not to make those same decisions. But they didn't turn out so badly, these people."
Azadian has a secret recipe for successfully interviewing with a judge, but he won't share it on the record. Ultimately, it comes down to a carefully crafted process of guiding students through mock interviews, building their confidence to affirm that they are the best for the job, and to use effective communication to convince the interviewing judge of that fact.
Recently, Azadian joined the alumni cohort of the Pepperdine Caruso Law Clerkship Committee as an advisory member and hopes to help current and future Pepperdine Caruso Law students secure federal clerkships through his role on the committee. This fall, Azadian is also teaching a course on the role of the appellate attorney at the law school. During the last semester alone, he spent countless hours preparing two graduating Caruso Law students for their judicial clerkship interviews, both of whom have since secured those roles.
As Azadian's focus remains on the advancement of Caruso Law students in the halls of the nation's most prestigious courts, his own professional accomplishments shine as exemplars of the power of community support and the devotion of mentors to encouraging developing legal professionals to carve their own path and invest in the next generation of leaders.
"It's not just the legal investment and a career investment that these people made in my life," says Azadian. "They invested in me in every way—in terms of faith, in terms of family, in terms of my career, in every important dimension. I will forever be grateful to the school. And, boy, am I glad that I went to Pepperdine. Oh boy, am I glad."