Elizabeth Nepute
The director of operations for Pepperdine Dining Services knows which ingredients create the perfect blend of food quality and safety standards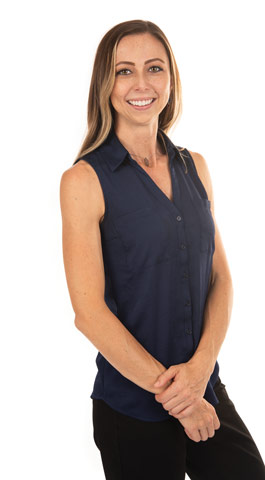 "Food brings people together, and we strive to create an inclusive environment where everyone can enjoy our dishes and spaces. We hope students take time to share their meals with those around them."
Waste elimination—whether food, paper, or plastic—is a very large focus for Dining Services and Pepperdine. Food surplus is donated and food trimmings that cannot be recovered are placed in composting bins.
All the produce purchased by Dining Services can be traced to California farms. "We have a responsibility to support local farmers, work with vendors who have environmental protection goals, and teach our community about sustainability."
Classic comfort foods such as burgers, pizza, tacos, chicken tenders, and French fries are by far the most popular dishes among students, followed by Italian and Asian cuisine.
"Food is a powerful aspect of culture, and as food providers, cultural education is extremely important for us. We try to be mindful of everyone's unique needs.
Each school year, French fries are the number one seller with more than 30,000 orders. Starbucks makes nearly 200,000 drinks and warms up more than 50,000 pastries and Jamba Juice blends more than 20,000 smoothies.
In 2021 Dining Services introduced new rotating restaurants at Waves Cafe and the Caruso School of Law Cafe, on-campus food trucks, and Grubhub mobile ordering at the Drescher Cafe, Waves Cafe, Starbucks, and the Caruso School of Law Cafe.
"The most gratifying part of my job is making a difference in people's lives, such as through our partnership with Swipe Out Hunger, whereby hundreds of pounds of food are donated to a local food bank."
Pepperdine's Food Insecurity Group has created food cabinets that are stocked with free nutritious meals, snacks, and beverages. Nepute's team donates food for the cabinets and loads free points on 150 meal cards for students in need each year.