Yes, and . . .
The Pepperdine Improv Troupe is a comedic powerhouse that has been preparing its members for careers in acting, writing, and directing for more than 20 years
Most days, Elkins Auditorium is filled with the sounds of students scribbling furious notes during seminars or the staccato clacking of keys as focused scholars listen intently during packed lectures. However, on performance nights, the Pepperdine Improv Troupe (PIT) treats more than 200 faculty, staff, students, and community members to a showcase of quick wit and clever dialogue, and the uproarious laughter from within the auditorium spills from the open doors and into Joslyn Plaza.
Our performances were always designed to bring light to the community.
— Indy Wilson ('21)
Created and directed in 2001 by Tracy Burns, a legendary improv instructor and performer, the troupe began as a small but mighty gang that gathered in the Howard A. White Center (HAWC) for the group's earliest performances. As word spread and its popularity grew over the years, students in the troupe's first ensembles recall the HAWC becoming so packed that there was hardly room for people to move. With such close quarters between the improvisers and the audience, it created an intimate and uniquely lively environment.
"Those early shows in the HAWC were so special," shares Brian Jones ('04), who first joined the troupe in 2001. "There was something so dangerous and exciting about each performance, with the players and audience connected in the process."
Led by Burns and the troupe's musical director, Allen Simpson, Jones was able to carve out his own space as an actor within his craft. Through careful practice, he established deep bonds with his scene partners, listened more intently, and trusted his instincts to make the right decisions throughout the performance.
"As part of the process, you have to completely surrender to the moment and collaborate with your audience for suggestions," Jones says. "That demonstrates just how important vulnerability is to the artform."
Breaking Through Fear
Jones took note of the troupe's strengths as Pepperdine continued to experiment and compete with neighboring colleges and universities. The group could dig even further into their techniques with Burns as the troupe's skilled director and Simpson as the musical director carefully guiding each student through their highs and lows.
Just a few years after its inception, the troupe continued to grow, forcing them to find a bigger space in which to rehearse and perform. Around 2007, the troupe was formally recognized as a club, which secured funding for Burns and Simpson, and began performing in Elkins Auditorium to a packed crowd. With more space for shows, the troupe became a staple not only for Pepperdine students but also for the surrounding community.
"The shows were so eagerly anticipated that one couple would make the drive from Ventura down to Malibu to catch the first half of the show before getting back on the road," Simpson recalls.
A junior at the time, Alex Skinner ('09) first became involved with the group after being enraptured by the energy of one of their shows. Even with a short performance tenure of two years, Skinner knew it would have lasting impacts on his acting career.
"I honed my ability to listen closely before I reacted and lean on those in the scene with me," reflects Skinner. "It was one of the most valuable experiences because I knew that I could explore, fail, and keep exploring until I got it right."
As a mentor and musical director, Simpson sees the students' growth from a different angle. Those new to the troupe fear the moment Simpson gets on the piano keys to lead a musical improvisation, which requires intense trust between musician and performer to compose, write, and perform a song that continues to carry a scene forward. Yet, despite their fear, and with Simpson's masterful intuition and partnership with the performers, they are able to quickly find themselves in the scene, plant themselves on stage, and perform their songs with confidence.
"You can see their passion for creativity while they are performing," shares Simpson. "They are writing, composing, and performing all at the same time, which helps them realize they can do so much within the industry and within their lives."
Connecting Through Comedy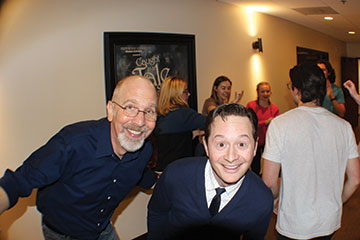 After more than a decade of professional acting and improvisation, Jones returned to Pepperdine to succeed Burns as the troupe's director in 2013. He hoped to emulate Burns' teaching style while harnessing his own personal experience of improv's influence on his craft and desire to promote the troupe's legacy. While the group continued to grow in popularity, the students' rigorous training and their commitment to creating a tightknit crew did not falter.
"What has sustained this group for so long has been each student's contributions to the troupe's energy evolution," shares Jones.
In spring 2020, the troupe had anticipated a lively semester of in-person performances until the COVID-19 pandemic pushed classes and student activities to digital formats. In an effort to stay connected and fresh as the uncertainty surrounding the pandemic grew, the troupe continued to hold their weekly rehearsals via Zoom. As their laughter during rehearsals uplifted them through a difficult season, the troupe began exploring different ways to enhance their virtual performances and bring that same joy and laughter to the community that had encouraged and supported them through it all.
"Our performances were always designed to bring light to the community, and, as everyone was experiencing so much uncertainty, we knew we wanted to meet that moment in some way," shares Indy Wilson ('21), who served as the troupe's president at the time.
Familiar with the energy of their packed shows in Elkins, Wilson was anxious about how improv could be performed and presented in a digital format. However, the troupe embraced the opportunity to tap into experimenting and playing with the format, pushing their performance muscles even further. As the pandemic stretched from one academic year to the next, the actors decided to celebrate the troupe's 20th anniversary by taking advantage of the new platforms that could connect performers with troupe alumni regardless of location. Throughout summer 2021, the troupe hosted four virtual performances featuring a long list of alumni special guests exploring the new medium, breaking the rules, and connecting even while apart.
"PIT is electric," says Seaver College student and this year's PIT president Lauren Drake. "It was the first community in which I felt truly loved, seen, and like I belonged. Now, as we all continue to make it through such rough personal seasons, I am looking forward to how we can continue to bring laughter to the community."
As students made their return to campus in fall 2021, Jones passed the directorial baton to Isabel Klein ('19). Klein, a troupe alumna and working actor, is eager to give back to the program and see students transform their acting craft through improv.
"It is such an honor to coach this program that was part of such a transformative experience for me," shares Klein. "Improv has not only made me a better actor but it has also let me lean into laughter and joy in the midst of difficulties. I cannot wait to see how our students give to their community this year."