Footprints in the Sand
A double legacy for Waves volleyball, Sarah Seiber has still managed to forge her own path.
In more ways than one, rising Seaver College senior Sarah Seiber is following in her parents' footsteps. The daughter of two 1984 Pepperdine graduates, who admits she "kind of grew up on the campus," proudly represents the Waves on the volleyball court, just like her parents Steve ('84) and Cathy ('84) once did. But don't assume that Seiber's route is merely the path of least resistance.

For starters, whereas her parents' footsteps led to the indoor court at Firestone Fieldhouse, Seiber is leaving her own footprints in the Zuma Beach sand, as a member of Pepperdine's beach volleyball team. Though she had a successful indoor volleyball career, including two state titles for Cathedral Catholic High School in Rancho Santa Fe, California, all she needed was a little taste of beach volleyball to know the sand was where she was meant to be.

"It's more different indoor than people think," she says. "The mechanics and timing ... it's definitely an adjustment, but I love being outside. I love being at the beach—the whole environment is really my style. Rather than being in a gym all day, I get to be right by the ocean."

It's clear the setting suits her. Last year Seiber and her partner, redshirt senior Samantha Cash ('15), notched a 21-4 record, defeating pairs from top-ranked USC and third-ranked Hawaii as the Waves rolled to their fifth straight appearance in a national championship tournament.

Seiber's path to Pepperdine didn't follow a traditional trajectory. "Pepperdine is very competitive with beach volleyball, and she got into it kind of late after her indoor career," her mother Cathy explains. "We tried to get her in there in the beginning, but there wasn't a spot for her at that time."

Instead, Seiber went to the University of Arizona as the very first player to sign with the Wildcats' newly created beach volleyball program in 2013. "I wanted to try something different and move away from home," she says. "Both my high school and grade school were private and really small, so I wanted to experience a big school."

After "growing up" on a campus of 8,000 students, in a beach town of 13,000 people, Seiber now found herself in Tucson, Arizona, population 520,000, on a campus with more than 40,000 students. There was plenty of sand, but no beach. She continued to excel as an athlete— the Wildcats went 16-1 her sophomore year—but as a person, she felt lost in the shuffle.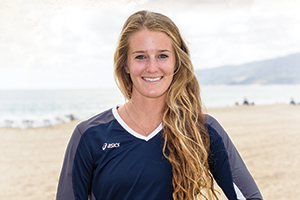 "When I got there, I thought, 'There are so many people here. My teacher doesn't even know who I am,'" Seiber remembers. "Pepperdine was how I'd been brought up. The values, the smaller classrooms ... it was a better fit for me both academically and athletically."

When Seiber decided she wanted to come back to California to finish college, her parents, to no one's surprise, were overjoyed. Still, they didn't want her to feel like they were pushing her in any one direction, even if the direction was Pepperdine.

"We, of course, wanted her to go there because she wanted to go there, not because we went there," Cathy explains. "So we looked at Pepperdine, UCLA, Long Beach —but she said, 'Nope, Mom, I want to go to Pepperdine.' I think she realized it after being away for two years. She figured out who she was, what she liked, what she didn't like, and how much she missed the beach. She's a Southern California girl. That's just who she is."

Seiber doesn't dispute that characterization, or her mother's description of Pepperdine as a place with a real "family feeling." "It was an adjustment," she says. "New school, new coaching, new training—but everything we've done training-wise and coaching-wise has helped me so much more, mentally and physically, than anything I ever did before."

While the coaching may be new to Seiber, it's pleasantly familiar to her mother, who played under first-year head coach Nina Matthies in 1983. Matthies went on to turn the indoor volleyball team into a juggernaut, and after coaching both the indoor and beach squads in 2012 and 2013, she devoted herself full-time to the beach program starting in 2014. "To be able to have Nina—the same coach I had—it's like a dream," Cathy says. "I can't even believe it's happening."

Matthies says that having coached both a mother and a daughter doesn't make her feel old—rather, she feels fortunate. At a time when coaching turnover is rapid at the college level, "it's one of those things where I can just sit back and laugh. I'm still in the same place," she says.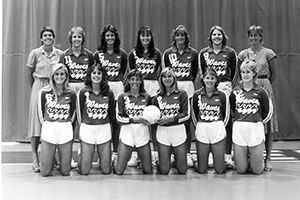 The 1983 Waves women's volleyball team. Coach Nina Matthies, top, first from left. Cathy Houston Seiber ('84), top, third from right.

"But it's really, really fun to have that relationship with the parents and have them understand a little bit of what their daughter's going through. I think they have a very good relationship, and I'm glad I get to be part of that."

Cathy and her husband both experienced plenty of success on the court. In 1982 the women's team went to the NCAA championship tournament and finished in the top 25. Two years later Steve and the men's team, led by head coach Marv Dunphy ('74), went 23-7 and were the runner-ups in the NCAA tournament.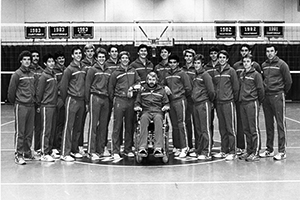 Steve Seiber ('84), top, third from right, with the 1984 Waves men's volleyball team.

Yet in some ways, Seiber's parents are now tracing her footsteps, as they follow her from match to match. "They come to every match I play, even in South Carolina and Alabama," she says. "And they like coming up to Zuma. They're so excited they get to rep their Pepperdine gear again."

That is, when Seiber isn't repping it herself. "My dad has kept a lot of his old Pepperdine stuff," she says. "He gave some of it to me, and sometimes I'll wear one of his shirts from the early '80s, and the other players will ask, 'Where did you get that shirt? It's so cool!'"