The Medieval Eye
An art historian's passions merge in a Technicolor dream
Masquerading assassins, winged deities, and feuding houses have historically been the stuff of medieval lore, in tales written long ago about lands far, far away. As groundbreaking series like Game of Thrones are giving modern audiences a taste of life in a dystopian Middle Ages fantasy in more visually and emotionally captivating ways than ever before, curators at the J. Paul Getty Museum in Los Angeles are harnessing the recent fascination with George R. R. Martin's medieval-inspired masterpiece.
Seaver College alumnus and art history adjunct faculty Bryan C. Keene ('06), an assistant curator of manuscripts at the Getty, has been exploring the parallels between the show and the museum's collection of illuminated manuscripts by sharing his findings with a vast online audience. Each season gives him a new opportunity to investigate different themes shared between medieval art and Game of Thrones on the Getty blog, as well as a Tumblr photo series that he curates in collaboration with the museum's communications and social media teams. These initiatives also allow Keene to present never-before-seen images from the Getty manuscripts collection—with more than 200 books, leaves, or cuttings featuring almost 7,000 images—that directly relate to the historical underpinnings of Game of Thrones.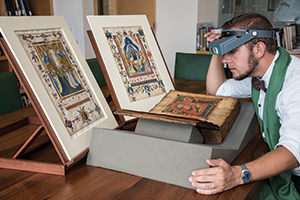 "As curators, we spend much of our time in deep scholarship, so being able to take a more creative look through all of the imagery in the collection—of dragons, knights, monks, and kings—fulfills that geeky, nerdy fascination that we medievalists often have with the genre of fantasy literature," says Keene.
Besides glorious scenes depicting mythical creatures and battlefield victories, Keene has drawn connections between Game of Thrones and images of graphic violence, suffering, and the varying portrayals of women in manuscripts.
"The themes of violence and the role of women in society as seen on Game of Thrones do very much relate to our collective imagined ideas about the Middle Ages, but also to the historical realities of that period," he explains.
In a past exhibition titled Images of Violence in the Medieval World, the Getty highlighted images of crusades, jousts, and the art of war prevalent in medieval art. An upcoming exhibit will focus on the many roles of women in the Middle Ages.
"In Game of Thrones, women are sometimes presented as objects of love, lust, or brutal force, but most recently they appear as powerful figures who rise to lead through inspiring or horrific means," Keene explains. "We find these same examples throughout history of all periods, but the Middle Ages linger in a particularly powerful way in the modern imagination, primarily through fantasy and film. With the blog and Tumblr series, I hope to encourage people everywhere to consider what the Middle Ages were for the people living during that vast period and in places beyond Europe."
The Getty blog has enabled Keene to reach a broad audience while maintaining his creativity. "With the blog we have a genuine goal to teach and to spark curiosity," he explains. "If people look at the posts or social media featurettes and are intrigued or entertained, then that's great. But for those who dig deeper and look more closely at the images, or think differently about medieval art the next time they're in a museum or reading a book or watching a television show, then that is an amazing byproduct."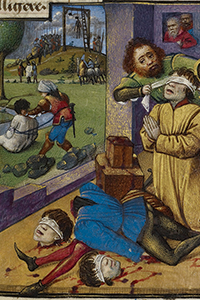 Beyond research and care for the preservation of museum collections, Keene explains that another one of a curator's primary roles is to teach with the collection through each exhibition they organize, not only through the display itself, but also through public tours, lectures, conferences, and published works.
"It is always encouraging to learn what engages or excites our audiences," Keene notes. "Because the manuscript collection at the Getty is really one of the only global collections that bridges vast geographies from Armenia, Tunisia, Italy, Ethiopia, and beyond, it does allow us to engage with so many different communities in Los Angeles and to bring an interconnected and cross-cultural historical past to life in those galleries."
Beyond the museum halls, Keene spends a considerable amount of time traveling, visiting other collections, gazing at objects under a microscope, physically holding and turning manuscript pages, and doing complex research to determine how the books relate to objects made in other media.
"There is something incredibly moving, intoxicating, and humbling about being in the presence of artworks," Keene enthuses. "When you're around them every day and talking to people about them and getting to see them up close and out of their cases, it has a powerful effect on you. In some instances, you're looking at objects that only a handful of people have been able to behold throughout history. I can't imagine not being able to think about, hold, and marvel at these works of art."
"It's one of those things that you always dream about as an art history student, becoming a curator at a great institution," continues Keene, who credits Seaver College art history professor Cynthia Colburn as the single greatest influence on his career path. "The Getty is one of the greatest institutions in the world. It's a place that I never want to leave."
---
Unknown, A Massacre of Family Members, approx. 1460-1470, tempera colors, gold leaf, gold paint, and ink on parchment, 6 15/16 x 4 1/2 in. J. Paul Getty Museum.
Image of artwork courtesy of the Getty's Open Content Program.