Pepperdine University and Cordova Church of Christ to Present Elder Equipping Conference 2017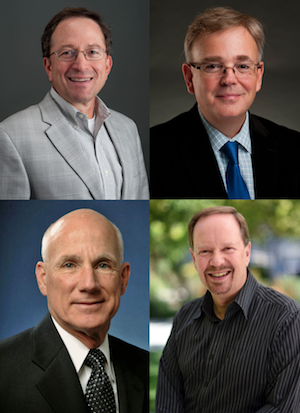 In partnership with Cordova Church of Christ, Pepperdine University will present the one-day conference Boldly Leading with Hope: Elder Equipping Conference for Church Elders and Ministers in Rancho Cordova on Saturday, January 21, from 9 AM to 3:30 PM.
Through Scripture readings and prayer, the conference will examine the sea of change in our cultural landscape that has left the church in a challenging position, and will challenge the audience of ministers to lead from a position of hope rather than despair.
Conference presenters will include the following Pepperdine University faculty and staff members:
Cope serves as the director of ministry outreach at the University's Office of Church Relations, coordinating the Pepperdine Bible Lectures and consulting regularly with church leaders across the country. He was a minister for 27 years, preaching at Pine Valley Church of Christ in Wilmington, North Carolina, College Church of Christ in Searcy, Arkansas, and Highland Church of Christ in Abilene, Texas.
Cope is the author of five books, including 2011's Megan's Secrets, and former longtime editor Wineskins magazine. He also edited 21st Century Christian for 5 years, working with M. Norvel and Helen Young when they were the senior editors. In 1994 Copes lost his daughter, Megan, who was 10. His journey of loss and joy-amid-grief has sharpened his interest in those things that ultimately matter in life.
Gibson serves as the Pepperdine University Vice President of Church Relations and Public Affairs. He works directly with president Andrew K. Benton to shape the University's vision, interprets it for various audiences, and provides message leadership through integrated marketing strategies.
Prior to joining Pepperdine in 1997, Gibson served for 11 years as a minister at the Mission Viejo Church of Christ in Orange County. He received his BA from Long Beach State University in 1987 and his MBA from Pepperdine University in 2009.
Marrs is Pepperdine University's provost and chief academic officer, providing academic leadership to the University and its five schools and colleges, as well as the University libraries. He has served as a faculty member, chair of the Religion Division, associate dean, and dean of Seaver College.
He has taught at Pepperdine since 1987 in the areas of Old Testament studies and ancient languages. His primary research and publishing areas are the Prophets, Psalms, and Wisdom Literature of ancient Israel. Before joining the Pepperdine community, he taught at Stevenson University, the Ecumenical Institute of St. Mary's Seminary, and the Austin Graduate School of Theology.
Marrs has a BA with summa cum laude honors in New Testament Greek, and Master of Divinity from Abilene Christian University. He completed his Ph.D. in Near Eastern Studies at Johns Hopkins University. Marrs has served as an elder at Conejo Valley Church of Christ since 1991.
Walling has been speaking for over 20 years in inspirational and motivational workshops and seminars across the globe. Having preached for some of the largest churches in the country, he is regularly called on to keynote for youth conferences.
Walling received his BA from the University of California, Irvine in speech/communication, an MA in religion at Pepperdine, and an honorary doctorate from Hope University in Fullerton, California. Prior to joining Pepperdine, he was the preaching minister of the Providence Road Church of Christ in Charlotte, North Carolina since 1997. He also served churches in Orange County, California, for over 20 years. He serves as Pepperdine's Director of the Youth Leadership Initiative, working to raise up the next generation of young Christian leaders.
Admission is $20 for church elders, ministers, and their spouses, and registration is required to attend. For additional information about the seminar, and to purchase tickets, visit the Events page on the Office of Church Relations website.