Meet the Council Members
Pepperdine Ambassadors Council 2021–2022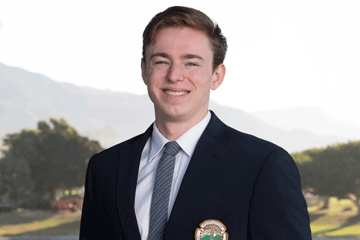 Ian Beyer: Internal Communications Liaison
Since coming to Pepperdine, Ian has been involved in many intramural sports and activities on campus. On the weekends you will find him at the beach playing sand volleyball, surfing, or hiking around Malibu. He studied abroad his sophomore year in Heidelberg, Germany where he was able to travel to 19 countries. His membership and leadership role in Alpha Tau Omega fraternity has helped him grow in his Christian faith. Next year he will be pursuing his MBA at Pepperdine's Graziadio Business School.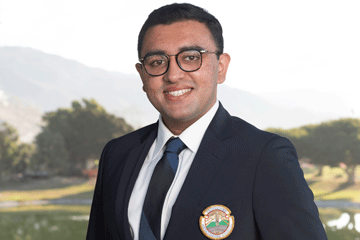 Sahej Bhasin: Alumni Liaison
Sahej Bhasin is a junior from Porter Ranch, California. He is seeking his undergraduate degree in Business Administration with a minor in marketing. Throughout his time at Pepperdine, Sahej has been involved with numerous organizations, such as the Pepperdine Fund, Pepperdine Graphic Media, Student Government Association, Indian Student Association, as well as Intercultural Affairs. Sahej holds esteeming leadership positions across these organizations, but the most rewarding are his roles as the Vice President of the Indian Student Association and Director of Advertising for Pepperdine Graphic Media. These experiences provide him the necessary skillset to succeed as a first generation college student and businessman in Los Angeles. Sahej is also in the process of acquiring a certification in Project Management through Google, and plans to pursue a career in consulting after graduation. His goal by joining the Pepperdine Ambassadors Council is to develop a stronger relationship with communities affiliated with the university and uphold Pepperdine's values of purpose, service, and leadership.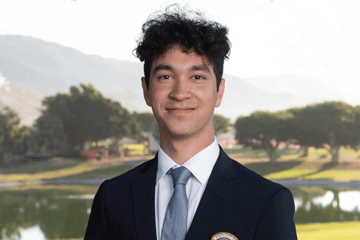 Ryan Brinkman: External Communications Liaison

Ryan is a junior from Phoenix, Arizona, pursuing his undergraduate degree in political science. Highlights from his Pepperdine career thus far include being a photographer for Pepperdine Athletics due to his role as Photo Editor for the Pepperdine Graphic, along with spending his sophomore year in Malibu. In his free time, Ryan enjoys skiing, spending time/eating food with his friends, and photography. Upon graduation, Ryan aspires to attend law school in order to pursue a career as a Judge Advocate General in the U.S. Armed Forces. He believes the opportunity to attend Pepperdine is the best he's ever been given, and is beyond humbled and excited to represent and give back to Pepperdine and its community on PAC 32.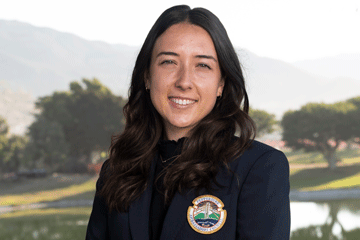 Madi Callahan: Vice Chair
Madi Callahan is a senior from Danville, California, pursuing her degree in International Studies and hopes to work in the human rights sector after graduation. Sophomore year, Madi spent a semester in Washington, D.C. where her passion for human rights flourished. She is the VP of Programming for her sorority, Delta Gamma, member of the Spanish club, and also holds a job off-campus. Madi is very excited to serve as the Vice Chair for PAC this year and is looking forward to representing Pepperdine, a school that has given her so much already.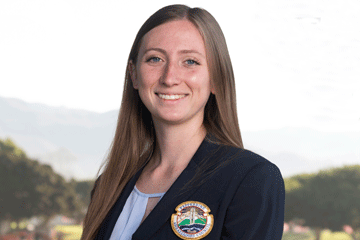 Heather Chaffin: Crest Ambassador
Heather Chaffin is a current senior at Pepperdine, studying International Business and marketing. In addition to PAC, she is also a member of Delta Sigma Pi, The Student Programming Board, and DECA. In her free-time Heather loves to travel, paint,sew, and listen to good music. She is excited to be a part of PAC for her second year and can't wait to continue to serve the student body.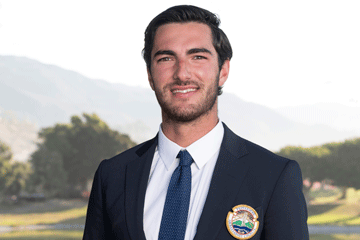 Zachary Ford: Crest Ambassador
Zachary Ford is a senior from Libertyville, Illinois. He is currently pursuing an undergraduate degree in international business with a minor in nonprofit management and a certificate in Conflict Management. Upon graduation, he hopes to attend law school in order to pursue a career in law. This is his second year serving on Pepperdine's Ambassador Council, an organization that he is both humbled and honored to be a part of. Zachary spent the entirety of his sophomore year studying at Pepperdine's international campus in Heidelberg, Germany. While in Heidelberg, he was able to enrich his understanding of the world as he experienced new cultures, learned new languages, and explored his passion for traveling. During his time at Pepperdine, Zachary has engaged in a number of different organizations on campus, including: the Sigma Phi Epsilon fraternity, student employment positions in the Office of Advancement and Central Receiving, and Pepperdine Young Life. Zachary just completed a year interning with Young Life in West LA, where he has had the privilege of spiritually leading and mentoring high school students throughout the L.A. area. In his spare time, Zachary enjoys hiking, going to the beach, and exploring everything that Malibu has to offer. Zachary is honored to be representing Pepperdine's mission and student body as a member of PAC 32, and he looks forward to giving back to the University that has graciously provided him with so many opportunities.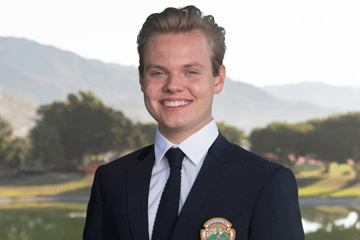 Dawson Foster: Recruitment Coordinator

Dawson Foster is a junior theatre arts major with a musical theatre emphasis from Arlington, Texas. He hopes to pursue a masters degree in theatre-arts, or HR and talent acquisition post-graduation. As a member of the LGBTQ+ community and of the churches of christ he hopes to promote representation across all facets of the university, as well as assist in bridging the gap between the church and those who don't feel welcome. Dawson fell in-love with theatre at a young age - singing at church, and putting on shows in his living room. Well, he has since upgraded from his living room to the university stage where he has been seen in the Pepperdine's productions of As You Like It, The Cherry Orchard, Contempo, and the Fine Arts Cabaret. He also served as the Director of Communications for the student-run theatre company: Pepperdine Student Players. And most recently could be seen as a member of Pepperdine's Improv Troupe. Dawson currently works as a Marketing Assistant at the Pepperdine Center for the Arts. In his freetime, he is a regular at his local Starbucks, and loves to adventure with friends. Dawson is overjoyed to advance the university's mission of purpose, service, and leadership as apart of PAC 32.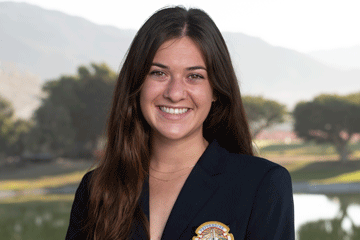 Lanie Jones: Event Coordinator
Lanie Jones is a senior from Overland Park, Kansas, pursuing her degree in international studies with an emphasis in political science, and a Hispanic studies minor. She is a proud first generation college student and aspires to continue her higher education journey by eventually pursuing a master's or doctorate degree and teaching as a university professor. Throughout her Pepperdine experience, Lanie has been involved in activities that have grown her personally, professionally, and spiritually. She works as a lead intern in the Office of Admission and has been on the student staff since her first semester. She is also an active member of Pi Beta Phi and is honored to serve as chapter president for the 2021 year, advocating for her chapter's philanthropy which supports childhood literacy initiatives. Lanie is also on the editorial board of the International Studies and Languages division of Global Tides, has been an Orientation Leader, Step Forward Day participant, and holds a part-time job off campus. Lanie is both humbled and elated to serve on PAC 32, furthering the Pepperdine mission and representing an exceptional university.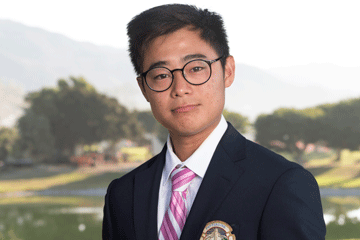 Joshua Leow: Chair
Josh is a senior from Memphis, Tennessee, where he has grown up his whole life. He studies religion at Pepperdine and recently completed the pre-med curriculum and hopes to attend medical school one day. His travels through Pepperdine have landed him in Amman, Jordan and Heidelberg, Germany, on two separate tenures. Pepperdine was his dream college and he is still living the dream. He hopes to use what he has learned at Pepperdine to work in medicine and medical missions in the future. Outside of his career, Josh loves to hang out with his friends, cook, play violin, and travel.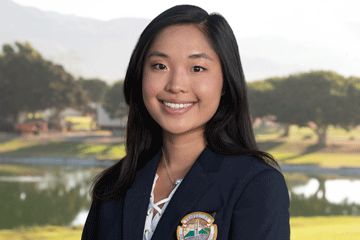 Maxine Li: External Communications Liaison

Maxine Li is a junior from Highlands Ranch, Colorado. She is currently pursuing a major in economics and a minor in English literature. During her time at Pepperdine, she has been an active member of the Green Team, the Golden Key Society, and the Delta Delta Delta sorority. She has had the opportunity to take on leadership roles within Delta Delta Delta, serving as the Director of Ceremonies and Rituals. Furthermore, her time at Pepperdine has grown her interest in the field of corporate law and has encouraged her to attend law school after graduation. Maxine is incredibly honored and excited to have the opportunity to grow relationships with students and faculty along with members of the community while serving on PAC32.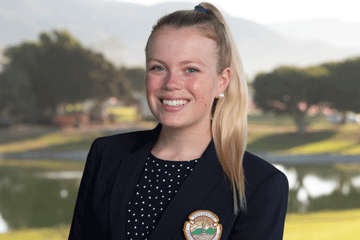 Lindsey Marian: Administrative Liaison

Lindsey Marian is a senior Regents' Scholar from Tampa, Florida. She is currently pursuing a B.S. in Biology and minors in Hispanic Studies. As a Pepperdine Wave, Lindsey has fully immersed herself in several aspects of student life; she is an active member of Pepperdine's NCAA Division I Women's Swim & Dive team, a student researcher in the Stiemsma Lab, a teaching assistant in Physics and Organic Chemistry, and a tutor in biology and chemistry for the athletics department.The summer following her freshman year, Lindsey studied abroad in Buenos Aires, Argentina where she lived with a homestay family and discovered her passion for the Spanish language and culture. This past summer Lindsey was awarded an Undergraduate Research Fellowship where she was granted the opportunity to research the role of the breast tissue microbiome in breast cancer development on campus in the Stiemsma Lab.In her free time, she enjoys hanging out with friends, going to the beach, trying new restaurants, and exploring Southern California. Upon graduation, she aspires to attend medical school to pursue a career as a physician. Lindsey is both humbled and excited to serve on PAC 32 and looks forward to serving and connecting with the Pepperdine community.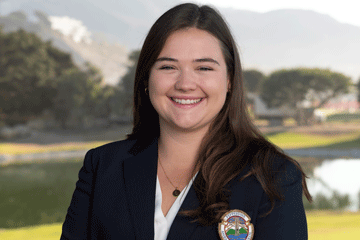 Lea Martinson: Advancement Liaison

Lea Martinson is a junior from Boulder, Colorado pursuing her undergraduate degree in International Studies and Hispanic Studies, along with a certificate in conflict management from the Straus Institute for Dispute Resolution. Her studies have been influenced by her passion for exploring different cultures and learning new languages, as well as her deep devotion to diversity and inclusion of all people and perspectives. So far during her somewhat unconventional time at Pepperdine, Lea has served as the Director Policy Prevention Education for her sorority Pi Beta Phi, and has volunteered to be a spiritual mentor to high school girls in Santa Monica as a Young Life leader. Although her original plans to study abroad in Buenos Aires, Argentina were interrupted by COVID-19, she hopes to take part in a Spanish immersion summer program in the coming year. In her free time, Lea loves to hike, swim, and spend time with her friends at the beach. Lea is incredibly thankful for all of the opportunities Pepperdine has provided her to grow spiritually and academically, and is both honored and humbled to serve the Pepperdine student body and administration on PAC 32 this year.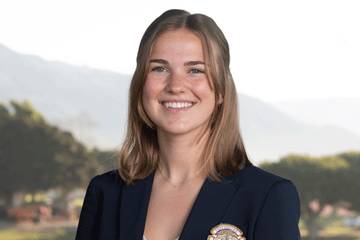 Baily McCutchen: Operations Coordinator
As an International Studies Major, Baily is passionate about learning Mandarin and pursuing opportunities in international philanthropy. Inspired by her past work with Days For Girls Eswatini, she aspires to improve the access to feminine hygiene and teach in remote communities. She grew up traveling with her family and fell in love with experiencing other cultures and engaging with people, especially through language.Baily loves to hike, travel, write, drink coffee, and enjoy the Pacific Northwest.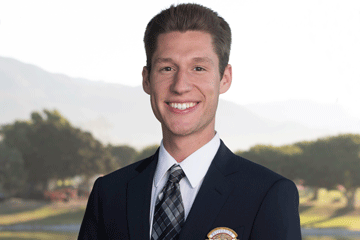 Tyler Peyton: Event Coordinator

Tyler is a senior at Pepperdine University studying International Business. While at Pepperdine, he has become a collegiate brother of Delta Sigma Pi, studied abroad in Shanghai, and has participated in the Global Fellows Program. In his free time, Tyler enjoys going to the beach, playing tennis, and learning Chinese. Tyler has a passion for driving global change and making the world a better place, one step at a time.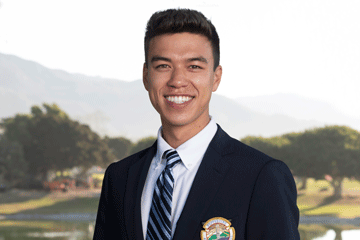 Connor Shahadi: Advancement Liaison
Connor Shahadi is a senior from Elkton, Maryland. He is currently pursuing a degree in international business, with the intent of working abroad after college. Connor spent his summer working as a sales intern for an AdTech start-up called AudienceX, where he helped to aid the growth of the company through prospecting new clients and business acquisitions. Connor is very involved in the Pepperdine community; he is a former student athlete for Pepperdine's Track Team and is active in his business fraternity Delta Sigma Pi where he serves as the financial development chair. He has served as a representative on the Waves Leadership Council where he represented the men's track team and acted as a voice for student athletes. Connor is also a member of Pepperdine's DECA chapter, participating in the 2021 International Career Development Conference. The highlight of Connor's time at Pepperdine was studying abroad in London, United Kingdom, where he was able to expand his cultural awareness through traveling extensively across Europe. Some of his passions include meeting new people, surfing, and exploring diverse cultures. He hopes to use these interests and professional experience to one day become a successful entrepreneur. Connor is extremely humbled and honored to be able to serve the Pepperdine community on PAC '32!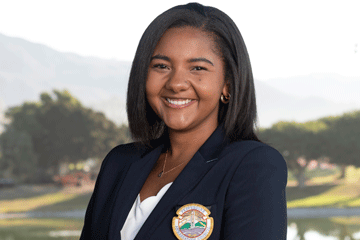 Megan Strydom: Chaplain

Megan is a senior from Fairfax, Virginia. She is pursuing her undergraduate degree in Liberal Arts for Education seeking a multiple subject teaching credential. She hopes to get her reading specialist certification after undergrad so she can become a reading specialist for bilingual learners. Raised in the Church-of-Christ, Megan has been actively involved with Pepperdine's University Church of Christ Campus ministry, serving as a Service Team Member her freshman year and as Team Leader her junior year, cultivating opportunities to grow spiritually through worship and fellowship events. A deep sense of purpose and community is what drew her to Pepperdine and she has since been involved in various aspects of student life such as, Housing and Residence Life as a first year RA, the Black Student Association, and the Education Honor Society: Kappa Delta Pi. Advocating for minority groups on campus has been a passion for her and she hopes to continue educating and embracing a multicultural campus as BSA President this year. Megan has been able to work on campus through Waves on Call and as an Office of Admission Tour Guide, showing her passion and gratitude of Pepperdine to others. In her free time, Megan likes to go to the beach, watch reality TV, bake, or get a cup of coffee with a friend. Megan is looking forward to her time on the council and hopes to explore another aspect of student life while fostering new relationships.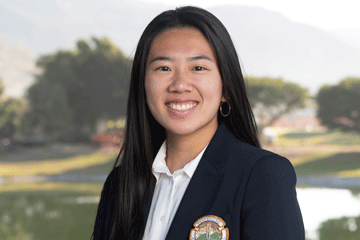 Caroline Tan: Recruitment Coordinator

Caroline Tan is a senior from Arcadia, California pursuing a degree in Business Administration with a minor in Fine Art. During her time at Pepperdine, her faith and passion for her community has led her to find involvement in organizations like Young Life, the Pepperdine Lacrosse team, Community Engagement and Service, Pi Beta Phi, and Delta Sigma Pi. Since her freshman year, Caroline has been a member of Young Life where she volunteers to minister to high school students throughout the West L.A. area. Her highlight at Pepperdine has been her study abroad experience in Heidelberg, Germany in which she was able to travel Europe extensively, practice her multilingual skills, and grow culturally, academically, and spiritually. In addition, Caroline is an active member in both her business fraternity and her sorority. With Delta Sigma Pi she has held many different leadership roles and as the Director of Academics for Pi Beta Phi she encourages her chapter to excel both professionally and academically. Caroline's heart for service grew immensely last year during her time working for Community Engagement and Service as an Education Equity Coordinator. Now she works as a Marketing Intern at a Malibu based wellness company. As Caroline embarks on this new journey as a member of PAC 32, she looks forward to giving back to Pepperdine and further upholding a mindset aligned with "Service, Purpose, and Leadership".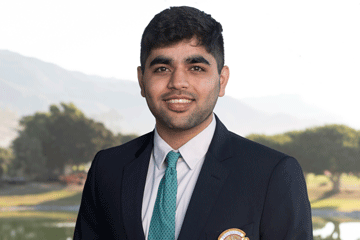 Maneesh Tekwani: Administrative Liaison

Maneesh is a senior majoring in Business Administration with a minor in Industrial/Organizational Psychology. Born in Bangkok and raised in an Indian household, He loves to celebrate different festivals and the unity of people. Maneesh has had the honor to represent. Pepperdine to various student-led organizations such as the Student Alumni Organization, WavePool Investment Club, and the Indian Student Association. Prior to joining the Council, Maneesh worked closely with the Office of International Student Services as a Student Ambassador. Through this opportunity, He worked across the greater student body to foster a supportive community, celebrate student diversity, connect international students around the world. Passionate about being a supportive resource, Maneesh is excited about being part of the PAC 32 cohort, and believes the council breathes Pepperdine mission and will truly guide him to embrace life with strengthened purpose, service and leadership.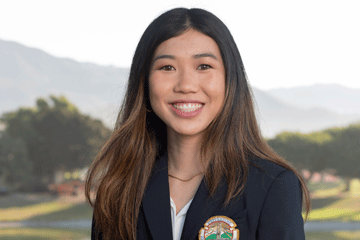 Nicole Yee: Internal Communication Liaison

Nicole Yee is a senior from Torrance, California. She is currently pursuing a degree in Sports Medicine and hopes to become a Physician Associate someday. Nicole spent the summer after her freshman year studying abroad in London, England. On campus, Nicole is currently the Scholarship Director for Kappa Alpha Theta, the Social Media chairperson for Beta Psi Omega, a research assistant under Sports Medicine faculty member Dr. Adam Pennell, and a company member of Dance in Flight. She has also served on the Junior Panhellenic Board and as a teaching assistant for Anatomy. Nicole is so excited to be serving on PAC this year and is looking forward to making Pepperdine the best college experience for all that attend.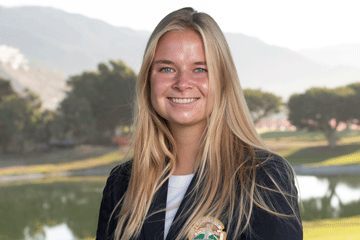 Ava Zoschke: Digital Communications Liaison

Ava loves to be outside and go on spontaneous adventures. She began surfing a year ago and loves to explore Malibu Creek State Park in her free time. She is passionate about the intersection of mathematics and mental health and hopes to find a future in the Public Health sector. Ava serves as the Vice President of Finance of Delta Gamma and the Vice President of Math Club. She likes to take photos of the waves and the sunset and enjoys spending the summer on the lake in Minnesota with her friends and family.