Meet the Council Members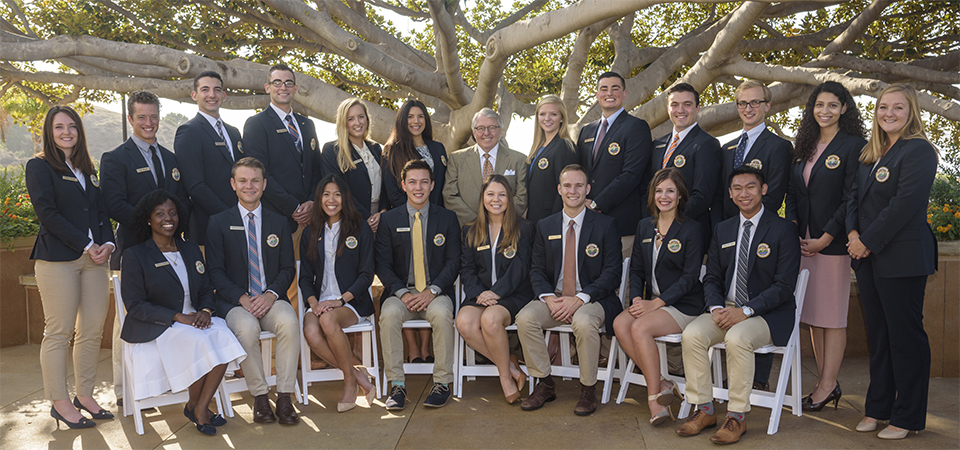 Pepperdine Ambassadors Council 2016-2017
Grace Abiera is a senior from Chicago, Illinois pursuing a B.A. in Political Science. The past year, she was admitted to Pepperdine's Washington, DC, program, interning on Capitol Hill, and at both the Brookings Institution, a prominent think-tank, and at BGR Group, a bipartisan political consulting firm. Aside from her interest in politics, she has a deeply held passion for international development and human rights, which she discovered by serving three months in Mozambique, Swaziland, and South Africa. She loves yoga, Welsh Corgis, and the Chicago Cubs. After Seaver College, she plans on pursuing her J.D. and her goal of becoming an attorney. Grace is honored to serve the Pepperdine community as a member of PAC, and is excited to give back to the Institution that has profoundly impacted her.
Rahje Branch is a senior from Los Angeles, California. She is pursuing a degree in Political Science and a minor in Rhetoric and Leadership. Rahje has led a life dedicated to public service and social justice for those in her community and beyond. A former White House intern, Rahje is passionate about education and improving the lives of others. She has served as a Resident Advisor and writer for the Pepperdine Graphic. Currently, Rahje serves as the President of Pepperdine's Black Student Association. An avid traveler, she enjoys exploring new restaurants and spending time with her friends and family. Rahje is thrilled to return to PAC for her second year and looks forward to continuing her work on diversity and inclusion on Pepperdine's campus and in the greater Malibu community.
Joan Daly is a senior from River Edge, New Jersey. She is majoring in Integrated Marketing Communications, and minoring in Multimedia Design. On campus, Joan is an intern at the Seaver College's Office of Admission, a writer for Currents magazine, a volunteer for events such as New Student Orientation and Step Forward Day, and enjoys being an active member of her sorority. Aside from school, she enjoys road trips with her friends, painting, and running half marathons. Joan is excited and honored for the opportunity to be involved in PAC this year and looks forward to serving the Pepperdine community, just as it has served her.
James Gehrels is a senior from Tucson, Arizona. He is pursuing a degree in Sports Administration with a certificate in Conflict Management through the Straus Institute for Dispute Resolution. He aspires to be an Athletic Director at a NCAA Div I Institution. Outside of the classroom much of James' time is taken up with Pepperdine athletics as he is an outside hitter on the Pepperdine men's volleyball team. He also interns and works in the athletic department and is the co-president of the Pepperdine Waves Leadership Council. James is honored and humbled to have been chosen to be on PAC and is looking forward to spreading and building Pepperdine's brand in Malibu and beyond while emphasizing the importance of athletics in higher education.
Lauren Griffin is a senior from Dallas, TX, double majoring in International Studies and Political Science. During her time at Pepperdine, she has been involved with the Model United Nations team, Greek Life, and the Veritas Forum. Lauren is a lover of all things French and enjoys taking advantage of the surrounding Santa Monica Mountain trails. Her dream job is to be a consultant specializing in cross-cultural business and legal transactions, as she is passionate about conflict management and job creation. Lauren is looking forward to serving as a leader of PAC 27 in order to further the University's mission of service, purpose, and leadership, in addition to fostering lifelong relationships among community members.
Rhett Johnson is a senior from Temecula, California, who is currently pursuing a major in Finance, with a minor in Accounting. Post-graduation, he plans to sit for his CPA before obtaining an MBA, in hopes of one day becoming a CFO. Rhett's dream job would be to find a way to integrate his passion for finance with his love of sports. Outside of the classroom, Rhett enjoys exploring LA, trying unique foods, and playing sports. During his sophomore year, he studied abroad in Shanghai, China and cannot wait to take all the experiences he has learned, and share them with the greater Pepperdine community. As a senior and leader of the council, his goal before graduation is to further the relationship between the student body and the greater Malibu area while spreading Pepperdine's distinct mission.
Jonathan Kwok is a senior from Arcadia, California. He is pursuing a degree in International Studies with an emphasis in Political Studies, a minor in Nonprofit Management, and a Certificate in Conflict Management from the Straus Institute for Dispute Resolution to prepare him for a career in the field of international relief and development, a passion discovered while interning at Medair through International Programs. He enjoys reading, learning new languages, and hanging out with friends and family over a good cup of coffee or tea. Jonathan has also served as a Spiritual Life Advisor for two years with Housing & Residence Life, President of the student-led ministry The Mountain, an intern for Seaver & GPC Alumni Relations, and a Family Camp Leader. The sum of these experiences have greatly impacted Jonathan's life and he is excited to serve the community that has shaped his life through PAC.
Makay Manis is a junior from Breckenridge, Colorado majoring in Public Relations with an emphasis in Marketing. After graduating she hopes to advocate for social justice in the clothing industry and create space and awareness for conscientious consumerism. Makay is a former boutique owner and her interests include traveling, writing, and good conversations over strong cups of coffee. At Pepperdine, she has studied abroad in Florence, Italy, is a proud member of her sorority, and an enthusiastic participant in service events such as Step Forward Day. Makay is thrilled to serve both the University and the community through the Pepperdine Ambassadors Council.
Asa Miller is a junior from Manhattan, Kansas. He is majoring in Political Science with a minor in Economics. Outside of academics, his interests include reading, cooking, hiking, and Crossfit. After serving in the U.S. Navy for six years, Asa began attending Pepperdine and currently serves as President of the Pepperdine Student Veterans Organization for Seaver College. Honored to serve on PAC this year, Asa is looking forward to building lasting relationships with those in the Malibu community, furthering Pepperdine's mission of service, purpose, and leadership.
Davina Morales is a junior from La Verne, California. She is currently an English major and receiving her teaching credential. She is a member of the Education and English Honor Societies, the latter of which she acts as the chapter secretary. Her love for Pepperdine has come from meeting wonderful classmates, making lifelong friends and learning from educated professors. Her love has extended beyond the Malibu campus into Buenos Aires, Argentina after her experiences through International Programs during her fall semester of sophomore year. Upon graduating from Pepperdine, she plans to receive her Master's degree in Education and begin teaching in a secondary school. She loves to write, travel, and spend time outdoors. Through her position in PAC, Davina hopes to continue building strong relationships with both the student body and the surrounding Malibu area through Pepperdine's mission of purpose, service, and leadership.
Matthew Morehead is a senior from Santa Clarita, California. He is earning his undergraduate degree in political science and is enrolled in the Political Science Honors Program. Matthew is also working to obtain a certificate in Dispute Resolution and Conflict Management from the Pepperdine School of Law. Upon graduation, he intends to continue his education in law school. Outside of academics, he has been involved with the Campus Ministry Intern Team, Greek life, the Pepperdine Rugby Team, News Waves, the Pepperdine Debate Team, and the Pepperdine AEI Executive Council. During his sophomore year, Matthew studied for a semester in Washington DC where he was blessed with the opportunity to intern at the U.S. House of Representatives. Most recently he has interned for the McKeon Group: a consulting and lobbying firm that provides government advocacy on a variety of issues. He loves snowboarding, hiking, wake-boarding, film-making, and eating cheeseburgers of all kinds. Matthew is honored and eager to serve on PAC as a liaison between the Pepperdine student body and the greater Malibu community.
Connor Nam is a junior from Scottsdale, Arizona. For the first year and a half at Pepperdine, he devoted much of his time to playing for the University Men's Golf Team. Now, he is pursuing a major in Physics and minor in Computer Science while actively remaining involved with Pepperdine's student body through volunteering at The Well, participating in physics research, and supporting athletic events. Over the summer, he interned at the NASA Glenn Research Center developing an application to model the solar system, characterizing an RF satellite communication system, and assisting with decentering testing for an intra ISS optical communication link. Post-graduation, he plans to pursue an advanced degree in the sciences. Connor looks forward to being a part of the Pepperdine Ambassador Committee to assist in serving the student body, larger Malibu community, and administration.
Sujey Pedroza is a senior from Long Beach, California, majoring in Accounting. As an Accounting major, she has recently interned for Ernst and Young in the Los Angeles office. On campus, she holds a leadership position in the Student Alumni Organization and is involved in her sorority and the Accounting Society. She enjoys watching movies, the performing arts, running, staying current on world events, and spending quality time with friends and family. Sujey is passionate about traveling and experiencing new cultures. During her time at Pepperdine, she has had the unique opportunity to pursue this passion by studying abroad in Lausanne, Switzerland for an academic year. Sujey is excited to serve on PAC and is looking forward to serving as a link between Pepperdine and the greater community.
Hunter Peters is a senior from Valencia, California. He is a Public Relations major with an outside emphasis in Psychology. On campus, Hunter is an intern and tour guide in the Seaver College Office of Admission, a New Student Orientation Transfer Mentor, and a member of the Eta Theta Tau Songfest group. His interests include trying new restaurants, reading, hiking, photography and finding the best cup of coffee in the Los Angeles area. Apart from school, Hunter enjoys spending time with friends and exploring L.A. Hunter is grateful for the opportunity and platform that Pepperdine Ambassadors Council provides and he looks forward to advocating for our community.
Rachel Reyes is a senior from San Jose, California. She is pursuing a degree in Finance, currently serves as Vice President of the Pepperdine Microfinance Club, and previously served as treasurer for her business fraternity. Rachel enjoys traveling and spent her sophomore year abroad in Florence, Italy. She also enjoys reading, hiking, attending concerts, and watching soccer. During her time at Pepperdine, Rachel has been involved in NewsWaves, the Pepperdine Graphic, and the Latino Student Association. Upon graduation, she plans to pursue a CFA and work in asset management. Rachel is honored to serve on this year's council and give back to the Pepperdine community, which has invested so much in her.
Stuart Slayton is a senior from Dallas, Texas. He is majoring in Psychology with an emphasis in law, minoring in Rhetoric and Leadership, and obtaining a certificate in Dispute Resolution and Conflict Management. Outside of his studies, Stuart has served as president and philanthropy chair for his fraternity, participated in mock trial, National Model United Nations, and New Student Orientation on campus. Off campus, he spends his free time working closely with two energy and technology companies of which he is a shareholder. Upon graduating, Stuart hopes to attend law school before pursuing a career in law. Stuart is honored to serve his University, fellow students, and the greater Malibu community through the Pepperdine Ambassadors Council.
Trevor Stachura is a senior from Chino Hills, California. Majoring in Integrated Marketing Communication, he plans on pursuing a career in international marketing and product development upon graduating. On campus, Trevor serves as an intern for the Seaver Alumni Relations Office and is a member of the Student Alumni Organization. He has also held an Executive Board position with his fraternity for the past three years. An avid traveler, Trevor spent part of his sophomore year studying abroad in Lausanne, Switzerland. Outside of school, he has a passion for sports, the outdoors, music, and American literature. Trevor is eager to expand his ability to serve others and foster connection through PAC this coming year.
Bryan Starck is a senior from Bothell, Washington. He is majoring in Economics and earned a Certificate in Conflict Management through the Straus Institute for Dispute Resolution. During his time at Pepperdine, Bryan has interned for the Department of Design and Construction and served as a Resident Advisor in Germany. He is also the President of the Pepperdine Pickups acapella group and an executive officer of his fraternity. Bryan enjoys hiking, singing loudly to country music in the car, reading good books, and sipping black coffee like a true Seattleite. After graduation, Bryan hopes to work for a management consulting firm and eventually pursue an MBA. He is excited to live his senior year to the fullest by engaging with the larger Pepperdine community through his involvement in PAC.
Elizabeth Teklits is a senior from Aurora, Colorado. She is an Interpersonal Communications major with a minor in Sustainability. During her time at Pepperdine, she has traveled to Uganda, directed her sorority's Songfest group, and serves as the Director of the 10 Days. Elizabeth loves spending time outside, working at a local flower shop, and being in community with her friends. She is looking forward to serving on PAC among her peers, working to foster a strong connection between the student body and the greater Pepperdine community.
Katie Warne is a senior from Nashville, Tennessee. She's a Business Administration major and plans to pursue a career in marketing and advertising. Katie currently serves as an Intern in Pepperdine University's Office of Admission and Vice President of Philanthropy for her sorority. In her three years at Pepperdine, she has participated in a variety of activities, including Campus Ministries, Student Government Association, Songfest, Project Serve, Freshman Seminar Mentoring and New Student Orientation. Her sophomore year was spent studying abroad in Shanghai, China and in her free time she enjoys exploring new places with friends, reading, hiking, and baking. Katie is passionate about Pepperdine and is deeply honored to serve on PAC. She can't wait to share her love of Pepperdine with this amazing community.