Pepperdine Annual Reports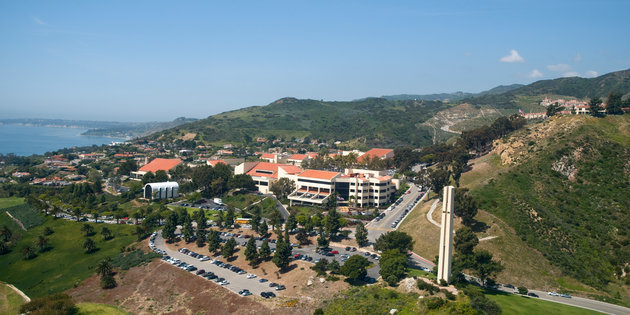 Every year at Pepperdine is distinct and extraordinary. Find out how by exploring our annual reports below.
Learn - Love - Lead - Live: Navigating the Hero's Journey.
Learn how 2014 marked the conclusion of the most successful fundraising campaign in Pepperdine history, an achievement that will be positively felt by every student.
Pepperdine explores new ways to network ideas, curricula, and academic resources in a cross-campus collaboration of teaching and scholarship. See for yourself the new trails we are blazing for Pepperdine and for higher education.
Pepperdine's founding year meets its historic 75th anniversary. Discover the University then and now.
The year 2011 is a milestone as we launch the historic Campaign for Pepperdine: Changing Lives to win the future for our students and the countless thousands they will serve.
Experience some of the many memorable moments that make up a day at Pepperdine University.
2009 Annual Report: A Higher Calling
The service, the scholarship, the many achievements flowing from our students, faculty, and alumni is astounding. By anyone's measure, Pepperdine's output is remarkable.
2008 Annual Report: Envision - A Conversation About the Future of Pepperdine University
We traveled the nation, engaging Pepperdine alumni, and held meetings at home with students, faculty, friends, and others to generate ideas and help develop our vision for the University's future. The results may very well dramatically change Pepperdine's future.
2007 Annual Report: The Journey
Despite the threat of fire, Pepperdine's marvelous community of talented people face all kinds of challenges with skill, courage, gratitude, and love.
2006 Annual Report: Where the River Flows
Pepperdine's influence extends far beyond Southern California as students and alumni serve the world community in profound and selfless ways.
2005 Annual Report: Celebrating the Human Spirit
We believe that our commitment to enriching students' lives in all aspects of mind, body, and spirit defines Pepperdine's special place in American higher education.
2004 Annual Report: Return to the Town Square
While Pepperdine increases in academic stature, in the beauty and functionality of its campuses, and in spiritual and ethical commitment and work, it must strive even harder to maintain a sense of community.
2003 Annual Report: A Heritage of Faith
Our heritage as a university has deep underpinnings. It is a solid foundation of faith that includes the principles that directed our nation in the days leading up to the American Revolution.
2002 Annual Report: A Place to Belong
Though the sorrow and anger of 9-11 were nearly overwhelming, the University proved itself to be a place to belong, a place of purpose in the midst of uncertainty and discouragement.