43rd Annual Pepperdine Associates Dinner
His presidency began with a promise—to reach deep into the soul and far into the world as Pepperdine University embarked on its path into the dawn of the 21st century.
Now, after 19 years as the University's seventh president, Andrew K. Benton has transformed the Waves community, humbly leading the University during a period of unprecedented advancement and achievement. In times of both change and challenge, he has been a mentor, builder, and friend, guiding with steadfast vision and a heart for every student as Pepperdine has risen to become one of the most distinguished Christian universities in the world.
"We have promises to keep," shared the president in his inaugural address, ". . . but no fear, only the sense that there is much to do, even 'miles to go before we sleep.'"
Join us May 11 as we pay tribute to President Benton's extraordinary legacy of leadership and celebrate a servant leader who has given so freely to the future of our remarkable university.


Featured Entertainment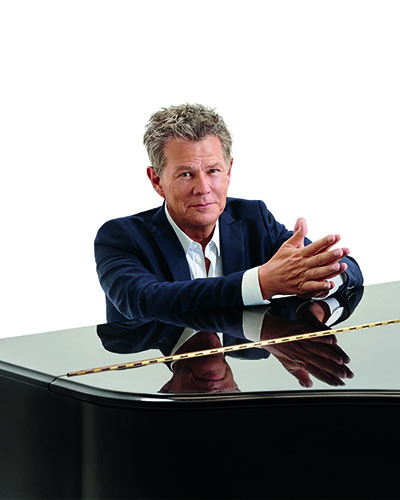 DAVID FOSTER is an award-winning musician, songwriter, composer, producer, and arranger. With an impressive career spanning almost five decades, Mr. Foster has created hit songs and popular gold and platinum albums for musical legends such as Barbra Streisand, Whitney Houston, Michael Jackson, and Madonna, in addition to writing classic songs for blockbuster films such as The Bodyguard, Urban Cowboy, and St. Elmo's Fire. Foster is also known for being a keen talent spotter, having helped launch the careers of Celine Dion, Josh Groban, and Michael Bublé. His accomplishments have been widely celebrated with honors that include 16 Grammy Awards (including three for Producer of the Year), an Emmy Award, a Golden Globe Award, and three Academy Award nominations for best original song.
Associates Benefits
Hosted general reception from 5:30–6:30 PM for you and one guest. Plan to arrive at the start of the general reception to take advantage of this special opportunity.
Not a Pepperdine Associate? Learn more about Associates benefits or contact program director Lauren Desai at 310.506.6335.


Dinner Committee
Paula and Ed Biggers Chairs
Mary (MA '89) and Michael Adams
Gay and William (MA '94) Banowsky
Pat Boone
Rita and Dale ('64) Brown
Tina and Rick (JD '83) Caruso
Susana and Nachhattar Chandi
Sherry and Frank (MBA '78, EdD '04) Cornell III
Kathy (MA '02) and John Danhakl
Kalli O'Malley and Terry Giles (JD '74)
Jolyn ('02) and Seth ('02) Haye
Gloria and Glen Holden
Blanche and Peter James Johnson, Jr.
Patricia and Eff Martin
Sharon and Terry Mullin
Carole and Danny Phillips
Celeste and John Plueger
Susan (EdD '86) and Don Rice
Jenny and Fred Ricker
Kelly and Duane Roberts
Amy Jo Runnels ('00)
Bui ('96) and Herb Simon
Dorothy B. Straus
Laure Sudreau (JD '97)
Marta and Tom Tooma
Kim-Marie and Jeremy (MA '94) White
Date
Saturday, May 11, 2019
5:30 PM Reception
6:30 PM Dinner
10 PM After Party
Location
JW Marriott Los Angeles L.A. LIVE
900 W Olympic Blvd
Los Angeles, California

Black Tie Optional
Contact Us
Pepperdine University
University Events
24255 Pacific Coast Highway
Malibu, CA 90263